Planning a wedding is such an exciting time in your life. There are a lot of things to think about, including the style of the wedding that you want. You could go for a classic style wedding, modern or even vintage. Going for a shabby chic style wedding is popular these days. The shabby chic weddings that I have been to look stunning. There is a lot to plan and think about so here is a little guide to help you pull off a gorgeous shabby chic style wedding. image
The Invitations
Fun, pretty invitations are the first thing that your guests see that relates to the wedding, so matching them to your shabby chic wedding can be fun – but not totally necessary! Shabby chic doesn't mean matching, actually. Mismatched is actually the best part of having a shabby chic wedding! You can do just about anything you want with your invitations. You should go for neutral tones, perhaps including luggage tag style labels. Think about getting pretty, laser cut wedding invitations like these will look beautiful – a little like lace, and so fitting with your theme.
Decorations
Chalkboard paint is going to be your best friend if you are planning a shabby chic wedding! A lot of cute homemade blackboard signs are a must. They could have your favourite quotes on them, have instructions for the guests or even be used for table numbers. These could be painted onto wood or inside photo frames. Look in thrift stores and garage sales for some vintage photo frames and they will set the look.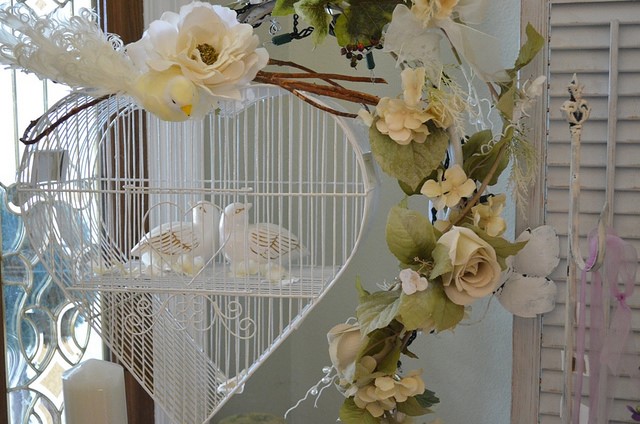 For room decorations, you should go for bunting in colors to match. You could even go for some homemade banners using chalkboard pens and luggage style tags. Be sure to use a lot of twine and string for tying things together like cutlery or guest favors. On the gift table, you could include a pretty wire bird cage for people to leave their cards to you. image
Flowers
Other decorations to go for include flowers and wood. How about having the table centerpieces be set on a small tree stump? Then set flowers and vases in varying styles and shapes. You could even use a tree stump for a cake stand. It is so simple but so effective. The best flowers to go for are things like baby's breath, alstroemeria, carnations or daisies. You could choose sunflowers or freesias too. Be sure to opt for muted tones as the aim of shabby chic is that it all blends in together.
Food & Drink
For food and drink, think mason jars and glass jars of varying sizes. If you are having a buffet style wedding, then go for wooden crates to display food trays at different heights. Use cupcake or cake stands for sandwiches and just go to town! The more varied the items are, the better it will all look.