Looking at having a late spring or early summer wedding? Get a little wild with your wedding venue and go with a festival style day!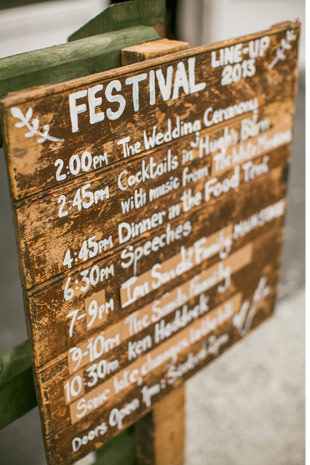 The best way to save money on your wedding day is to go against tradition and forget the traditional venue–get a lil' wild and crazy with an outdoor wedding.

Go Small Town Outdoors
The further out of town you go, the more budget friendly you're venues will get. My honest advice is to see if someone in your family or your bestie's family has a field or an acre or two that can accommodate you and your guests because renting a porta-potty can be pretty inexpensive for the day. Check here to find a comprehensive guide to renting a porta-potty in all 50 states!
Saving money on your venue means you'll have money for a bouncy castle. What? You think I'm joking, but I was at a wedding recently where they had an inflatable obstacle course — and it was a BLAST! Here's a video of me going head to head with a friend in it:
Wedding Obstacle Course from Maigen on Vimeo.
Go out a day or two before, pitch tents and decorate with ribbons and wooden signs. Get all the basics down, and you'll have very little to do on the day.
You can also scale it back by throwing it in your backyard, but don't forget the tents or the bouncy wedding castle from Bouncer Depot!  Find Bouncer Depot on Facebook here.
Get Combination Creative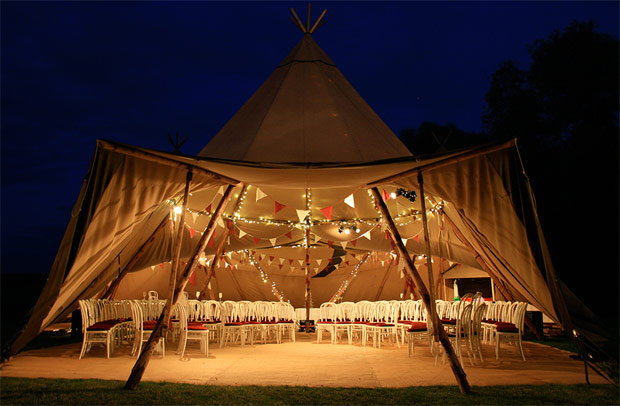 Pitch a sweet bell tent that can convert from wedding ceremony to reception with a little move of chairs! source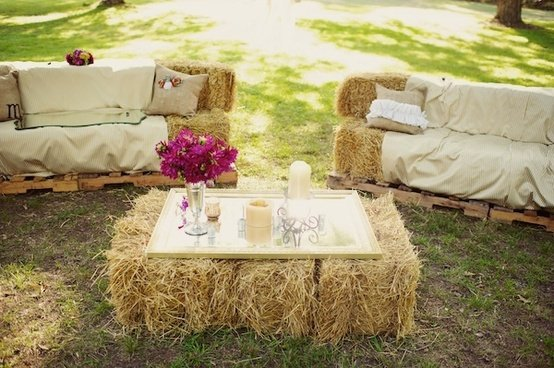 Dress up some hay bales for a little rustic ambiance source
 Camping
By getting your wedding guests to go wild with you, you can save a lot of money. Not only will you not have to put the bridal party up in a pricey hotel or B&B, I'm sure they won't mind pitching a tent for some festival style fun. If you're not a camping person, you can always hawk your camping gear on ebay as gently used to get some cash back. source
BYOB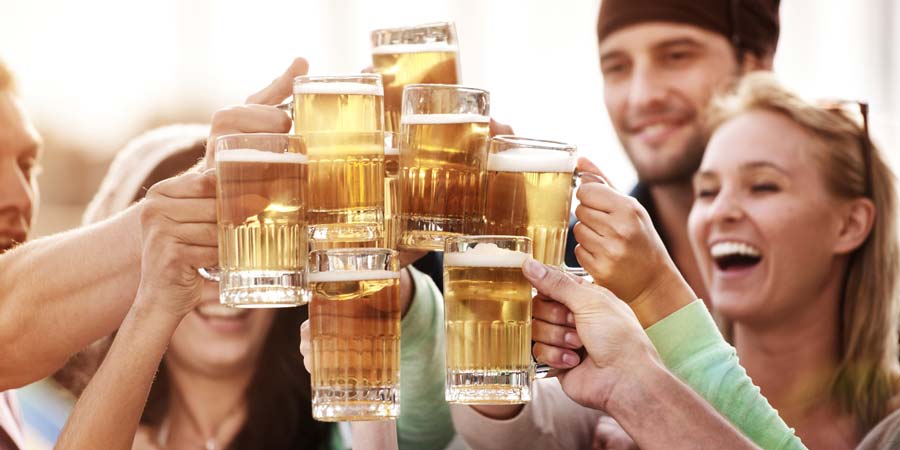 The best part about festivals: people are just used to bringing booze. You know someone you know from college will pull a PCU and get a keg or three. If you plan ahead, you can even brew your own beer for a super budget friendly booze alternative. With all the cool craft beer recipes out there, you can find something to please just about anyone. Then you can roll with one of my many DIY bar ideas that can keep your food budget posh and lower than expected. The idea behind this kind of wedding is to let loose and get fancy-free! source