Planning an outdoor wedding is not easy. Planning an outdoor wedding on your friends' acreage in only a month due to a health scare is plain hard. What will the temperature be like on the big day? How are you going to make your guests comfortable? Not only does outdoor decor differ from an indoor wedding, but it also meant changing our friends' home. Here's what I learned planning a near-last-minute outdoor wedding at a non-wedding venue.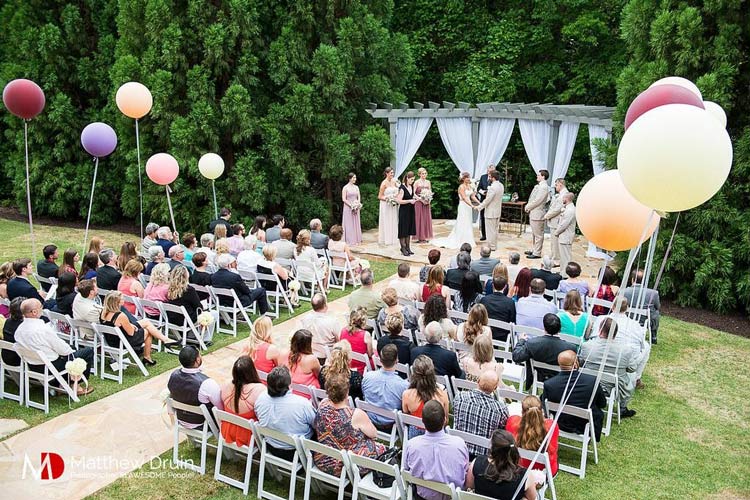 Source: Flickr user Matt Druin (CC BY-NC-ND 2.0)
Know the weather
My wife and I had planned for an autumn wedding. In California, the chances of rain were slim, and we knew it would be cool and comfortable. But after a health scare, we decided to move the wedding up by four months – giving us only a month to plan and execute a wedding. Being that our wedding was now in the middle of June, we come to my first piece of advice: check the historical temperature for your chosen day. Knowing the typical weather gives you a hint at what to expect. If it's the middle of summer, like my wedding, provide fans – either small battery-powered or simple hand fans, in a welcome basket. Sunscreen should also be available if the wedding and reception are held during the day.
Don't forget that the chairs guests will sit on during the ceremony have probably been left out in the sun, and could be uncomfortable to sit on. Our ceremony took place as the sun was setting, so simple plastic chairs were fine. If you decide on earlier in the day, use chairs with cushions. Simple blankets can be provided if the projected temperature is colder.
Remember that weather affects food. Seafood, meats, and cheese should be kept on ice, while the cake should be kept in a refrigerator until it's time to cut it. We had our friends' refrigerators to use, but having been to a wedding where the slices of cheesecake were left out in the sun for 3 hours, I reiterate that food should be kept cold until it's ready to be eaten.
Water and ice should be plentiful, especially if you aren't at an official wedding venue. We provided plenty of water dispensers for our guests. Combine with slices of citrus fruits to add taste. Guests will also appreciate frozen drinks added to the bar. We also offered lemonade and iced tea, old standbys to fight the heat.
For warmer weather, consider choosing a summer wedding gown, made of lighter fabric. A seersucker suit – or even wedding gown – is both stylish and will help mitigate the heat. Or, use lighter colors. I was comfortable in a light gray suit that was very breathable. Offer blotting papers and powder to help guard against shine on noses and foreheads – especially important for photos.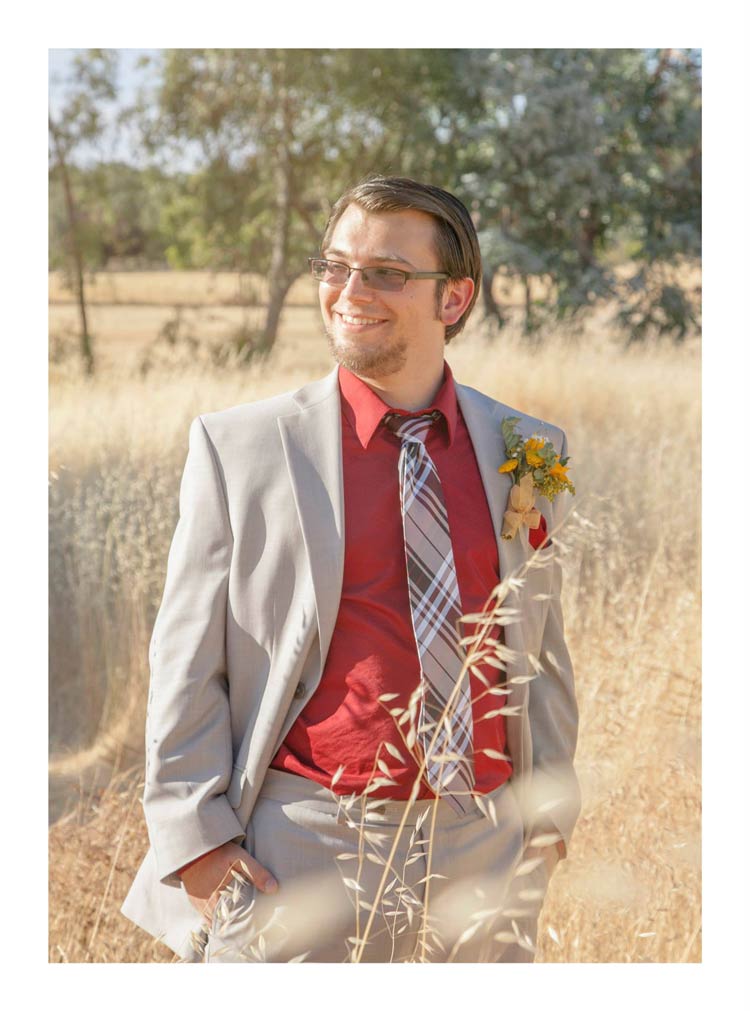 The author on his wedding day. Photo by Brittany Bradley.
When in doubt, don't start the wedding early. A wedding at noon or 1 p.m. will see guests uncomfortably hot. We waited until dusk, with the sun's fading light providing not only the perfect romantic backdrop but cooler temperatures – and beautiful wedding photos. None of our guests complained of heat despite being in the middle of summer.
Venue-inspired decor
While letting the venue dictate exactly what kind of decorations are used, the rustic route will never be wrong for outdoor weddings. We went with the classic mason jar and tea light combo, which was both rustic and elegant, and provided illumination in the waning light of evening. String lights are also popular, especially overhead. A word of caution, however – if you are not using an actual wedding venue, you will have to string the lights yourself. I spent more than an hour climbing a tree, tying the ends of light strands and anchoring them down. We also ran extension cords from the house, which was unwieldy. Another, simpler suggestion is to place battery-powered lights under tables with fairly thin cloth, and each table becomes a large lamp. Given a second chance, I would probably do this instead of stringing up 300 yards of lights.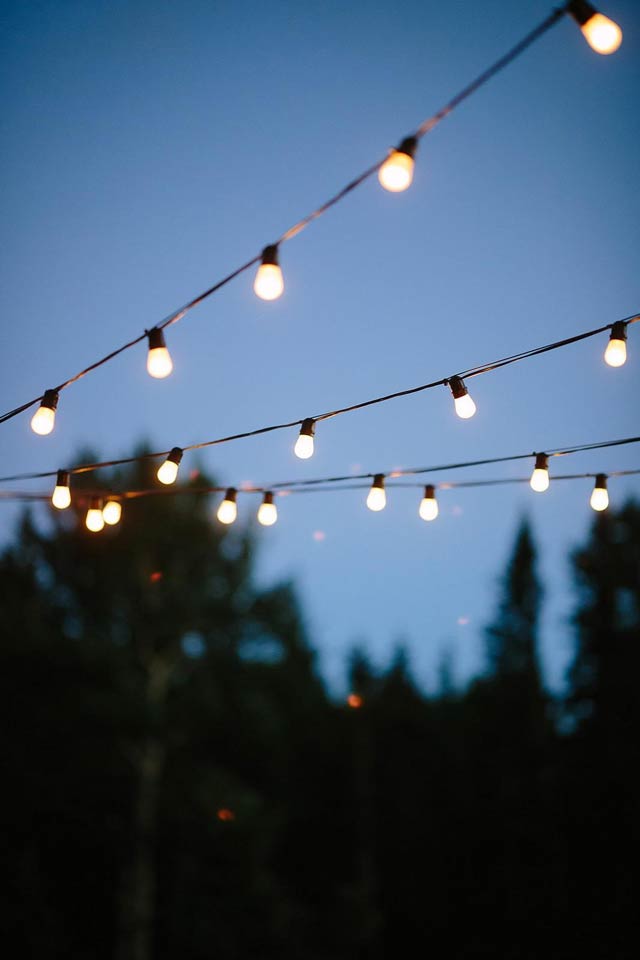 Source: Flickr user Cat Mayer (CC BY-NC-ND 2.0)
Using local flowers can add a sense of locale to the setting. It helped us immensely as most of our friends' land was tall, yellow grass. An added bonus are benefits to certain flowers (local or not): Sprigs of mint, thyme, rosemary, and lavender are all natural insect deterrents. Baby's breath, peonies, and scabiosa, meanwhile, attract pests. If the wedding is on private property and an exterminator is an option, spray 48 hours before the event. Otherwise, use citronella torches to keep mosquitos and other insects away. Luckily, our friends keep up with pest control, and it wasn't an issue.
Be sure decorations are heavy enough to withstand any wind the area might face. Candles not in tall holders are liable to be blown out, while cloth napkins could go flying – a problem we had when setting up, but thankfully the wind died down as the day wore on.
If you have time, DIY decorations really add to outdoor weddings, more so than indoor weddings. I wish we had more time to make decorations, but unfortunately, a lot of time was spent hauling in bark to provide a seating area.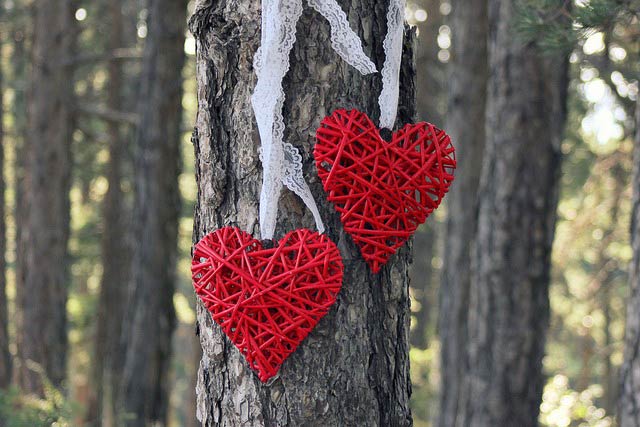 Source: Flickr user Maria Panayiotou  (CC BY-ND 2.0)
Amenities are worth it
One of the biggest amenities to not forget is bathrooms, especially with larger weddings. The general rule is one bathroom per 35 people. If you have no bathrooms, a cheap porta potty rental is called for. We paid to upgrade to the deluxe porta potty – especially good for such an important event. These might come with granite countertops, air conditioning or heating like ours did. Our guests didn't have access to the house bathrooms, so we had two luxury porta-potties, and they were worth every penny. Keep them well-lit, though, or a bridesmaid could trip on the stairs – true story.
Supplying power to the stringed lights mentioned earlier counts doubly so for a DJ. If there is no local power, or it's too far away, a generator might be needed. The extension cord we used for the lights couldn't handle the DJ booth. The DJ, like ours, might be able to provide their own generator; be sure to ask.
Where will the dance floor be? Will you have a dance floor or just a designated area? We used the pool area, made mostly of concrete. It doubled as a place for a groomsman to show off his best Saturday Night Fever impersonation, followed by a jump into the pool in his rented suit.
It may help to have a specific budget for amenities, to determine where you would rather spend money. We made a spreadsheet similar to these free Excel templates. It helped us keep track of where we could splurge to make our guests that much more comfortable.
The details
While some details are important, the minutiae will be forgotten. The venue itself will be remembered – we had many compliments on how well everything was set up; the hand-painted sign welcoming them will not. It was essentially a waste of time and money. The general atmosphere of decorations will; specific parts will not. The exact playlist will be forgotten (except by you); the laughter as the groomsman hauls himself, out of the pool, dripping wet, will forever echo in memory. The big picture, as with any wedding, is more important than minute details. The bridal party, lit by the setting sun on grass that you cut down, evokes more feelings than the same poses outside a plain building. Remember the important details, and use an outdoor venue to its fullest.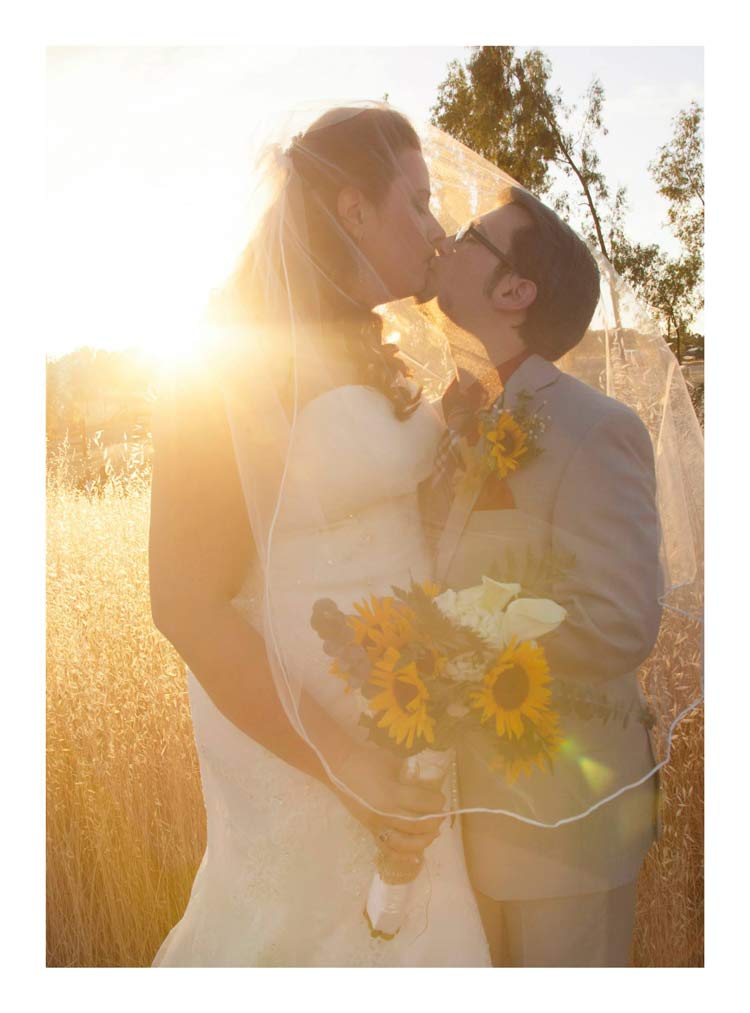 Photo by Brittany Bradley