When your wedding is in October, and it's May of the same calendar year, you have plenty of time to plan. Plenty of time to go taste cakes, interview DJs, find a venue, and decide on decorations. That is, until a cancer scare throws a wrench in your plans and suddenly the wedding is in mid-June. If you've read my article on what I learned from planning an outdoor wedding, now is your chance to find out how I learned the lessons.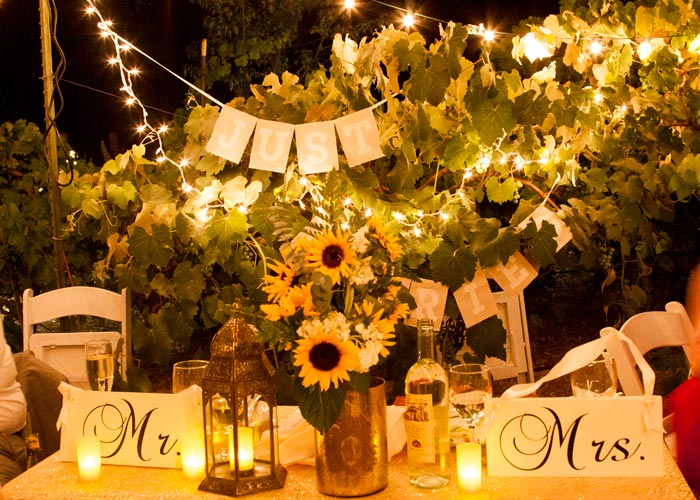 We already had a venue – a flower farm that had cottages and was often used for weddings. It seemed perfect. We put money down, picked out where on the farm we would be married, and thought everything was set. Post-scare, we cancelled the venue – thankfully getting the deposit back – and realized, to our dismay, that there was no venue that wasn't booked.
We turned to friends, Astrid and Bob, who had known my wife when she was still in the womb. They had acreage, and we asked if we could use their land if we spruced it up for a wedding. They agreed – after all, their daughter, Katrina (just a bit older than us), was a bridesmaid, and her husband, Brandon, a groomsman.
We decided to use their pool area, down a slope from the house. An area that had once held a fire pit, between the pool and a small vineyard was swept clean. Then came the bark. About 40 square feet of bark. It was backbreaking work, taking two weekends to move all the bark from where it was dumped next to the long driveway to what would become our dinner area. Filling in areas around the pool with flowers added a splash of color to the area. In retrospect, it would have been a good idea to use plants that naturally repel bugs – especially mosquitos. It wasn't too bad without the plants, but they would have helped. Plus my wife really likes lavender, which would have been an added bonus.
Meanwhile, at the front of the property, Bob and Katrina took turns mowing down tall grass with a riding lawnmower. It broke down once or twice, and even started a small fire that was thankfully extinguished before the entire field could go up in smoke.
With phase one complete, we moved on to decorations. My job was to climb a tree, and zip-tie strands of lights to the tree. Then, attach the other end of the string to the vineyard poles. We had to attach some strings together – meaning a relatively heavy control "brick" with batteries was suspended in the air. Some creative wrapping with the ends of the string ensured the wires wouldn't be pulled out of of the bricks. My soon-to-be wife, on the other hand, was trying to manage extension cords to where the DJ would be set up.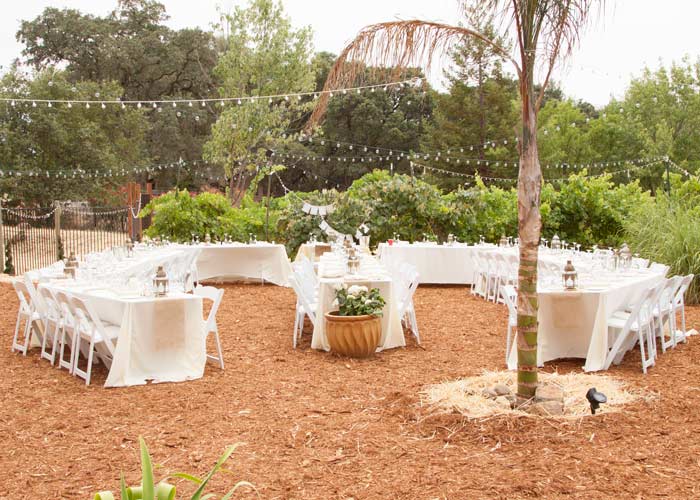 In the time we still had on weekends, we did cake-tasting and got our outfits together. As a collector of hats, I wanted to go with a top hat or bowler, but was quickly shot down, despite already owning a bowler. I'm still not convinced it was a good decision, as our reception was as the sun set, and I really could have used a hat in the California summer sun.
Next was decorations. The classic tealights in mason jars for the path from the driveway. Electric candles in lanterns for the tables. Procuring table cloths. Filling bags with flower seeds for when we made our grand exit. We guided the truck with the luxury porta potty to its destination behind the vineyard (worth it, trust me).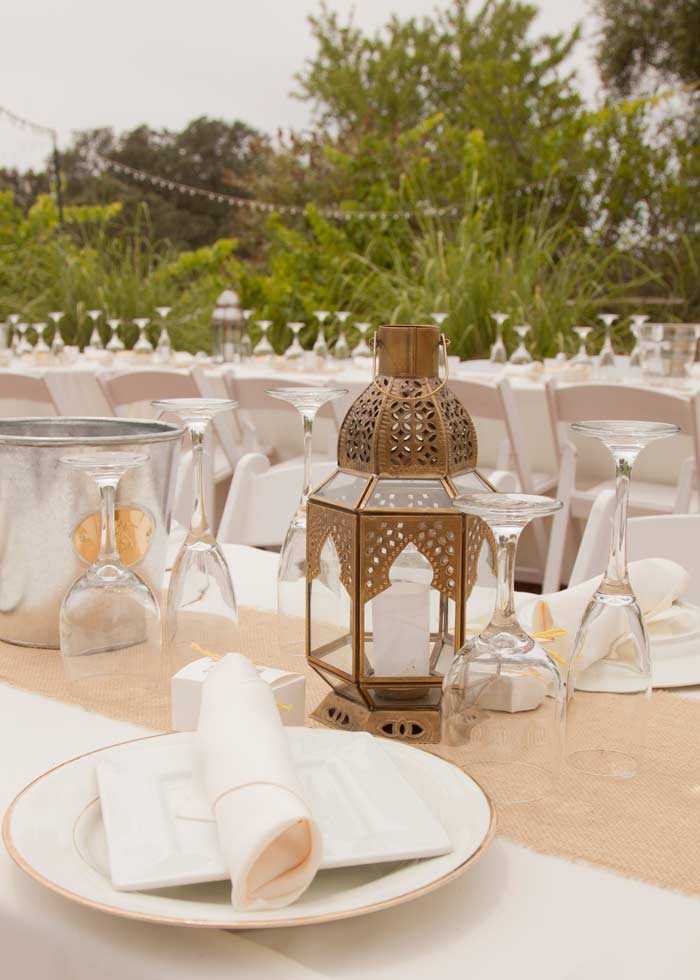 On the day of, we set up tables, helped the DJ (whose wife was our wedding planner) connect to the extension cords, and then broke to get ready. I sipped whiskey with my groomsmen, while our photographer – a friend and coworker from our college newspaper – flitted about. My suggestion: Have your photographer get a photo of your rings in natural light. It'll bring out the sparkle in any gem. It's hard to see my wedding band, since it's black tungsten on a sunflower, my wife's favorite flower, but it's one of my favorite shots from the wedding.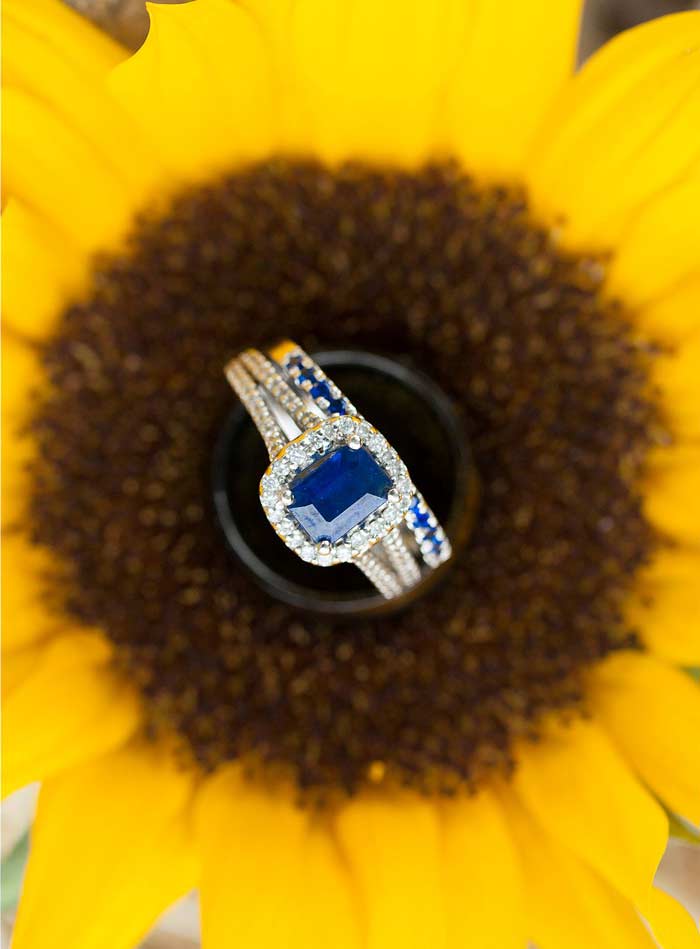 We laid straw down for the path the wedding party took through the cut-down grass. Be sure your shoes have traction for whatever surface you are on. My wife told me afterward that she nearly slipped a few times.
After the ceremony, we took photos together – getting my second favorite photo, of us kissing with the sun setting behind us. After that, we waited between the porta potty and grapes. And waited. And suddenly it was dark, and everyone but the wedding party was eating. For whatever reason that to this day I still haven't figured out, the DJ didn't announce us to come to our table. When we were finally called, everyone else was halfway done. Though we set up chairs for people to come talk to us during dinner, I only received two visitors: my dad and my young ringbearer.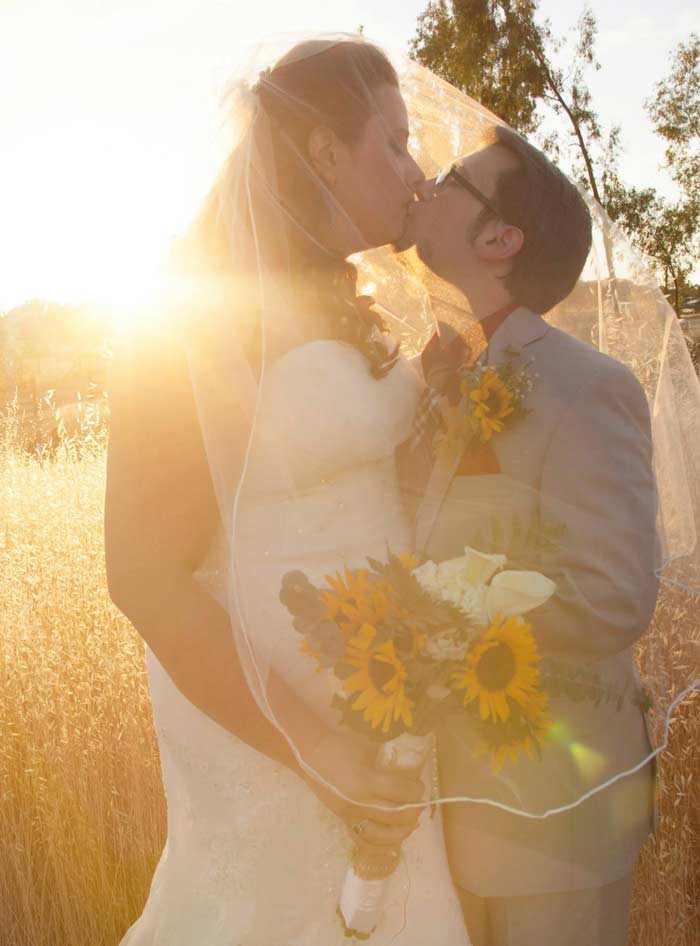 The rest of the night was a blur. Dancing. A bite of cake each – we wouldn't have a full piece until nearly a week later, so be sure to set some time aside to eat. Dancing. A groomsman jumping in the pool in his rented tux. The town car driver getting lost and being an hour late. Getting to the hotel downtown at midnight. Trying not to fall down and go to sleep as soon as we shut the door. Taking 20 minutes and a bobby pin to undo all the buttons of my wife's dress so we actually could fall down and sleep.
And waking up the next morning realizing that somehow, some way, we had pulled off a pretty amazing wedding in just over a month, doing most of the work with our own hands.

All photos courtesy of Bradley Photography.