by Brittany McComas
If you're thinking tiki torches, rum filled cocktails and coconuts–have I got the best DIY Beach Bar for you! Some of the most festive drinks ever are those juicy little cocktails you can only seem done just right on the coast. With recipes that include a dark and stormy, frozen blends, and sex on the beach, this list will get you exactly what you want in a beach bar. Whether you're getting married on white sands or in your backyard, you'll blow out all your guests flip-flops with these delicious concoctions! header image source
What You Need To Build Your Own Beach Bar
The Booze: Rum (both spiced and white), Cointreau, Grand Marnier, Peach Schnapps, and Vodka.
The Mixers:
Fresh squeezed juices like lime and orange
Cranberry and pineapple juice
Ginger beer
Strawberry, peach and mango puree.
Angostura bitters
Simple syrup: dissolve 2 cups white sugar in 3 cups hot water. Let cool to room temperature. Pour into a used, clean wine bottle and put a liquor pour spout in for your budget friendly bar.
The Garnish: lemons, limes, oranges, pineapples–think tropical. Plus sea salt and sugar on a plate for rimming glasses…and don't forget lots of ice!
Bar Tools
Glasses: Tall, rocks, fish bowls, margarita–whatever you fancy, really.
Jigger or Shot glasses for measuring
Shaker with strainer
Blender (for those frozen concoctions that help you hang on)
Muddler (to smash fruit in the glass for a sweet concoction)
Drink stirs
Knife and cutting board
Drink umbrellas!
Recipes To Post On Super Cute Paper
All of these recipes can be typed onto a cute piece of stationery or handwritten on a chalkboard for your guests!
Dark & Stormy
Smooth and delicious!  We HIGHLY recommend trying the El Dorado 12 Year rum. Simply marvelous!
To Make:
Pour 2 ounces dark rum over ice in a glass. Add 2 dashes bitters. Top with ginger beer. Garnish with pineapple wedge. source
Sex On The Beach
All of the delicious fun without any sand in awkward places!
To make:
Fill a glass with ice. Pour in 1.5 oz Vodka, 2 oz Cranberry juice, .5 oz Peach schnapps, 2 oz Orange juice. Stir and serve with a straw. Garnish with an orange slice. source
Pina Colada
A classic for good reason!
To make:
Pour 3 ounces Pineapple juice, 1 ounce White rum, and one ounce of Coconut cream into a glass. Stir in crushed ice. Garnish with pineapple wedge.  source
Mai Tai
Straight from a bar on a Daytona Beach, forget everything you know about the traditional Mai Tai–this one is to die for, and super-simple.
To make:
Pour pina colada mix with ice into a blender. Pour into a glass. Next, blend one ounce of white rum, and 3 ounces strawberry puree with ice.  Pour over pina colada in glass, and garnish with edible flowers!
Traditional Margarita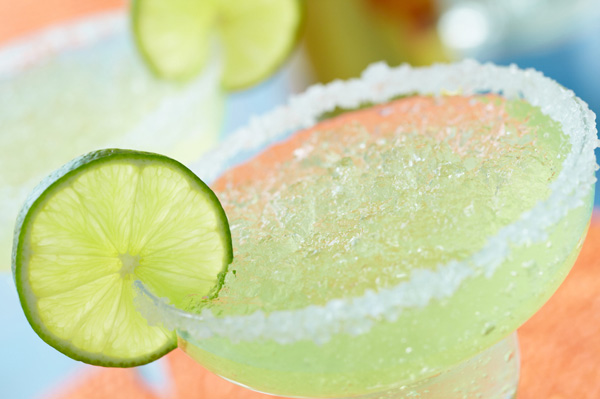 To make:
Shake 2 ounce Tequila, 1 ounce Cointreau, 3 ounces lime juice, and 1 ounce of simple syrup over ice. Rim a glass with salt. Strain into the margarita glass with ice, and serve. You can also blend this mix with ice for a frozen treat, and add a fruit puree for a flavored glass. source