*Editor's Note: this was written with an American audience in mind. Prices are different in Canada, the UK, Australia as well as every other country in the world. We encourage you to get in touch or leave a comment with prices you have experienced near you so that other couples can have an idea of what expenses might be in their area!
You've thrown a party or two before, but have you thrown one for 120 wedding guests who are in the mood to celebrate you? The reality of doing your own beer and wine bar can be bitter sweet. When it comes to learning how to serve wine and beer to a party of 120 for four hours, we've got you covered!
What's Your Beer & Wine Ratio?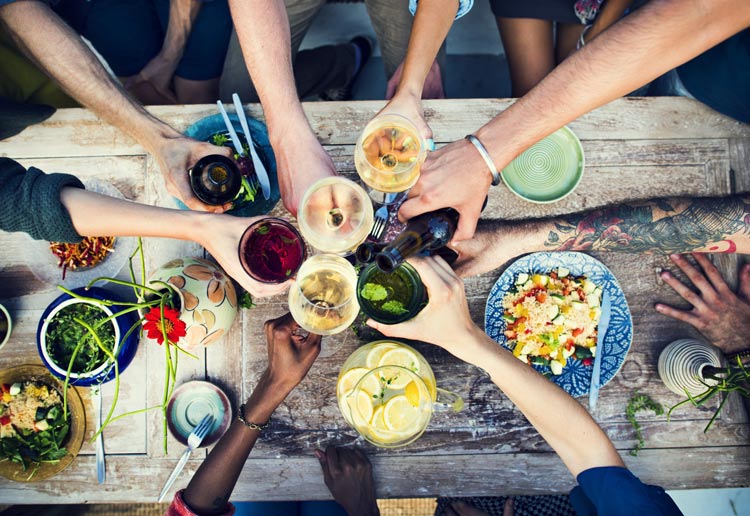 Keep in mind that these ratios are simply a starting point. If you know for a fact that your family will go through more wine than beer, adjust for that. Each guest will likely have four drinks. If you try to rationalize that one person will only have one, someone else will make up for the three that one person doesn't have. So, don't undercut your bar. You're better off having a little left over for when you return from your honeymoon than risk having your bar going dry before dinner.
Keep this in mind when you decide what to buy. You are serving 120 people for four hours. At one drink per person, per hour that = 480 drinks.
Beer Guzzling Guests
For the people you know will go ga ga for the beer you serve, do the math like this:
4 drinks per person

$25 for 1 case of 24 bottles (adjust for whatever beer suits your fancy)*

You'll need 20 x Case of 24 = $500
*This is in US prices. In the UK, it's around £36, which takes the cost up to about £720.
If you have a Trader Joe's near you, it's possible to find very good beer at great prices. $12 per 24 beers brings down the cost a lot!
Wine Happy Guests
When it comes to your wine loving friends this is what to consider:
4 drinks per person

4 glasses in a bottle at $8 a piece (we totally suggest having a pre-wedding party to decide what bottles!)

95 x Bottle = $760
Again, at Trader Joe's, you're going to be excited at what kind of bang you can get for your buck! Here's an up to date (as of March 31, 2016) list of Costco Wine Prices.
Consider a Modified Bar
You can always do a modified bar to save on cost. Simply purchase 80 bottles of wine by the case in both a red and white varietal. When it comes to beer, just get a keg of something that is universal like a pale ale or lager–or your favorite beer is just fine.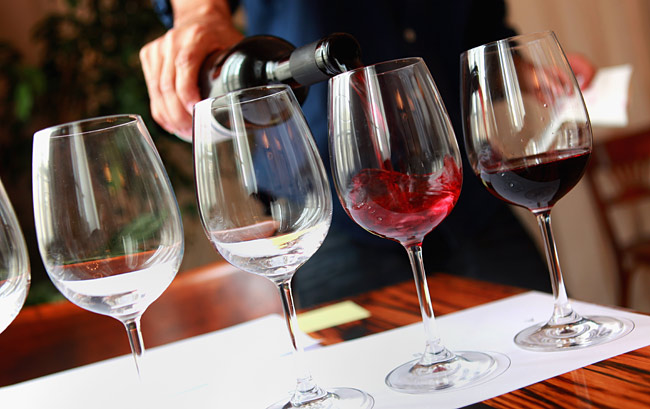 Ways To Keep It Drinker Savvy
The thing is, there will be that guest that over pours–especially if you don't have a caterer or bartender. There will be weddings that people drink less at, and there is the cost of glasses. Here are some sweet tips and tricks:
Buy smaller glasses to ensure there is no chance for a huge over pour. This goes for cocktail glasses too, because people are more likely to "go big or go home" if you are using mason jars.

If you're wedding reception is during the day, on a Sunday or Weekday, you can probably cut out a case or two of wine and be just fine. People tend to drink less at these occasions.

Be sure to check out all Country, county, province, city, and state liquor laws, because what you're allowed to do is different EVERYWHERE and you may need a permit for the day. This isn't paranoid crazy talk – you don't want your wedding reception turning into a nightmare.

Ask your venue about their liquor liability policy. You may need insurance on the off chance that the venue doesn't cover a bring your own booze affair.