When your significant other gets down on one knee, asks you to spend the rest of your life with them and you accept, your whole world changes. You'll have lots of thoughts swirling around your head as well as a lot of excitement to contain. You see, your wedding day should be the most magical day of your life and one that you never forget. So as soon as you get engaged, you need to start planning.
After getting engaged, it's natural for you to have a lot on your mind. From announcing your engagement to setting a date, there is a lot that needs to be planned. But before you start getting your wedding plans organized, don't forget to celebrate. After all, you'll only get engaged once, so it's important to take the time to mark the occasion.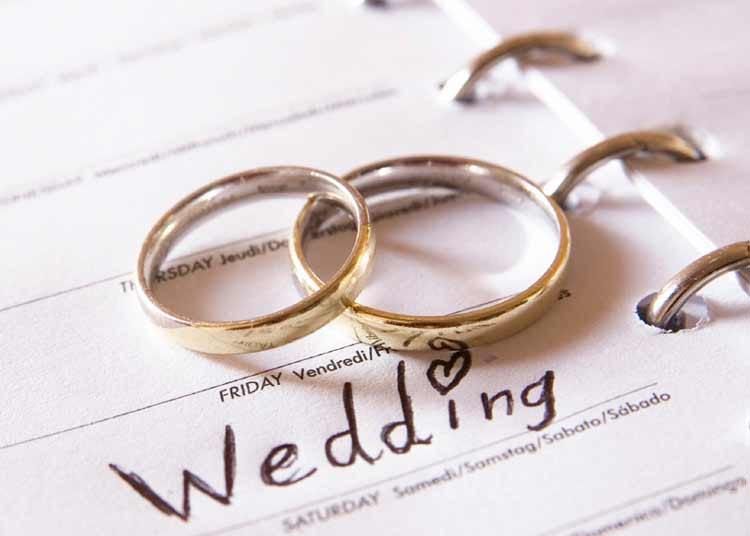 To help you celebrate your engagement and get started with your wedding planning, I've put together this guide, which is hopefully packed full of useful tips and advice, as well as some fantastic inspiration. It should make the whole process a lot less stressful. Take the tips and advice below on board, and you can ensure that your wedding is just as you dreamed it would be.
Getting engaged is meant to be a joyous occasion, but thanks to all the stress that comes with it, sometimes it can all get a bit too much. That's why knowing the best way to go about things and the next steps to take is so important. The steps below offer a brief outline of the most important things to do after getting engaged, to prepare for your big day. If you're on a short timeline, this is the quick and dirty way to get your wedding planned in a hurry!
Go ring shopping
The first thing you need to do after getting engaged is go ring shopping; that is if your fiance hasn't presented you with a ring already. Today, it's extremely common for couples to choose the engagement ring together. Instead of it being chosen before the proposal. Or some men choose to use a simple ring for the proposal and then swap it for a more elaborate one afterward. Don't forget you 
Either way, a great way to mark your engagement is by going ring shopping together. There are plenty of places you can buy a beautiful ring from, one of which is Ascot Diamonds. Wherever you choose to buy from, make sure that when you're selecting your engagement ring that you take your wedding bands into account. Traditionally, the two rings would need to match in some way, but brides these days are breaking that rule in beautiful ways!
Announce your engagement
Once you've got your engagement ring picked out, the next step is to announce your news. How you choose to go about this is up to you, but it's probably best to tell you closest family and friends first and then announce it. You can choose to make your announcement casual by making it via social media or more formal by sending out announcement cards.
For a more exciting way to announce your news, you could always throw an engagement party. This is a great way to tell all of your family and friends your news at once, and celebrate in style together. If you like the idea of planning an engagement party, take the time to get a little inspiration and then start to plan. Ideally, your party should be as soon after your engagement as possible. Else some of the excitement will start to die down, and your celebration won't be as exciting.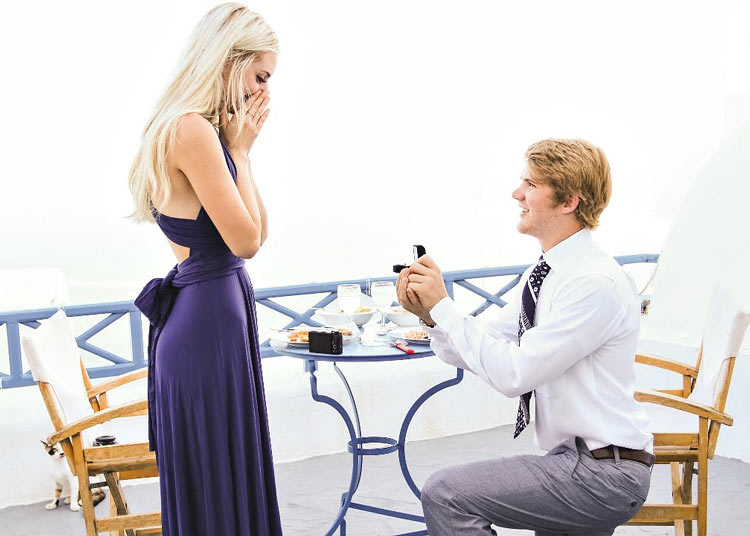 Get some wedding inspiration
The next step after celebrating your engagement is to start getting ready to plan your wedding. It doesn't matter if you aim to get married in three months or three years, it's a good idea to start your wedding planning early. This is especially important if you're hoping to get married during peak wedding season, as venues and vendors get booked up well in advance.
The first step when it comes to wedding planning is getting inspiration. For this, Pinterest really is your best friend. Create an account, make a wedding planning board, and start pinning ideas that you like to it. This gives you the chances to get lots of lovely ideas while keeping the things you like all in one place. Come hang out with us, we've got lots of ideas, too!
Invest in a wedding planner
Not the one's that do your wedding planning for you (they're expensive)! This is the best one we've found, it's not chock full of unnecessary advice, but it helps you keep track of everything. Hopefully, with such a short timeline you can keep it together and not end up drinking like the Friends girls!
The easiest way to ensure that your wedding planning is successful is by investing in a wedding planning book. There are so many fantastic planning books to choose from; it's just a case of selecting the one that works best for you. The Wedding for $1000 – Getting Started book is now available, as well!
Ideally, you should opt for a book that splits your wedding planning into various sections. This helps to make keeping everything on track, easier and less stressful because you know exactly, what needs to be done and when. If you're not a fan of wedding planning books, opt for a planning app instead.
Set a budget
In your wedding planner, there will be a section labeled 'Budget'. This will allow you to break your budget down and work out how much you can afford to spend on each part of your wedding. With that in mind, it's important to get an idea of your overall budget.
Working out your budget isn't an easy task, especially as there are so many things to think about. What it's important to realize is that spending more than you can afford is a recipe for disaster. Don't make the mistake of taking out a loan to pay for your wedding; else you'll start married life in debt. It's much better to have a budget wedding, rather than starting married life owing money to people.
Choose your venue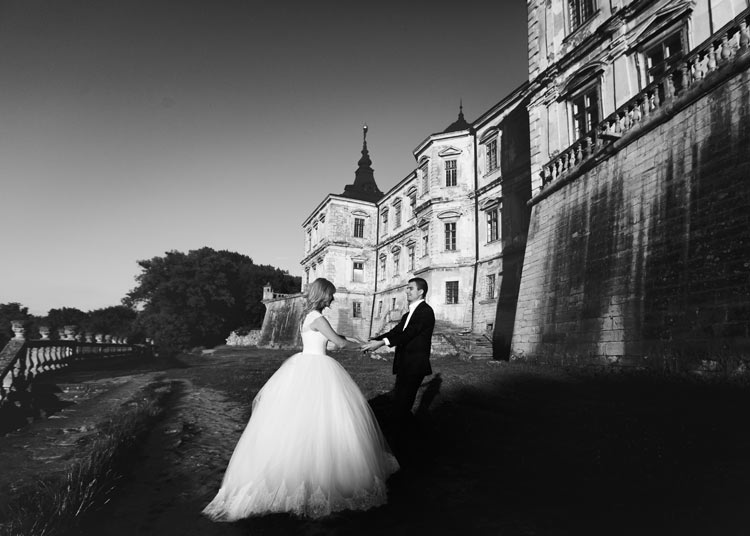 (okay, we know a castle on a budget isn't going to happen, but we can dream, right?)
Once you know what your budget is, the first thing that you need to do is choose a venue. Many couples make the mistake of thinking that it's best to set a date first, but this limits your venue options, so isn't a good idea. Choose your venue before setting a date so that you're not limited to where you can get married. Alternatively, if you know you're getting married around a certain time, and that time isn't too far away – you've got flexibility. Basically, under 3 months and if those venues don't have anyone booked they won't GET anyone booked. You can ask for all sorts of discounts – the alternative for them is having no booking.
When it comes to selecting a venue, it can sometimes be tricky to get it right. The most important thing is to do plenty of research on the venues in the local area so that you know what your options are. Take the time to compare the pros and cons of each place, as well as the cost.
Set a date
Once you have booked your venue, you can then set a date (or see above). Of course, while the date of your wedding does rely on when your chosen venue is free. You still need to think about the time of year that you want to get married. This is an important factor to consider, as it will affect your wedding in a big way.
From the cost of your venue, vendors, and everything else, to the style of wedding you can have, the time of year you opt to tie the knot is important. While late autumn, winter, and early spring weddings tend to be cheapest, the weather is unpredictable. So whether you want to take your chance of getting married in stormy conditions is up to you. We've got your back with backup plans, though, so look here and here!
Pick your bridesmaids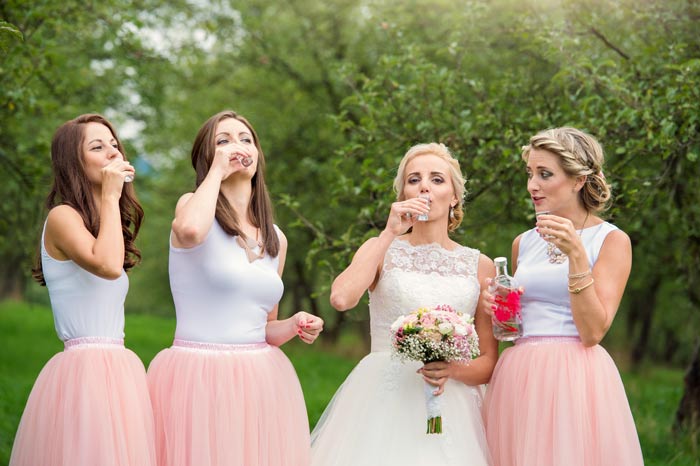 This is something that it's important to do early on, as it's your bridesmaids that will help you to plan your wedding. It can be hard to choose your bridesmaids. Especially, when you have a lot of close female relatives and friends. What's important is to pick the people that you want – don't feel pressured.
It's your wedding; it's important that you choose the bridesmaids you want. Ideally, you want to pick bridesmaids that you know will help you to plan your wedding and will make your big day as amazing as possible. If you've got those awesome friends, make sure you let them look amazing too (but not as gorgeous as you, of course)! It's best to keep young children out of it, and instead, have them as flower girls. 
Start thinking about your vendors
It's a good idea to start thinking about your vendors in advance so that you have plenty of choice. All the best vendors – entertainment, catering, etc., get booked up pretty quickly. So it's a good idea to choose the vendors that you want as soon as possible. That way you can ensure that your wedding is just as you've always dreamt it would be.
If you're stuck for ideas, ask your friends and relatives whether they have any suggestions. You could also have a browse online on local wedding forums to get an idea of which vendors are popular. Whatever you do, don't book a vendor without meeting with them first. This is important as a meeting will give you an idea of what you can expect from the vendor and their services.
Send out your save-the-dates
Last but not least, it's crucial that as soon as you can, you send out your save-the-dates. Wedding season gets extremely busy, which is why it's so important to get your save-the-dates sent out early. Else, you may find the some of the important people you want at your wedding are already booked up.
So there you have it, the most important steps that you need to take after getting engaged – the quick and dirty version! There's a lot to do when it comes to planning your wedding, which is why being organized is so important. Keep it together, you got this! Let us know if we can help!