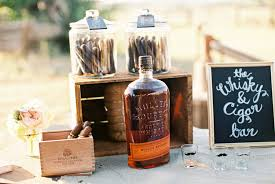 When it comes to doing a simple bar for those who like to sip, this simple, easy bar is sure to have your guests revelling in southern hospitality.
From whiskey flights to cocktails, there are plenty of ways to serve whiskey that will keep all your guests happy. No matter how you want to serve things up, we've got a few ideas that will have you doing it on the cheap–without skimping on the taste of your favourite whiskey or bourbon! image source Don't forget to check out our other ideas for DIY bars!
What You Need On The Bar
Just as the title states, you can put out a few bottles of whiskey, grab your favourite cigars, and job done. Of course we like to keep things fun, so here's a few ideas!
The Booze:
Whiskey (think: Jack Daniels, Jameson, Bushmills, Wild Turkey)
White Whiskey (think: Catdaddy, White Dog, Ole Smoky, and Death's Door–yes, this is most commonly known as moonshine but the ones I listed are scrumptious)
Bourbon (think: Maker's Mark, Bulleit, Buffalo Trace, Woodford Reserve)
Scotch (Highland Park, Macallan, Lagavulin, and Johnny Walker)
Sweet Vermouth (for cocktails)
The Mixers: Plain water, mango puree (simply pulse a whole, chopped mango in your blender with 3 Tbsp water), and angostura bitters.
The Garnish: orange slices, maraschino cherries, sugar cubes, and mint.
Bar Tools
Whiskey snifters & rocks glasses (the short guys)
Jigger or shot glasses for measuring
Shaker with strainer
Muddler (to smash mint for juleps)
Drink stirrers
Recipes To Post On Super Cute Paper
All of these recipes can be typed or written out on a chalkboard for your guests, and each can be served on the rocks or frozen!
Old Fashioned
Place a sugar cube in a glass, add 2 dashes Angostura bitters, and a few dashes of plain water. Muddle until dissolved. Fill the glass with ice, add 1 1/2 ounce Bourbon. Garnish with an orange slice and a cherry. source
Manhattan
Fill shaker with ice. Pour 2 ounces whiskey, ¾ ounce Sweet Vermouth, and a dash of Angostura Bitters over ice. Let rest. Garnish glass with a maraschino cherry, give your Manhattan a slow stir, and strain into the glass. source
Mint Julep
Place 2 sugar cubes and 1 Tbsp. of water. Muddle until sugar dissolves. Add three to five mint leaves and gently muddle 3 or four times just to break the essence. Fill the glass with ice, add 2 ounces Bourbon, 2 tsp. Plain Water, and stir well until the glass is frosted. For a fruity cocktail, add 2 ounces of mango puree–no really, it's pure heaven. source
The Cigars
Visit a local fine tobacconist. There will be staff there that can help you choose some fine cigars under $10. You'll likely have guests thinking they're George Burns, when they've never smoked a day in their life, so a nice mild cigar will ensure your guests enjoy their smoke and a whiskey. Set out some cutters and boxes of matches to complete your cigar set-up.