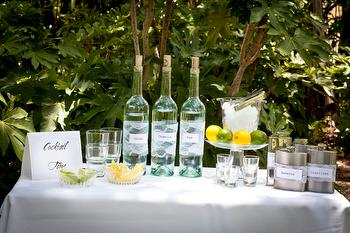 "The name's Bride. Soon-To-Be Bride."
Setting up a martini bar for your guests to serve themselves is Bond babe stylish. It's low-maintenance and you just need a few things for a simple bar set-up: some booze, and a cool way to display recipes. Simply put, your guests can pimp their martinis any way they want–shaken or stirred!
Sorry, bad-ass bartender dressed like James Bond not included.
---
What To Set On Your Bar
The Booze: Vodka, Gin, Dry Vermouth and Lillet Blonde
The Mixers: Olive Juice & Soda water
The Garnishes: Olives, Lemon Twists and Cucumber Slices.
A bucket of ice (you'll need about a half pound per guest)
Bar Tools: Sorry guys, but martinis should always be shaken and never stirred. But–you know that one guy in your bridal party is gonna wanna go all James Bond.
Martini glasses
Jigger or shot glasses
Shaker with strainer
Toothpicks (or martini skewers)
Recipes to Display
The best part about a DIY bar, you can print the recipes on a piece of stationery (scrapped invitation paper or something cute), frame it in something from the dollar store, and set it out for your guests to follow! source
Classic Martini
Whether you love vodka or gin, my old school method of making a classic martini would have Mr. Bond rolling in his grave but your guests complimenting your reception all night long.
Fill a martini glass with ice and set aside. Fill shaker with ice. Pour in vodka or gin. Set aside. Dump the ice out of the martini glass. Pour in one ½ ounce vermouth. Swirl in the glass, and dump. Slowly strain shaker of vodka/gin into glass. Garnish with an olive or add ½ ounce olive juice to make it dirty, and enjoy!
Vesper Martini
The infamous cocktail Ian Fleming dubbed 'The' Bond martini to be shaken and not stirred–is this stout bad boy!
Fill shaker with ice. Pour 1/2 ounce Vodka, 2 ounce Gin, 1/4 ounce Lillet Blonde into shaker. I would let it sit in order to not bruise the gin, but if you must–shake for two minutes or until the shaker gets a nice film of frost on the outside. Strain into a chilled martini glass. Garnish with a twist of lemon.
McNally's French Martini
Not to be confused with anything you've seen with vanilla vodka–that is not a French martini. This classic, sweet drink was concocted in the late 80s at one of restaurateur Keith McNally's legendary bars, and it's also a London favourite.
Fill a shaker with ice. Pour in ¾ ounce vodka, ¾ ounce Chambord, and ¾ ounce pineapple juice. Shake, shake, shake, Senora! Strain into a martini glass and garnish with a pineapple wedge.