by Brittany McComas, brought to you by the taste of Syrah 
Not sure how to choose your wedding wine? Get the girls together and get to popping corks! When you can't decide what kind of wine to serve at your wedding reception, put together a tasting party. If you're planning on serving just the basics, we suggest having one red and one white.  It's important that both red and white wines are in your price range, but that price range can sometimes have questionable results.
Let's have a blind taste test to find out which inexpensive wines are swill in a bottle and which wines you'd like to spend an evening with. You'll need about 8 to 14 bottles, half white and half red. Too few of each type, and you won't have a broad enough idea, too many and you'll be drunk before you determine the winner.
What Wedding Wine to Taste
The Basic Reds
Merlot
Cabernet Sauvignon
Pinot Noir
Sangiovese
Syrah
Shiraz
Malbec
Zinfandel
The Basic Whites
Chardonnay
Pinot Grigio
Sauvignon Blanc
Riesling
Semillon
The Blends
This is the stuff that just has a label. What I mean is, these usually have names and do not note the grape on the front. Flip it over, and the back label will list more than one type of grape. These are also some of my favourite wines and will be labeled reserve, reserva, cellar, etc. burlap bags from emmalinebride.com
How To Make Unbiased Decisions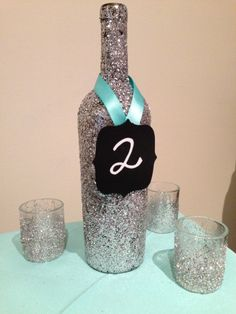 Get the Mother of The Bride and Groom involved to help you make the bachelorette party/wine tasting super-fun. Have these lovely ladies wrap all the bottles so they're indistinguishable and then number them. They don't have to be THIS elaborately disguised, but make sure you can't guess the wine by the shape of the bottle or color of the glass.
Everyone should have a glass and be poured the same wine at the same time for a sip. Don't judge on the first taste, because whatever you've eaten between sips or had immediately before that sip affects the flavor profile. Provide a large receptacle to pour (or spit) the wine in between tastings.
For each wine, every person should write down their rating. It can be on a scale of 1 to 5 or 1 to 10, or stars, or smiley faces. Whatever you're into, as long as everyone understands the rating system. No need to share the ratings between wines, so you don't influence anyone's experience of the wine in question.
At the end of the night go around the room and get the feedback on each bottle of wine. Tally up the votes to determine which wines will be served at the wedding, hen you can unveil the bottles and find out if your palette matches your usual picks for wine bottles! photo credit
Party Favors
Hello! What's a party without adorable party favors that tell you to party! Turn your wine tasting up a notch with cute favors. Ideally, providing mini notebooks and pens for writing down tasting notes and what foods you think the wine will pair well with is a great party favor.
You can make or buy personalized wine glasses to commemorate your amazing night. Here are some from etsy that we love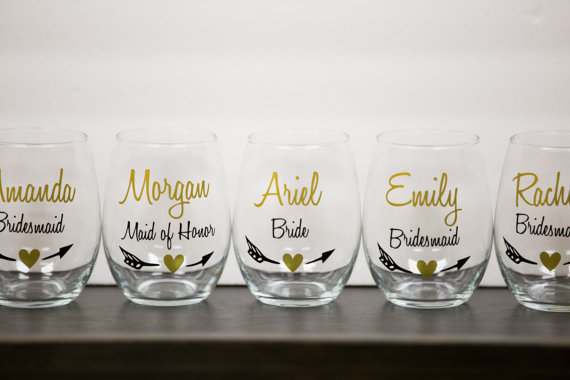 WeddingsByLeann offers these adorable tumblers that you can fill with electrolyte packed bevvys, some coconut water, or hair of the dog.