by Brittany McComas
Create something cute for your girls to say 'thank you' for their part in your wedding day. Even the most uncreative person on the planet can nail these adorable bridesmaid mugs! Forget Pinterest Fail. Follow these simple, easy directions and gift your girls something sentimentally sweet straight from your creative little heart. photo credit
You'll Need:
Step One: Use a cotton ball and apply a bit of rubbing alcohol. Wipe the mug thoroughly to remove all debris and dirt.
Step Two: Flip the mug over and remove any stickers and labels as they can catch fire in the oven. Use a cotton ball with alcohol to remove excess gummy residue, too.
Step Three: Practice your design on a sketch pad or piece of paper. This will hopefully help you nail your design the first go round'. Write your design on the mug. If you make a mistake just wipe clean with rubbing alcohol and start over.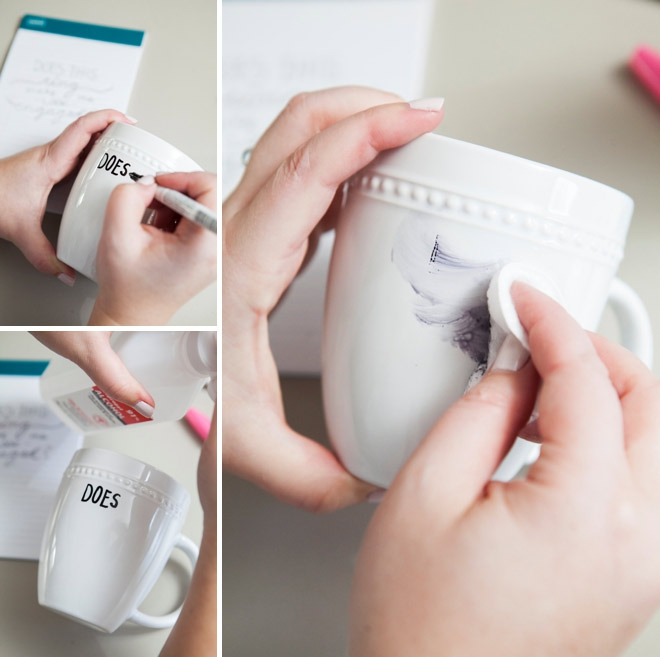 Make your design unique to each girl. You can use their name and title. Or a cute quote or saying you both adore. Get really creative here for one fun mug. Once your designs are complete, set each mug aside to dry for 72 hours.
Step Four: **It is super-important that you follow this exact, otherwise your design will come off in the dishwasher.
Preheat an oven to 425 degrees Fahrenheit. Place mugs in the oven for one hour. Do not open the oven when the timer goes off! Leave the mugs to completely cool inside the oven.
Once the oven door is cool to the touch, remove the mugs and wrap em' up for your girls!
Super-Cool Note:
If you tend to Pinterest Fail like I normally do, have a backup vendor just in case. Here are some cute finds on Etsy:
Stuff your mugs with your girl's favourite coffee or tea and maybe some sassy little biscuits for one super amazing 'thank you' gift!