In this day and age, not only are letters a thing of the past–they seem to be something our parents hold dear. Which is exactly why this is the perfect gift to say 'thank you' when it comes to the people who raised you. Below are some great ideas on how to craft something personal, sweet and to the point for every kind of family member you'd like to thank and cherish for making your special day so very amazing. This post contains affiliate links for your convenience. Click here to read our full disclosure policy.
Choose A Style
Whether you're going hand-written, with a calligraphy style, a monogrammed print or something professionally printed–first decide how you would like to gift your thank you letter. You can do this on stationery left over from your wedding and…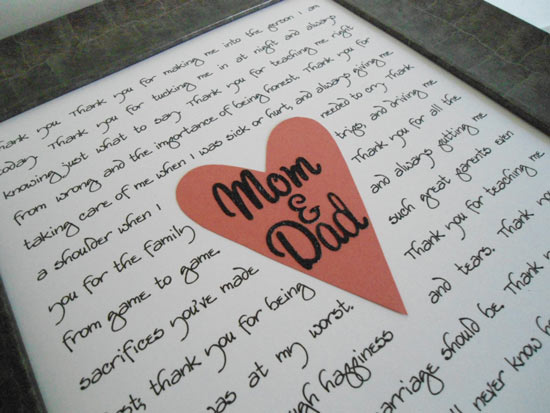 On a plate: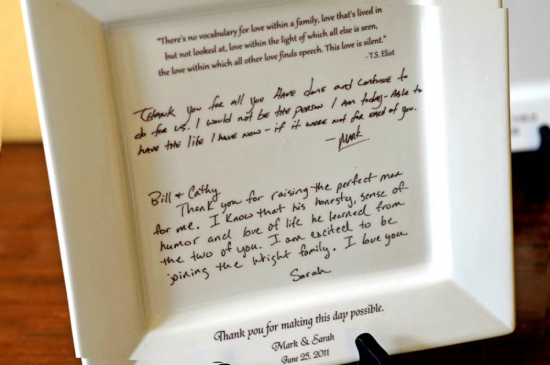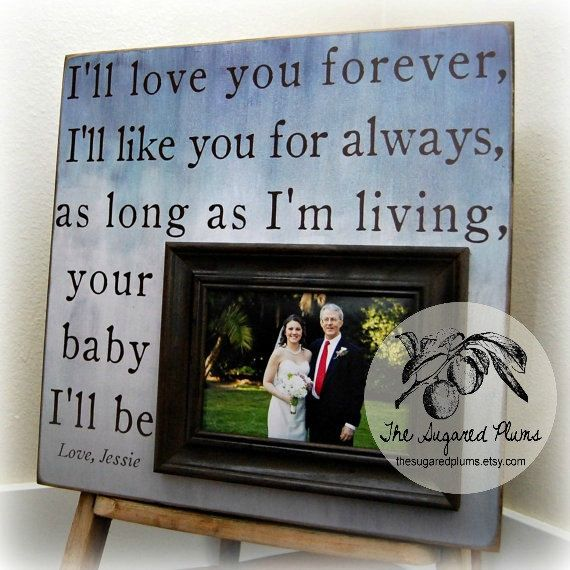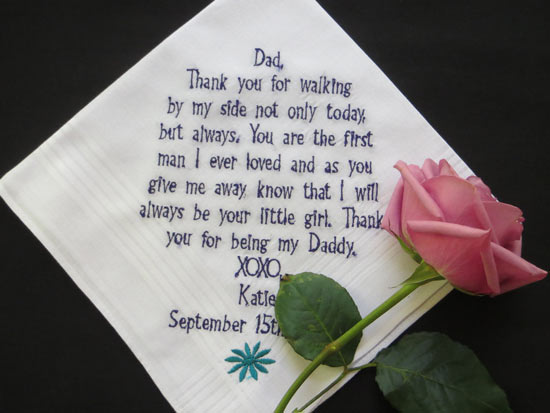 Getting Started
While you can choose to copy a favourite poem or passage of the bible, or go with one of the sayings above, you also might choose to write a more personal note. Think about what your parents or guardians have done for you growing up. Make a list of favourite memories, moments that bring laughter, ones that were difficult that you got through together (nothing too horrific–maybe that time you got a black eye from the neighborhood bully or fell off your bike), and times you cherish that they may not even know you hold dear.
What have they done to contribute to the wedding? Not financially, but special moments. Things they may have helped out with, times they kept you sane, or eased tension can also be added to your list.
The Heading
Start your letter with what you call your parents:
Dear Mommy and Daddy,
To My Dearest Parents,
To My Loving Parents,
Or you can opt for individual notes to a single parent, as well.
The Body
Here you will want to include your sentimental list. You'll also want to open it up with a super-sweet one-liner:
"I have loved you for 10,585 days. (your age times 365 *so if you're 29 10,585 is the number you write down) Today you gave me away to a man/woman that will love me for the rest of my life…and I'd like to thank you for being my rock until now."
Or:
"…and I'd like to thank you for loving me the most until now."
"…and I'd like to thank you for making sure I made to where I am now."
Conclusion
This is where you can get super-personal. Is there a one-liner you say to one another? Like my Mother always tells me, "I love you to the moon and back." Include something that only you guys say to one another, and always sign it with your nickname. Even if your Dad has called you 'Butch' since you were five years old:
I love you to the moon and back,
xx Me
---
Don't forget to thank your bridal party, too! Your best friends standing up beside you at the altar should know how much you appreciate them.  Check out this DIY Bridesmaid Mug tutorial for an affordable gift for your girls.