In today's niche market of craft beer brewing, home brewing and beer clubs, you might be thinking about how to serve some bad-ass brew at your wedding. Have no fear! My handy guide to beer will have you grabbing the best IPAs, ales, stouts, and small batch brews you can find. Who knows, after exploring these, you might even decide to brew your own to put a special touch on the big day! image source
Terrapin Beer Company
Some of the coolest guys I've ever met in the world this beer company comes in top dog when it comes to specialty brews that will please the whole darn family! Straight out of Athens, Georgia these beers are brewed to sweet perfection. When it comes to Terrapin Beer Company, my favourite year 'round beers are as follows:
Recreation Ale
This 'hopped up session ale' is nice and smooth for an all around easy-going beer experience and doesn't pack that much of a punch with a 4.7% ABV. This is the kind of beer you want to serve at a summer wedding!
HI-5 IPA
If it's hops you're after the HI-5 packs a sweet punch at 5.9% ABV. With a citrus hop, you'll wish you were beachside to enjoy this brew. This is a great IPA to serve at a wedding that's just on the cusp of summer and fall.
Moo-Hoo Chocolate Milk Stout
With Season Sessions, Monster Beer Tours, and Side Projects there are some awesome specialties to choose from including this bad boy weighing in with a 6.0% ABV this stout beer is bursting with chocolate and tastes "udderly delicious".
Main Street Grille and Brew Company
When it comes to something for the ladies, forget that overly sweet canned stuff, and sink your sweet tooth into something from Main Street Grille and Brew Company out of Garrettsville, OH. I met these guys at The World Beer Festival in Cleveland, OH. They brew some of the most exquisite crafts I've ever tasted.
Ma Barker's Birch Beer
Mike Mallone, master brewer of this delicious treat, and I had a lengthy conversation about his hard root beer. He might have told me a little secret about his recipe…that was after I had so many of these, at just below 6% ABV, that I was sure to never remember anything–other than the fact that you can get it by the growler!
Green Flash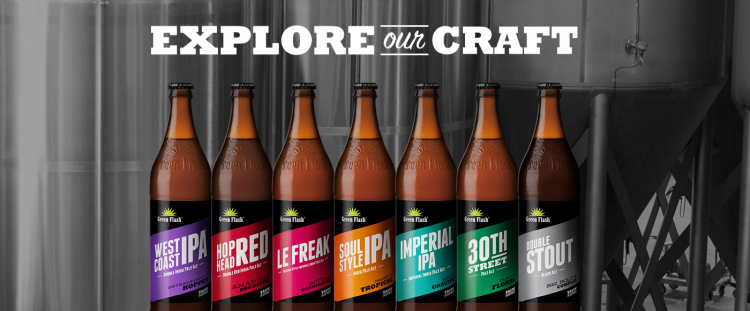 Basic label, bad-ass taste. Green Flash is no joke–just downright good craft beer. I've had every single one of their 'Year Round Beers', including their 'Seasonal Releases', as well as the Mosaic and Citra Session in their Hop Odyssey beers. They range in ABV with most weighing in around 8 to 10%–meant to be savoured like a fine wine.
BrewDog
Forget the champagne. Go Nuclear! No really, this is to be savoured in a beautiful champagne glass and maybe poured over an ice cube. Tactical Nuclear Penguin by BrewDog is The World's Strongest Beer. This uber-imperial stout holds that title due to it's 32% ABV, and is exactly why it's meant to be shared in good company, on a very special occasion, in somewhat small doses.