There are so many ways that you can thank the woman in your life for participating meaningfully in your wedding, but we can all agree that lovely jewelry is always greatly appreciated!  Matching sets gifted to your bridesmaids to wear in the ceremony is a relatively new tradition, but that doesn't mean you have to follow it!  Here are a few ideas from the wholesale jeweler Teeda, where I found that the prices are amazing, especially if you have a large bridal party!
What about a necklace with different pendants for each bridesmaid indicating how special they are to you, or as a commemoration of something the two of you share? Here's a link to some cute wholesale sterling silver and CZ pendants, with a huge variety of styles.  Recently I was at a wedding where the bride gifted the bridesmaids cute and silly necklaces that evoked memories of their relationship!  The bride gave the maid of honor a safety pin necklace in gold for 'always helping me keep it together',  and one of her bridesmaids was given a necklace of a tiny wedge of swiss cheese because they bonded over wine and cheese nights! Keep your gifts personal and sweet, and it doesn't matter about the cost.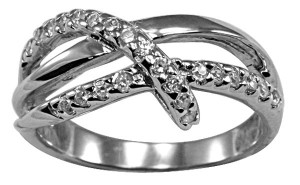 A second idea would be a pretty ring for each bridesmaid though you may give away a hint when you ask for their ring sizes! A ribbon style ring with CZ's set in it would be such a lovely gift for those friends that you're 'tied to' forever!
No matter what you decide to give your bridesmaids, and no matter what they cost – always write a thoughtful, personalized and genuine note of thanks to each one of them along with the gift. Your bridesmaids are glad to support you on your big day, but it's always nice to know you're appreciated in return!
(header image via select-jewelers.net)