Glitter, sparkle and get your shine on with wedding decor. We have a no fail, sweet and easy way for your wedding reception tables to sparkle and shine.
just a heads up: most of the items we use are from Amazon,  because we're not allowed to go into Michael's anymore after we came home with $200 worth of craft supplies that maybe kinda didn't ever get put away (says the hubby). We link to products with the lowest prices we can find on amazon, and always link to Prime items when possible. If you don't have Amazon Prime, you should TOTALLY consider it. Here's a link to try Amazon Prime with a 30-Day Free Trial.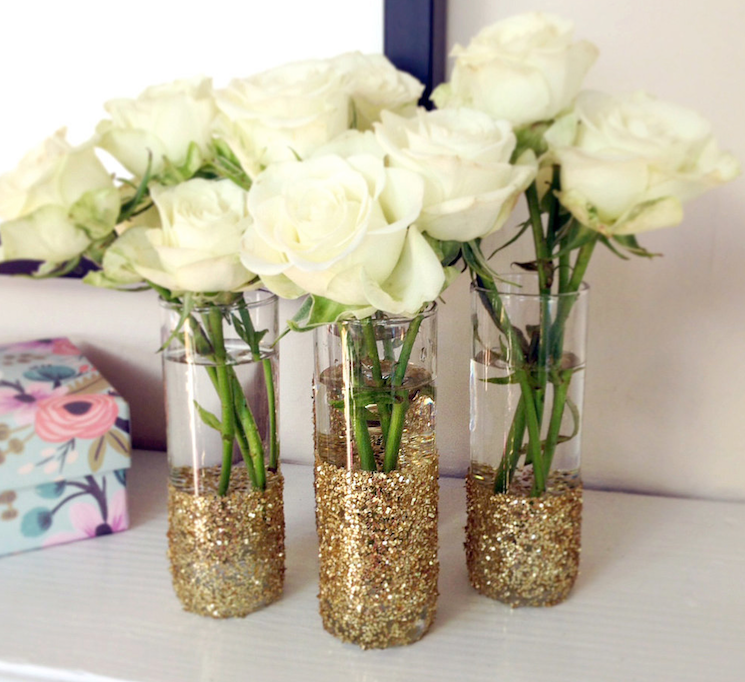 from i-literally-do.blogspot.com
Glitter Flower Vases
You'll Need:
Step One: Paint the bottom of the glass, ⅔ of the way up with modge podge.
Step Two: Immediately roll the glass in glitter until well coated or sprinkle the glitter over the glass holding it over a cardboard box.
Step Three: Shake the excess off and set aside to dry.
Step Four: Repeat steps one through three on each glass until all are coated. Let dry for 24 hours.
Step Five: Spray each glass with one coat of Glitter Blast Sealer and let dry for 12 hours before using. Fill with water and fresh flowers for one amazing centerpiece motif.