Giving out wedding favors can be a positive part your DIY bridal experience or your worst nightmare. That being said, you can do really nice things for your guests that won't get thrown in the garbage right after your epic send off. Everyone loves snack foods and bath salts wedding favors – it's a fact!
Here's how to avoid a personal #PinterestFail and gift your guests something with style that won't break the bank on your big day.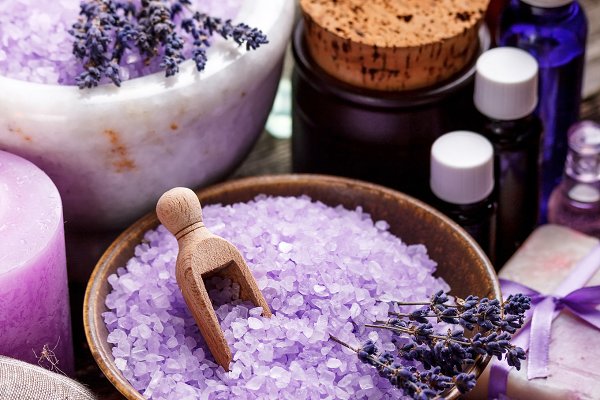 Easy To Make DIY Bath Salts Wedding Favors
Simply grab a large (really large) glass mixing bowl and combine your ingredients:
5 lbs. Epsom Salts

50 – 100 drops of

doTERRA essential oil

such as lavender, sandalwood or grapefruit

1-2 ounces of liquid oils (grapeseed, avocado, fractionated coconut, Vitamin E, Argan)

food coloring drops that match your wedding colors

1 ounce baking soda

homemade gift tags or ribbon
After adding multiple oils to epsom salts (which turns them into bath salts) the mixture can get clumpy, moist and sticky – baking eliminates that problem. Simply baking your special bath salt mixture at 200° for 15 minutes turns your blend into a beautifully smooth, dry and clump free texture. It looks so professional your friends won't believe that you made it! Way to save money on your wedding favors!
*When mixing your bath salts, be sure to carefully fold the drops in. Don't just dump and mix. You want the scent and coloring to be well-blended throughout.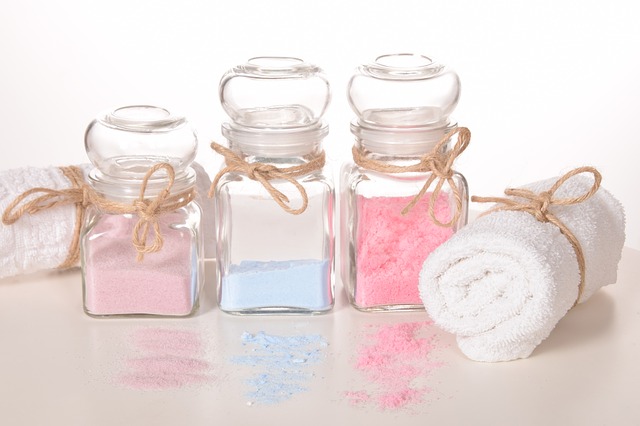 Clever Combinations
When it comes to your guests, you might want to mix a few scents and create your own signature bath salt wedding favors:
For relaxation, try: equal parts bergamot and lavender essential oils, or lavender and sandalwood.
For calming, try: 2 parts lavender, 1 part geranium, 1 part rose essential oils.
For uplifting and stress relief, try equal parts orange, lemon and cedarwood.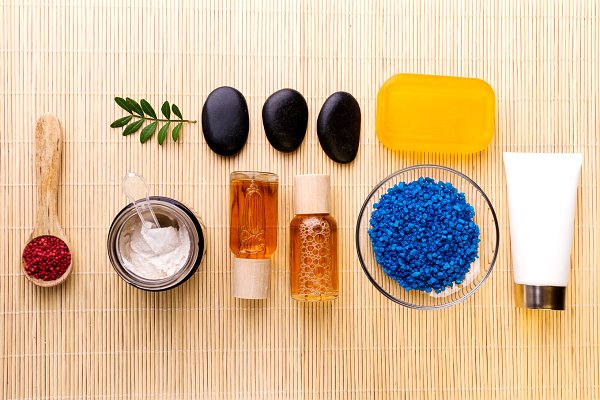 Some Things To Know About Wedding Bath Salt Favors
I'm sure there are things you might be wondering about these budget-friendly DIY wedding favors, so here you go:
How much epsom salt is needed if I'm making ___ number of favors?
5 lb. of Epsom Salt makes about 20 4-ounce jars or wax paper bags of bath salts. If you use 6-ounce jars or bags, a 5-lb bag of epsom salt will make about 13 favors.
What is the cheapest epsom salts you can buy on Amazon?
I really love the Epsoak Epsom Salt sold in 5 lb. bags on Amazon. Here's the cheapest bulk option I've found so far, and I use this stuff like it's made of nothing (really does soothe muscle soreness, and I use a large amount).
What are the cheapest packaging options for these wedding favors?
Clear plastic favor bags are by far the cheapest option to order in bulk. Wax paper or glassine bags are also cute if you choose to tie them up with a cute ribbon and a make-at-home label (or use cute washi tape!). Now, you've got some seriously adorable wedding bath salt favors.
How much money can you save by making these favors yourself rather than buying them from Etsy or somewhere else? 
Bath salt wedding favors cost around $2.75 per piece on Etsy. But you can make them for around $1 (or less) per piece at home. Maybe even less, depending on how extravagant you want to get with scent combinations and food coloring.
What else can I do with these wedding favors?
You can also turn your Epsom Salt and Essential oils into Bath Bombs for about $10 more per batch of 100.
You'll need: 1 cup baking soda, 1/2 cup citric acid, 1/2 cup Epsom salts, 1 tsp. Water, 2 tsp. favorite essential oil, 3 tsp. liquid oil, food coloring, bowl, whisk, jar, and bath bomb molds. You can find these on Amazon by scrolling down to the combination of items other people bought on the Epsom Salt page above.
What should I do if I don't feel like doing all this work?
Let's be honest, we might be DIY and Budget brides, but there's only so much work we want to really do. So, if you want to make this process speed up a little bit, here's my biggest tip:
Keep it Simple, Sister. 
Get rosemary-infused epsom salts, crush some dried rosemary (yes, from the grocery section) and pack it all up like you slaved over a hot stove for hours. Bath Salts Wedding Favors: Done!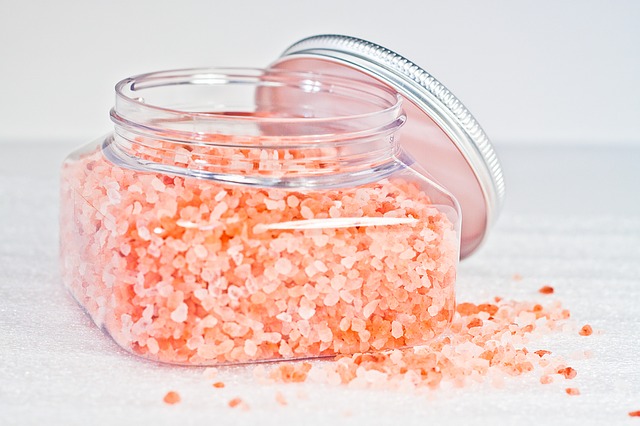 A Note on Essential Oils
Personally, I prefer using doTERRA essential oils for a number of reasons:
they're the highest quality available essential oils and they are sourced in their natural habitat
doTERRA Co-Impact Sourcing helps create coalitions of growers and distillers
fair trade practices ensure local communities receive fair and timely payments to support their families
---