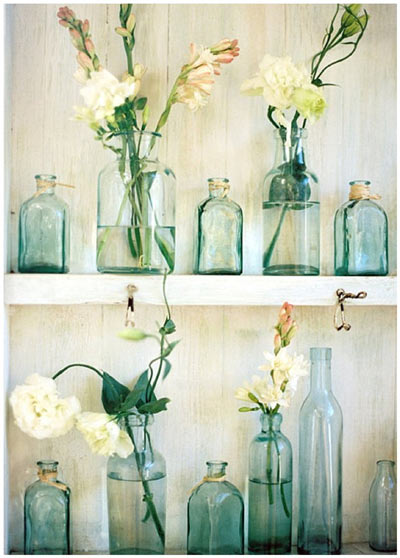 by Brittany McComas
Love to DIY, but everything ends up being a "Pinterest Fail"? Yeah, me too. That's why Wedding For $1000 has searched far and wide to find you some amazing DIY decor for your special day that won't turn into an absolute nightmare. You can decorate to your little heart's content with our no-fail instructions…because most of them were stolen off the internet. Let's be honest – don't try to reinvent the wheel, you've got enough on your plate. Here are some 'DIY for Dummies' projects that I PROMISE will work!
DIY Centerpieces
Savvy Flower Vases
Instead of mason jars that can be super expensive in bulk, we love the idea of repurposing empty food jars and wine bottles. Enlist your family members and bridal party to save sauce jars, wine bottles, and such. source
Fancy Flower Vases
Get a plastic bottle and peel the label off. Fill with rocks, sand or dirt. Whatever is free, really. Spray paint in metallic colors and then stuff some flowers in. source
Alternatively, you can paint some of those sweet bottles and jars you saved with chrome spray paint for around $7 at Amazon. source
Super Sweet Flowers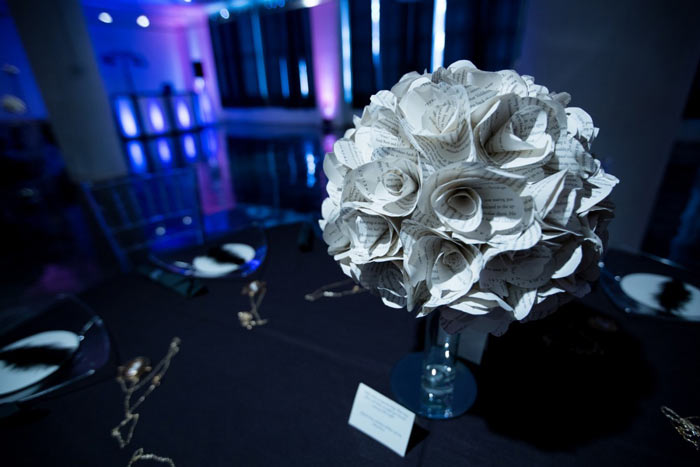 Toss the real flowers aside and go with repurposed paper roses! Scour your family's attic for books that no one is ever going to read again, or grab a few at the thrift store for 25 cents a piece. Paper flowers. Boom!
How To Make Them: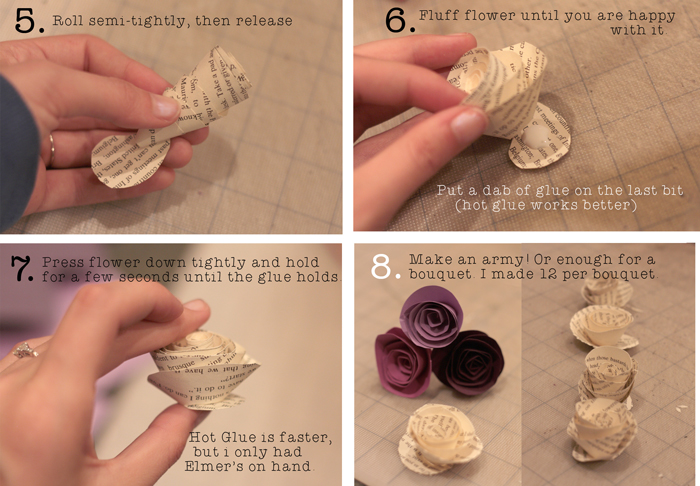 If you want longer flowers, use a bigger circle. Otherwise, make a cone with a full page and glue that little bad boy above in the middle of the cone.
Venue Signs
Super Sweet Welcome Signs
Thrift store it up for some cute frames. The Dollar Tree is also a great place to grab frames, and you'll need a sharpie style pen, plus a box of crayons–all one dollar. Grab a newspaper, and set it outside to yellow in the sun for a few days. The thrift store might even have some old paper, or check a family member's attic. You might even find some old frames in the attic. Heck, let's check the attic first for most things.
Cut the newspaper to fit the frame. Write 'welcome', 'bar' with an arrow, or this cute phrase in sharpie. Go over it with a black crayon to get that cute, rugged pop. Pop it in the frame.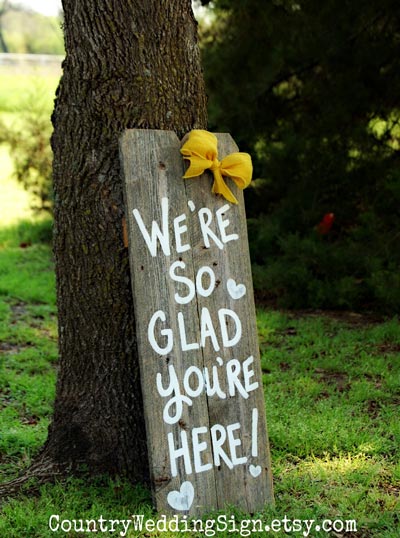 Use craft paint to gussie up said frame and bam! Sweet decor.
Place these on reception tables with cute sayings, phrases, or a simple "thank you" instead of giant flower arrangements for centerpieces. source
Wooden Welcome Accents
Well. I was going to tell you, "If all else fails, just buy this sign on etsy." Um, it's like $60. Go out to your local hardware store and ask them if they have any unusable, random cuts of wood. Bat your eyes and smile. Trust me, it works. You'll get a deal, or maybe even a freebie.
Grab a White Sharpie Paint Pen, write something cute on said wood you acquire, and hot glue a cute bow on top.