Sometimes you just need to spice up your life, or the life of the party! When it comes to DIY wedding favors, infused olive oil makes for great take home treats that are sure to be treasured by your fabulous guests. From herbal flavors, something spicy or a little something sweet, olive oils can be used for cooking and salad dressings or even bread dipping. Check out the cool ways below to DIY your wedding favors like a pro!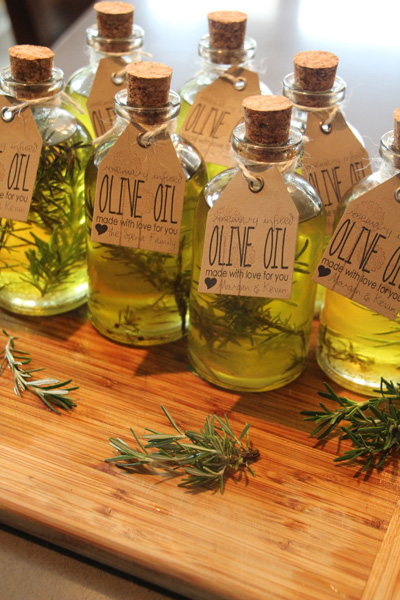 Easy, DIY Infused Olive Oil Favors
You'll Need:
Sealable Bottles
Tags
String
Sharpie
Good Quality Olive Oil
Seasoning of Choice
Choose Your Flavor:
Fresh Rosemary Sprigs
Basil Leaves
Peppercorns
Chipotle Chili Peppers
Lemon Peels
Orange Peels
Step One: Shop for a good quality olive oil. Check the label and make sure it's 100% olive oil, as some sale items or cheaper versions of olive oil can be mixed with canola or something else and the label won't necessarily state that! One of the most widely preferred olive oils is the Costco Kirkland brand.
Step Two: Once you've decided on a flavor to infuse your oil with, you'll want to rinse the herbs or peel the fruit and let it dry overnight, so there is no bacteria-causing water left on your ingredients.
Step Three: Wash and dry your favor bottles to dry overnight with your herb/fruit.
Step Four: Release the flavor of the herbs by lightly toasting them in the oven or slightly bruising them with a mortar and pestle. For fruit and chili, just cutting them will release the flavors.
Step Five: Place herbs/fruit in the bottles. Cover with olive oil. Seal and store in a cool dark place for one to two weeks. *note: do a taste test at week one to see how intense the flavor is, as you may need to leave it three weeks.
Step Six: Use your sharpie to make cute favor tags with a sweet note to your olive oil telling guests to:
"Please keep me in a cool dark place or in the refrigerator and use me within one month after opening! Because I'm infused, I can spoil quickly."
Tie the tag on with string and set up on a gift table for your guests to grab as they leave, or place one at each guest's place setting for a more intimate gift!
Some Bottle Suggestions:
2 Oz (60 ml) CLEAR Boston Round Glass Bottle w/ Cap – Pack of 12
5-ounce hot sauce style bottles – two dozen