by Brittany McComas
Some of 2016's trends are absolutely hideous. These dresses tow the line between trashy and classy. Fashion designers can miss the mark and 2016 might be that year. We usually find ourselves scouring the internet and bridal shoppes for the most exquisite wedding dresses of the season; however, this time around we just couldn't let you walk down the aisle looking like a hot mess. At the end of the day it's your choice and if you dare to rock a dress that you love and no one else does  – then do so with your bridal head held high, Ladies!
Shag Is So Not Chic
Austin Powers called and he thinks this dress is shag-a-delic. In the way that it looks like a dang shag carpet. The bodice is beautiful, then it tapers into some sort of stuffed animal nightmare. This is definitely a statement piece, and should only be worn by a bride with one daring heart!
Keep The Girls In
Not gonna lie, my first thought was of someone with a Scottish accent yelling, "Get your wee tatties out!" when I saw this dress. Something about it says trashy, not classy cleavage. While I admit it's a gorgeous dress, it's definitely inappropriate for anyone about an A cup. Definitely a don't for anyone with boobies.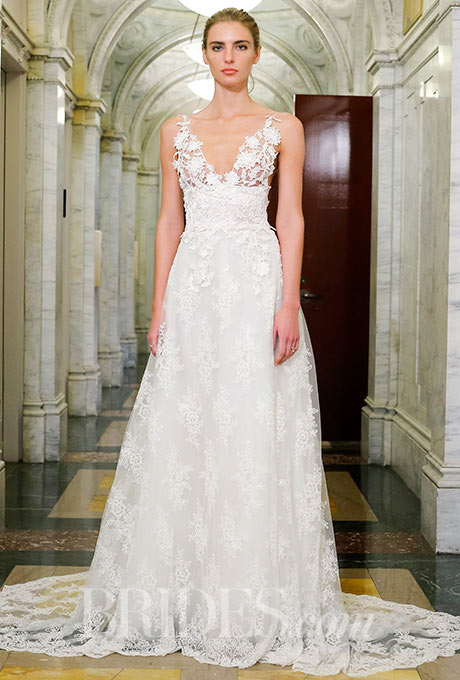 Just Say No To Jenny From The Block
While this might look absolutely fabulous on a runway or at a club premier, not one thing about it says "I do". Maybe I'm just traditional and love a good, glamorous gown. But I really don't know who thought this was wedding appropriate for a bride. If you're gonna go this route, rock it out with one helluva veil. I mean, an epic 'gigantuan' veil!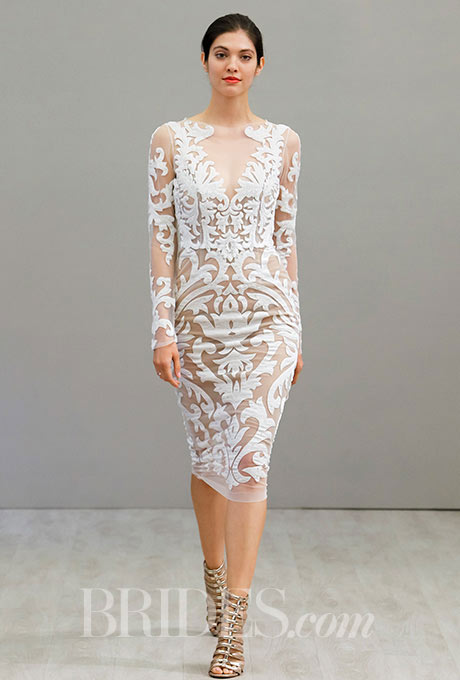 Again, Really?
While 2016's theme is definitely attention to detail, this is just a bit much. Maybe it's the model, but I find this dress awkward in the sense that it's got a Madonna-esque bodice, covered in sheer, with a furry nightmare on the bottom. What's going on here? Definitely my least favourite of the dresses, and if you're even going to go here–make it count with a smile.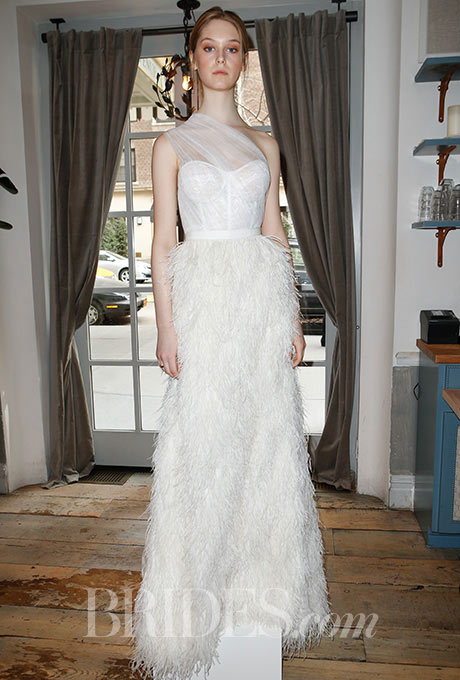 Shame On You Houghton
Okay, I lied. That dress above is not so bad compared to this. I mean, really? No. Really. Simply put, and here comes the sass: Unless you want to parade down the aisle looking like Stripper Barbie on bath salts, just stay away from anything that even resembles this. Wait–is your wedding fancy dress? If so, you could rock this look with a zombie theme. Maybe?