by Emily Rochotte
You've found it – the dress of your dreams. It hugs you in all the right places and looks better than you could have ever imagined, nothing is keeping you from this dress…until you see the price tag!
With wedding costs adding up quickly, it seems like it ought to be a crime for wedding dresses to have such high prices, especially when you have your heart set on a specific one.  The good news is, there are ways to avoid this heartbreak.
First and foremost, research the type of dress you want and the average price points for that style. Know what to expect before you begin shopping for and trying on wedding dresses. Decide what is most important to you – style, designer, beading, length, etc. Incorporating your preferences, mentally set a lower budget for yourself than you can actually spend. If you are able to budget $2000 on a wedding dress, tell yourself you can only spend $1000.  Be sure to tell your bridal consultant this lower price. That way, if you fall in love with a more expensive dress than expected, you will still be able to afford it.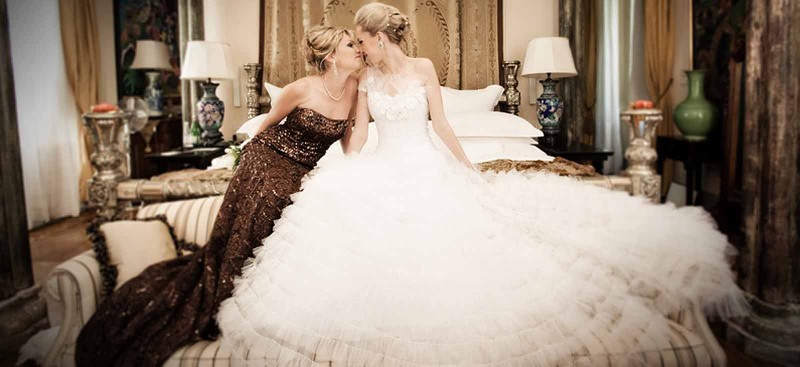 When setting your price point, remember to include all aspects of your wedding day outfit. Unless you are having a casual, barefoot wedding on the beach, you'll need to make sure you budget money for shoes, as well as undergarments, a headpiece or veil, and accessories such as a belt, garter, or jewelry.
If you find that the exact dress you've had your eye on just is not possible on your budget, there are ways to find a dress you will love just as much. Like any type of clothing item or fashion accessory, wedding dress prices are impacted by brand name. Well-known designer dresses have much higher price tags than designers who are just starting out.  Keep in mind that you, your spouse, and your guests will only see your dress, not the designer tag inside. Find a dress that makes you feel great and fits your budget.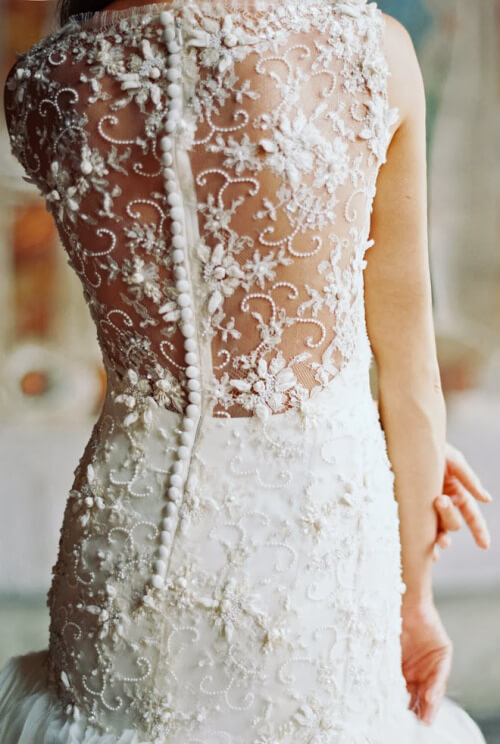 Have your heart set on a specific designer? Look for their dresses with less detailing. Intricate designs such as lace or beading are sewn by hand which means a lot more labor goes into the creation of that dress.  Also keep in mind the style of the dress. The more fabric a dress requires (think multilayer skirts, long trains, etc.) the higher the production cost will be.  Bridal fabrics can cost hundreds of dollars per yard and the more "limited edition" your dress is, the more exquisite (and expensive) its fabric will be.
If the price of your dream dress is a bit too high, all hope is not lost! Look for trunk sales, find discount bridal boutiques, and try on dresses in consignment shops. Plus, spending less on a dress means you'll be able to splurge more on alterations.
Have an open mind when trying on dresses. Very often women go into the dress shopping process with a specific style in mind and leave buying a completely different type of dress. How a dress looks on a mannequin or a model may not be how you think it will look on you. Be open to trying all types of looks.
Do your research, plan ahead, and you'll be sure to find a dress that's fabulous, affordable, and makes you feel like the most beautiful person in the world.