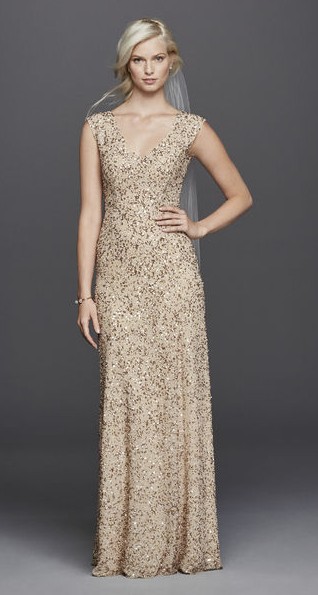 You're going to look stunning on your wedding day.
First of all, it's your wedding day! You're full of excitement and euphoria because THE DAY finally arrived! Your cheeks will be pink, but not too pink. Your skin will be glowing and dewy, but not sweaty or oily.  Your hair is TOTES going to behave, and your makeup is going to be AMAZEBALLS.
And your dress?  Your dress will be gorgeous too.  You'll have found JUST the right dress, and it will flatter you in the right places and flaunt all your beauty at every turn.
Now that Jenny Packham has designed a line of affordable wedding dresses for David's Bridal, that just right dress might be even more elegant than you imagined you could afford. Granted, they're still not dirt freaking cheap, but for a Jenny Packham dress, the range of $900 to $1450 is pretty sweet.  If you've got your heart set on one, but it's still out of your range, maybe you can stalk Tradesy for when someone sells one.  To be super, super honest here: her dreamy wedding dresses start around $4,000. Like, there's expensive  and there's "oh shit, don't touch anything, we need to leave this store".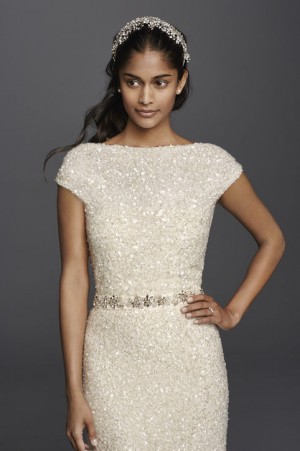 These dresses won't leave you feeling like you'll never wear the wedding dress of your dreams, because Jenny Packham put every bit as much thought and care into the details of this much more affordable line of dresses as she does into her regular line of wedding dresses. "Comfort and fit are a priority," she explains. "It was important to me that the bride could step out and forget she's wearing a dress—that it's not digging into her." There's a particularly enthusiastically embellished dress that is embroidered with more than 55,000 beads but the models wearing these confections insisted that they were amazingly lightweight.
There's a gorgeous slideshow over at Glamor.com if you'd like to see all the dresses. I've included my personal favorite here! (But let's be honest, I love them all!)