Wedding dress shopping is tough enough as it is. Finding a wedding dress online can be even more difficult. Sometimes it's hard to know if the sizing will be correct and exactly what it will look like when it gets to your door.
However, searching online for wedding dresses can truly open up doors that retail shopping just simply can't. For example, many clearance and sale possibilities are only available online. Other retailers only manufacture a set amount of dresses, so they aren't able to ship to all stores. Whatever the case may be, there are ways to shop for dresses online, get an affordable price, and find a dress that you can say "yes" to!
Finding and Affordable Wedding Dress Online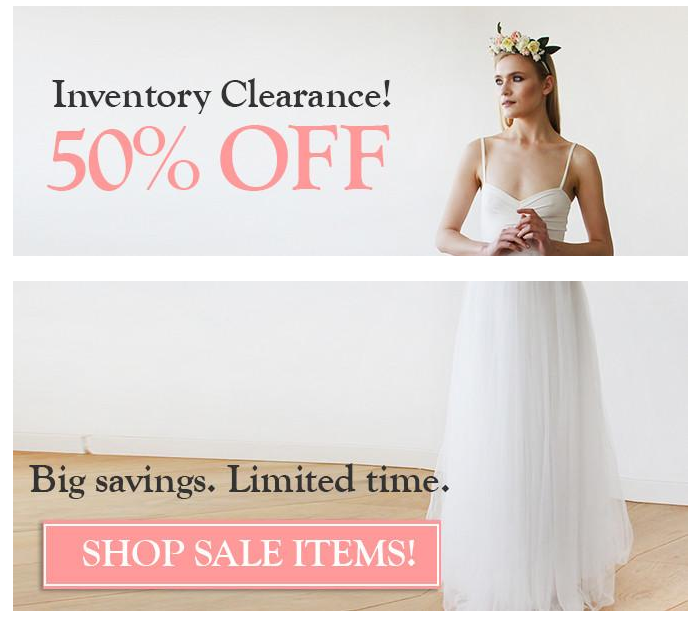 Keep an Eye Out for Sales
Most of us know that sale time is the absolute best time to start searching for wedding dresses, or any clothing for that matter. For this reason, you should check out sales year round. Plan ahead. Find out when your favorite retailers are offering yearly or quarterly sales and try to purchase during that time.
Also, keep your eye out during the "off season" for more affordable wedding dress options — that means anytime outside of summer time. You may be able to find a much better deal if you have the privilege of shopping October through April. Of course, weddings are popular all year round, so some deals won't apply. But you just might be lucky enough to find something that's got to go before the next year's fashions arrive!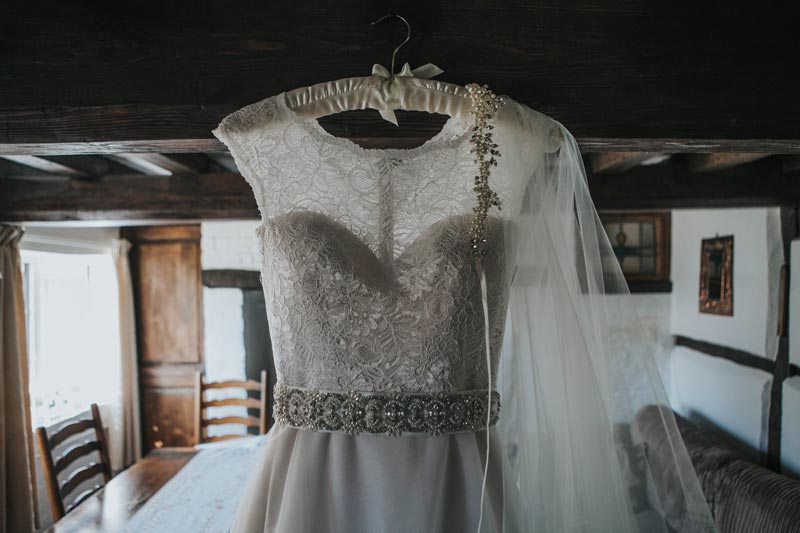 Photo by lydia harper on Unsplash
Shop the Clearance Section
Some of that "off season" purchasing will apply here. Most wedding retailers will get rid of a whole bunch of items in order to make room for the latest fashions. This is where being patient is definitely a virtue! Check out items that may be on clearance due to being out of season, but recognize that there may also be used or lightly damaged items still for sale. Of course, not all retailers do this, but if it's 50% off simply due to a small rip in the hem, that's something you or a tailor could easy fix for very cheap.
Don't forget to check out the clearance section of Rent the Runway occasionally! Their clearance prices can be amazing ($1500 dress for just $200? Yes, please!) and they sometimes have wedding-appropriate dresses.
In addition, it's never a bad idea to add an item to your cart and then leave it there for a while. Often, retailers will contact you via email (so make sure you have an account with them) and offer you an additional online discount as an incentive to complete your purchase.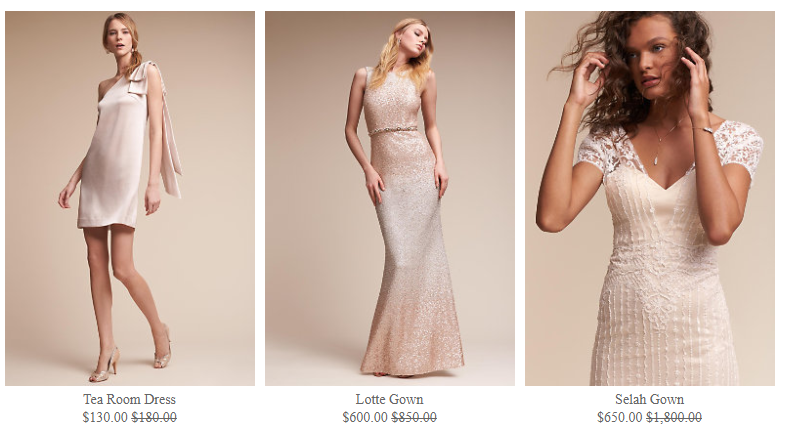 Sign Up for Coupons
This suggestion is pretty straightforward and simple, just sign up for their email list and promotional programs. Yes, it's annoying to get tons of emails in your inbox, but you never know when a truly phenomenal deal might land in your lap. If you're concerned about too many junk emails, just open up a wedding email account and send all of your promotional deals there. You never know when your dream dress could go on sale.
If you are a Gmail user, you can use a built-in "hack" to create a separate email address that can be easily filtered.
While you're at it, make sure you sign up for Ebates to get actual cash back from your purchases! You can get 1.5% cash back from David's Bridal and $40 off any order of $175 or more (at the time this article was published).

Find "Online Only" Deals
Okay, yes. It can feel scary to buy something online that you can't see in person. But there are ways to find out all of the information you need to know about a wedding dress. Online only deals are regularly offered by brands that don't have a storefront or only make a select number of items. This doesn't mean that the quality of the item is inferior, it just means they don't have enough to sell in stores. You can find a gorgeous, unique and affordable wedding dress on retail marketplaces like Etsy.
Stay tuned for Part Two – Finding that High-Quality affordable wedding dress!
Featured Photo by One Wedding on Unsplash