Let's talk about finding an affordable wedding dress. You need to find out what kind of dress you can afford without losing out on QUALITY, right? With that in mind, start looking for an affordable wedding dress, but keep these four tips in mind!
Read Reviews on the Affordable Wedding Dress
 Don't ever try to find the dress of your dreams simply based on the retailer's description of the item. Dive a little deeper and check out what others have to say about the dress. If a dress is too new or isn't popular, it might not have many reviews on it. I still suggest searching the name of the dress online, you might be able to find a few hidden reviews of the dress somewhere.
Dig for Pictures and Measurements
A reputable retailer will provide exact measurements of the dress for you. If they don't, do not buy from them. Even if it's a cheap dress, it's not worth your time to take that kind of gamble and waste your money. Many shops will also allow reviewers to upload photos of them in the dress. This is doubly effective because you can see what it looks like in person and you may be able to find someone with a similar body type to yourself. Always search the name of the dress outside of the website. Some brides will post reviews on other websites, which is valuable information for you to have.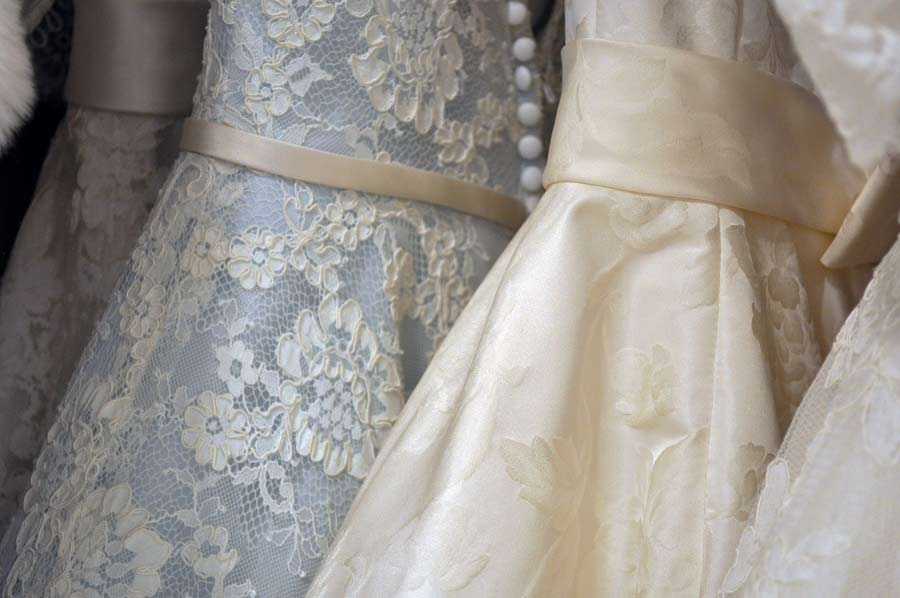 Find Out About Return Policies
Even if you have exact measurements, they've been known to be wrong. Usually they're not, but things happen. Before you purchase, always check to see how confident the seller is in their product. If the vendor offers a paid return within 30 days, it's probably a good sign that you'll be happy with the product. You may see that all sales are final – you should find out why. If the reason is because they have bad reviews it's a good idea to stay away. If it's because it's marked 80% off, then that totally makes sense. Even if you're certain that this is the one, make sure that you can send it back. You never know what could happen.
Be Ready to Try and Try Again
 Don't get discouraged! You may need to try on a bunch of dresses before you find the perfect one for you. You might be able to find a few online wedding dress retailers that offer "free at home try on", which is an extra bonus. Just be patient because you really can find some of the best deals exclusively online.
Did you know that the average wedding cost is now estimated to be around $45,000? That's almost as much as the average American household earns in an entire year! Hopefully these tips will help you to make an informed decision and will cut some serious cost for you. Do you have any online wedding dress shopping tips that you'd like to share? Let us know!
 Trisha is a writer from Boise, ID. She is a dedicated vegan, an avid gamer, cat lover, and amateur SFX artist. You can find her on twitter @thatdangvegan and check out her blog thatdangvegan.com