Your wedding day is undoubtedly one of the most important days of your life. One of the most important items on your shopping list as a bride will usually be the wedding dress. With a tremendous number of  retailers, it's easy to find a high-quality but relatively inexpensive wedding dress these days, and it's possible to have the dress you've imagined without seeing $$$$ on the price tag.
Traditionally, the bride wears a full-length white gown, which is said to symbolize the bride's innocence, complete with a veil (intended to be worn for many reasons, but the most likely is to protect from gnats in an outdoor Southern wedding, maybe!).
It has been claimed that Queen Victoria started the white bridal wear trend when she chose a white gown for her marriage to Prince Albert, rather than the royal tradition of getting married in silver.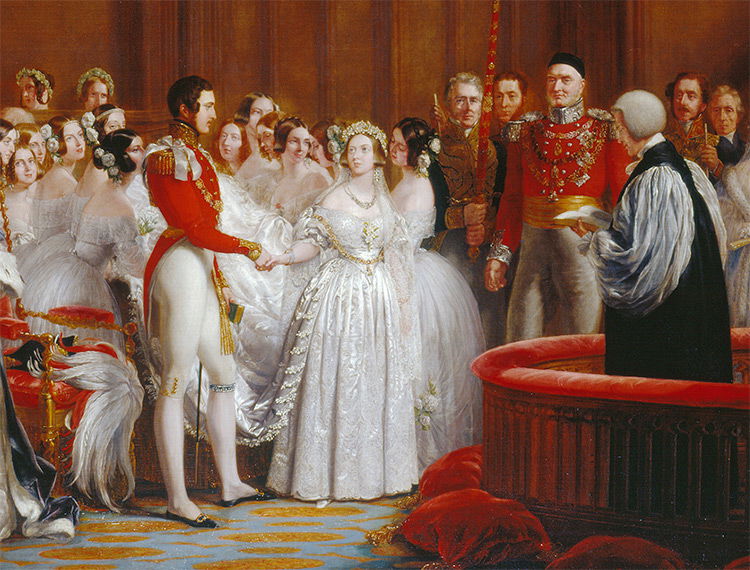 image from HistoryToday.com
A Word on White
White is white is white, right? When it comes to wedding gowns, there are almost as many shades as there are dresses. Here are a few notes to remember about 'white' dresses:
Stark White – the whitest, brightest, crispest of whites, a white that almost glows. If you have darker skin or have yellow/olive undertones, you'll look fabulous in this color but washed out if you're fairly skinned.

Natural, Diamond or Silk White – a shade darker than Stark White but looks almost the same in photos. Not as chalky as Stark, a natural/diamond/silk white is the best choice for most brides, especially medium toned skin that has yellow undertones.

Ivory, Eggshell or Candlelight – a shade darker than natural whites and often having a slight yellow undertone, giving a creamy look. Fair skin and medium skin with pink undertones are best but yellow/olive undertones should steer clear.

Champagne – white with a pink undertone that looks almost white in photos but is extremely flattering in person. Yellow or olive skin tones, as well as medium with yellow undertones, work
well in this shade of white.
Traditional Colors and Modern Style
[clickToTweet tweet="Traditions weren't always traditions, but they had to start somewhere. @weddingfor1000″ quote="Traditions weren't always traditions, but they had to start somewhere."]
Since the start of the century, major shifts have taken place where it comes to wedding dresses and other bridal wear.
First, brides are tossing tradition right out the window and are choosing to wear whatever color they love, including the shocking colors of red and black. An elegant black dress for a late evening wedding is both glamorous and modern. There have been a smattering of red dresses, here and there, but mostly it's avoided.  Maybe it clashes too much with the flowers?
Second, weddings aren't always in traditional locations – beach weddings are always popular, but recent years have seen a huge increase in rural weddings with rustic charm. There seems to be no hard and fast rules for where you get married, which opens the door for a more personal style of dress. If you're getting married outdoors on a ranch, it's hard to feel like you should wear heavy Duchess satin and constricting foundation garments. As a result, brides have a much wider range of selection from which to choose, and there are so many varieties and styles, it's literally stunning.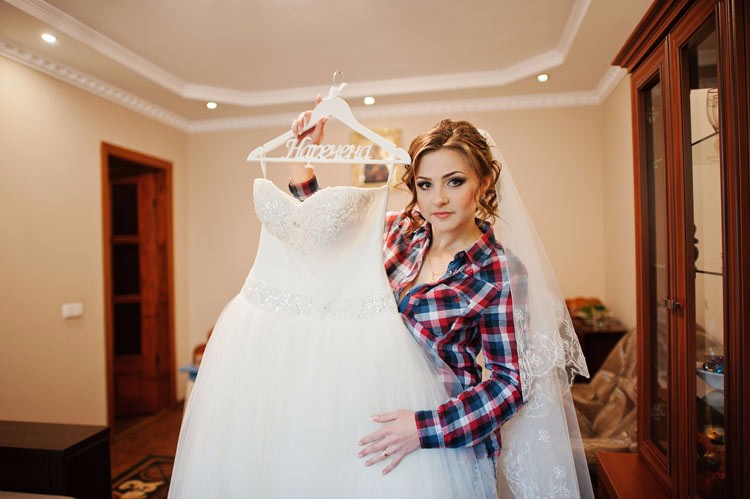 To Rent or To Buy Your Bridal Wear
The price points keep dropping as well.  Remember, it's only going to get worn for one day. There are some who want to preserve the gown, but who says your future daughter will have the same taste? When it's time to shop for your inexpensive wedding dress, you have a lot of choices. What's available to you today in terms of color, style and supplier is vast. It's no longer that difficult to find a reasonably inexpensive wedding dress and still end up looking like a million dollars in the dress of your dreams. Here are some suggestions of places to look for affordable bridal wear: