One way to save money when it comes to throwing the wedding of a lifetime is to have specific food stations rather than extravagant buffets. Food stations can help keep your budget under control, because it seems like the guest has crazy decadent options when it's just amazing toppings or sauces.
Brunch Wedding Food Stations
Omelette Station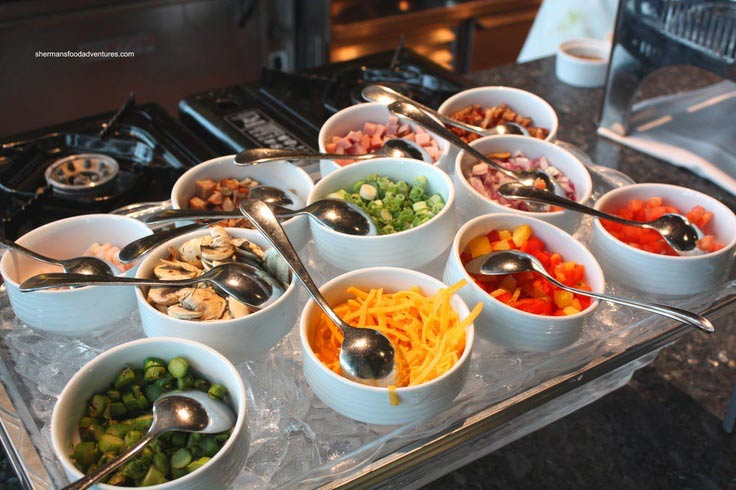 Omelette Stations are super cool, decadent and indulgent when it comes to all the flavor combinations and toppings you and your guests can create with load of different spices, meats, cheeses, and veggies.
Spices
Salt, Pepper, Basil, Oregano, Chili Seasoning, Cajun Seasoning, Cumin Powder, Garlic Powder, Cinnamon, Crushed Chipotle Peppers, or Crushed Red Peppers.
Veggies
Tomatoes, Mushrooms, Bell Peppers, Onions, Carrots, Broccoli, Roasted Sweet Potatoes, Roasted Potatoes, Parsnips, Zucchini, Cabbage, Eggplant, Broccoli, or Jalapeno Peppers.
Cheeses
Cheddar, Swiss, Colby, Monterey Jack, Mozzarella, Provolone, Halloumi, Pepper Jack, or Brie.
Meats
Sausage, Bacon, Ham, Shrimp, Smoked Salmon, Chicken, Steak, or Pulled Pork.
Sauces
Hot Sauce, Remoulade Sauce, Drawn Butter, Tabasco, Salsa, or Sour Cream.
Waffle Station
Set up some killer batter and let your guests make their own waffles and top them whatever pleases their tastebuds!
Toppings
Fresh fruit, chocolate chips, fresh mint, cashews, almonds, walnuts or pecans.
Sauces
Syrup, Whipped Cream, Chocolate Sauce, Caramel, Peanut Butter, Grape Jelly, Cranberry Sauce, Mint Jelly, Honey, Creme Fraiche, Assorted Jams, Marmalade, or Lemon Curd.
Don't forget to add a DIY Mimosa bar or Bloody Mary bar to your brunch wedding reception for some delicious breakfast wedding reception drinks on a budget!
Dinner Wedding Food Stations
Carving Station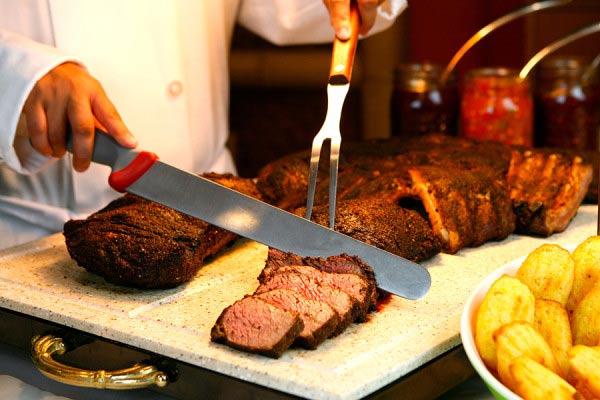 Carving stations save tons of money per person, and make your guests feel special since they can choose between one to three meats and pick their own cut. Photo credit
Carving Station Suggestions
Pork tenderloin stuffed with Garlic or Apricots
Pastrami with Honey Dijon Sauce
Corned Beef
Jamaican Rubbed Turkey or Lamb
Roast Turkey Breast with Orange Compote or Gravy
Baked Virginia Ham or Honey Ham
Roast Leg of Lamb with Rosemary and Mint Jelly
Tequila Lime Flank Steak
Roast Duckling
Peppercorn Crusted Ahi Tuna (Sushi Grade)
Braised Beef Brisket
Flatbread Pizza Station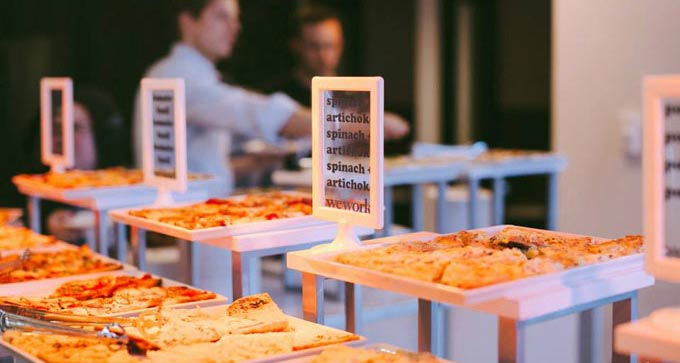 For this station, you can post a sign with some outrageous pizza combinations and let people create their own delicious flatbread masterpiece! Photo credit
Flatbread Combos
Tomato Sauce, Mozzarella, Cherry Tomatoes
Tomato Sauce, Mozzarella, Pepperoni
Tomato Sauce, Mozzarella, Ham, Pineapple
BBQ Sauce, Pulled Pork, Jalapenos, Mozzarella
BBQ Sauce, Chicken, Cheese, Red Onions
White Sauce, Gouda, Chicken, Red Onions
White Sauce, Mozzarella, Asiago, & Parmesan Cheese
Other Flavor Combos: Kale, Ricotta & Sausage, Loaded Veggies, Loaded Meat, Chicken Tikka.
Canape Station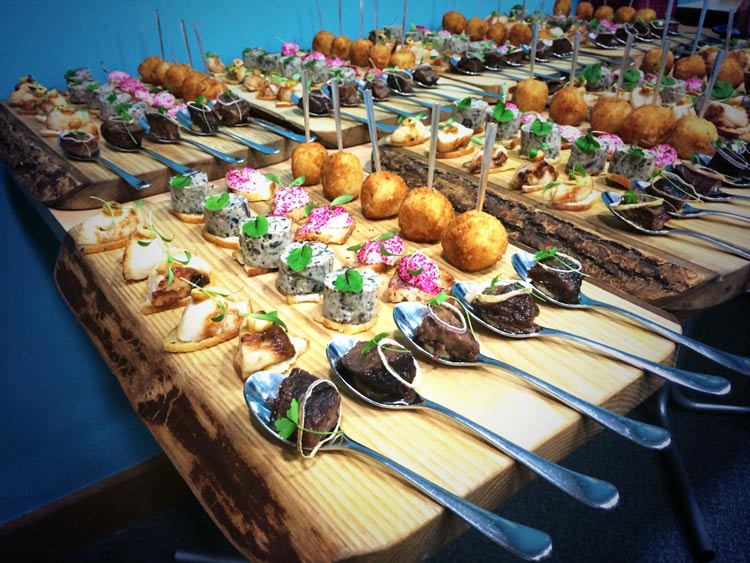 For an outdoor wedding why not have a create your own canape station with all the toppings you can think of and one sweet signature champagne cocktail or build your own mimosa bar. Photo credit
Other ideas
Sushi: All the fresh fish, veggies and sashimi rice blocks or soy wraps. Include soy sauce, duck sauce, wasabi, mayonnaise, cream cheese and pickled ginger!
Make Your Own Bruschetta: Provide toast points with everything from classic tomato & garlic bruschetta, hummus, and sun-dried tomato pesto and olives available.
Build Your Own Mini-Risotto Bowls: Pre-set the reception with a table of mini-risotto bowls and place different cheeses, meats, veggies and spices or things like truffle oil out on the bar.