The ultimate cocktail for brunch can also be the ultimate do-it-yourself cocktail at your brunch wedding!
From hot and spicy pickled things to onion rings, the ingredients and garnishes are endless. To keep it budget-friendly you can set out a jug of tomato and clamato juice with a bunch of garnishes and call it a day, but then we like to tease you with all the endless possibilities for the ultimate bloody mary bar. Header image
Make-Ahead Bloody Mary Base Recipe
Forget everything you know about Bloody Marys. This recipe will change your life!
3 cups Tomato Juice
3 Tbsp. Lemon Juice
3 Tbsp. Lime Juice (I know, trust me)
3 Tbsp. Pickle Juice
1 Tbsp. Horseradish
¾ tsp. Tabasco
2 Tbsp. A-1 sauce (I know, but trust me)
¾ tsp. Celery Salt
½ tsp. Coarse Black Pepper
Mix it all up in a jug and set it out on the table for guest. If you want something a little fiery suggest a chili pepper vodka on your bloody mary menu, or spice your mix up with ¾ tsp. Cayenne Pepper or muddled chocolate habaneros. For a Bloody Caesar swap out the tomato juice for clamato juice!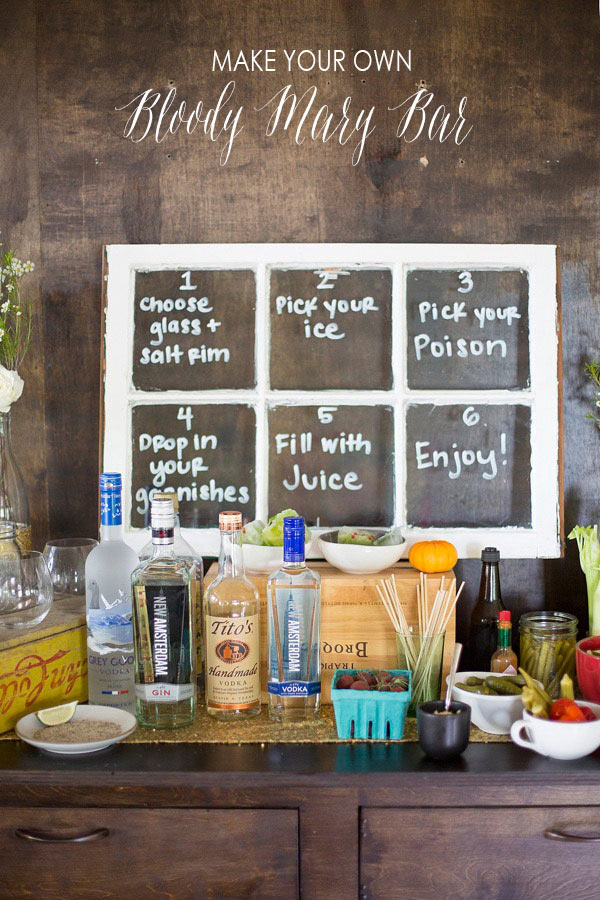 For a grab and go mix, check out this comprehensive list from Time Out Chicago: 19 Bottled Bloody Mary Mixes
Bar Tools:
Pint glasses
Long Spoons
Long skewers for the garnishes
Tongs (for ice and pepper slices so your guests don't go burning their eyes)
Muddler (for smashing peppers in the glass)
This bar set might be helpful.
The Booze:
Vodka
Citrus Vodka
Chili Vodka
Peppered Vodka
Gin
The Garnishes:
Lemon and lime slices
Celery stalks
Pickled stuff (think: olives, gherkins, dill pickles, sweet pickles, banana peppers, smokra, spicy asparagus or green beans, cocktail onions, eggs–what? they're tasty)
Peppers (think: regular red and green peppers, jalapenos, serrano, scotch bonnets, chocolate habaneros, and ghost peppers if you're brave)
Fried stuff (think onion rings, oysters, shrimp…raw lobster claws–I mean, if it's really in your budget. *wink, wink
Meats (think: bacon strips, jerky sticks)
The Seasonings:
Hot sauces (think: Cholula, Sriracha, Chipotle)
Worcestershire
Old Bay
Pepper mill
Celery salt
Sea salt (for rimming)
If you're feeling frisky, and have a small dinner party, make things super simple and infuse ice cubes with different seasonings so your guests can just 'pick' their ice!
Recipe Sign
Simply put a sign out telling your guests what to do like the one above. Here, you can also tell them to pick their poison–2 ounces for every glass! bloody mary image source