I'm Vincent with Pixan Photography and, as a destination photographer in Mexico, Summer is pretty much my team's reality all year round. And now as the season is approaching for our friends in North America, I thought I'd share a few of our most budget-friendly ideas for a summer wedding that you can pull off for just $1 each. This post contains affiliate links for your convenience. Click here to read our full disclosure policy.
Where to Shop for Wedding Products for $1
[clickToTweet tweet="You'll be surprised at how much you can save on summer wedding ideas with these $1 DIY's!" quote="If you're resourceful and know where to look, you'd be surprised just how much you can save creating do-it-yourself summer-themed décor and guest goodies."]
It's truly astonishing the variety of party-related products you can score at the local dollar concept stores in the States and some areas of Canada. Many of these retailers, such as the Dollar Tree store, have a full summer-themed selection of party favors and outdoor trinkets that start to roll out in the spring.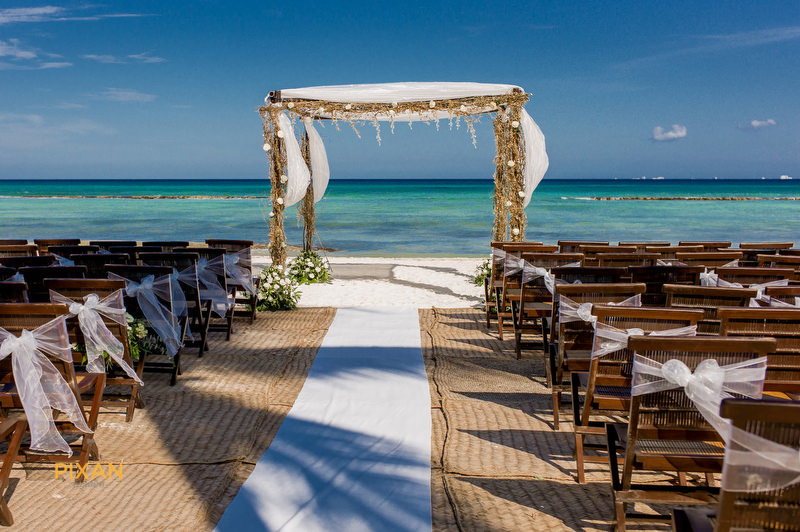 How to Be Savvy When Buying in Bulk
Naturally, there are also wedding favor and wedding goods online shops that offer items for less when you buy them in bulk too. A simple Google search will send you on your way.
When buying a certain item in volume, it may be advantageous to visit the dollar concept or party store online, rather than buy at the local physical location for these reasons:
Bulk items will be securely packaged as a unit until you're ready to unpack them for use, minimizing the risk that anything will get damaged between now and the wedding. Bulk cases are usually more protective than individual items floating freely in a thin plastic store bag.
Buying online in advance will ensure you actually get the items you want, which may or may not be available at the local brick and mortar store or available in the quantities you need when you finally get out to shop for them.
Purchasing online allows you to easily ship the full lot directly to the final destination, such as the venue or resort, to minimize the amount of handling and prevent damage. This is particularly useful for destination weddings, when you don't want to be lugging all these items through airports. A quick call with your resort concierge can help you coordinate proper storage until you arrive.
What to Do When You Can't Find a Summer Wedding Item
While the inventory changes frequently at dollar concept stores, it is typically a reliable resource for all of the items mentioned in this article, especially during the Spring and Summer seasons.
Still, if you don't find an item you're looking for at your local dollar concept store, don't give up. Here are three ways to hunt that product down:
Use Your Ingenuity: While the exact product you had in mind might not be available for $1, you may be able to find a different product on the store shelves that can serve the same purpose.
Go Online: Some dollar shops have an eCommerce website too, where you might be able to find popular items that are out of stock at your local brick-and-mortar.
Go Back Again: Because these dollar-style stores do change stock often, if you wait a few weeks and stop back in, you may find exactly what you were looking for.
Dollar DIY Summer Wedding Ideas
Armed with a keen eye and reliable resource for where and how to score the best $1 products, here are some of our favorite DIY summer wedding ideas that you can pull together for around a dollar each, or less.
DISCOUNT DÉCOR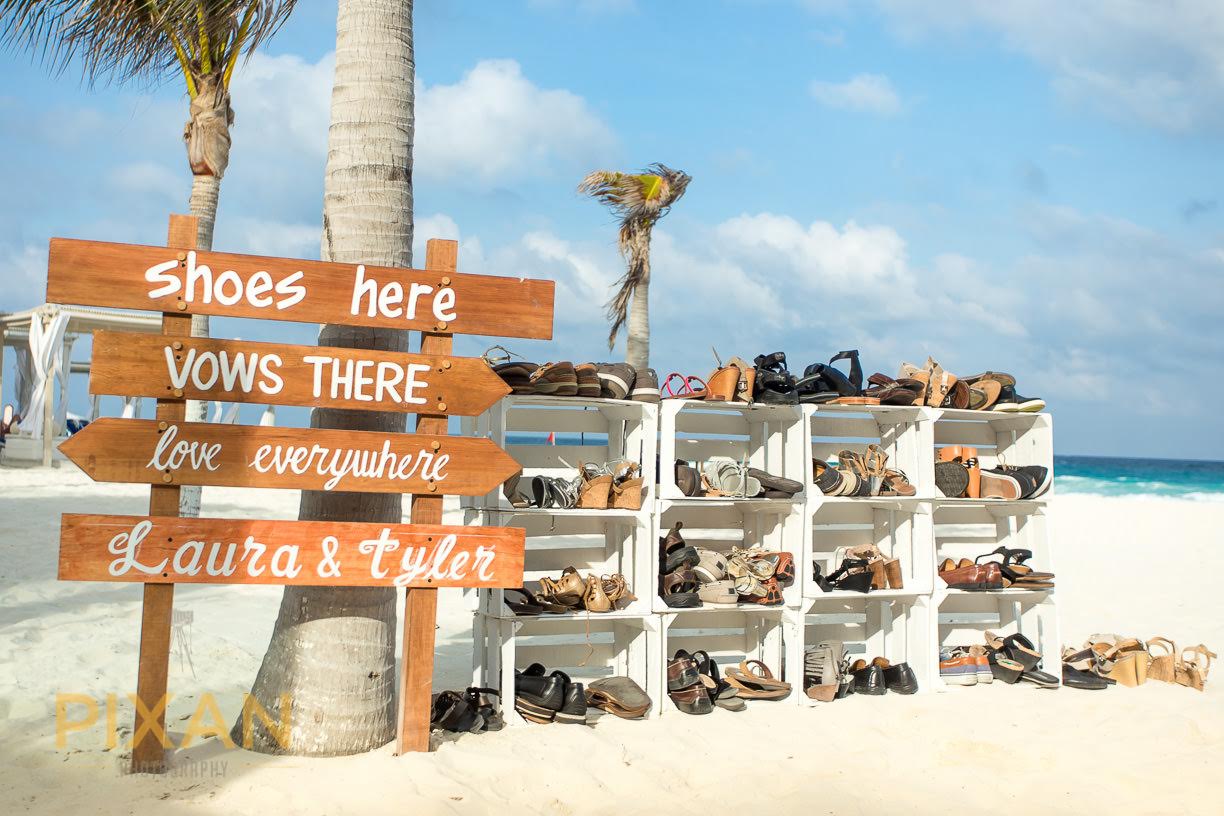 Having a beach ceremony or outdoor nuptials in the grass? Place cute white laundry basket style bins or simple wooden crates at the entrance of the ceremony space for guests to drop their shoes off before stepping into the sand or digging their heels into the soft dirt. Post a sign next to your makeshift shoe racks and you're done!
Brighten every table with simple citrus centerpieces of wide $1 vases or candle holders filled with summery fruits, like lemons and limes, or fragrant seasonal green herbs such as mint.
Light and airy tulle fabric is a perfect choice outdoor summer ceremonies as it dances romantically in the breeze. It's a delicate and classy touch when used as draping for the back of chairs. This type of fabric is often sold in spools of 8 yards or so for just one dollar, adding up to far less than $1 per chair.
FRUGAL FOOD IDEAS
Yummy buttery popcorn, reminiscent of summer carnivals, makes the ideal midnight snack to refuel guests after a long night of dancing. Prefill classic red and white striped popcorn buckets or bags, often available for 10-50 cents each, and lay them out in rows on a reception table for an adorably delicious display.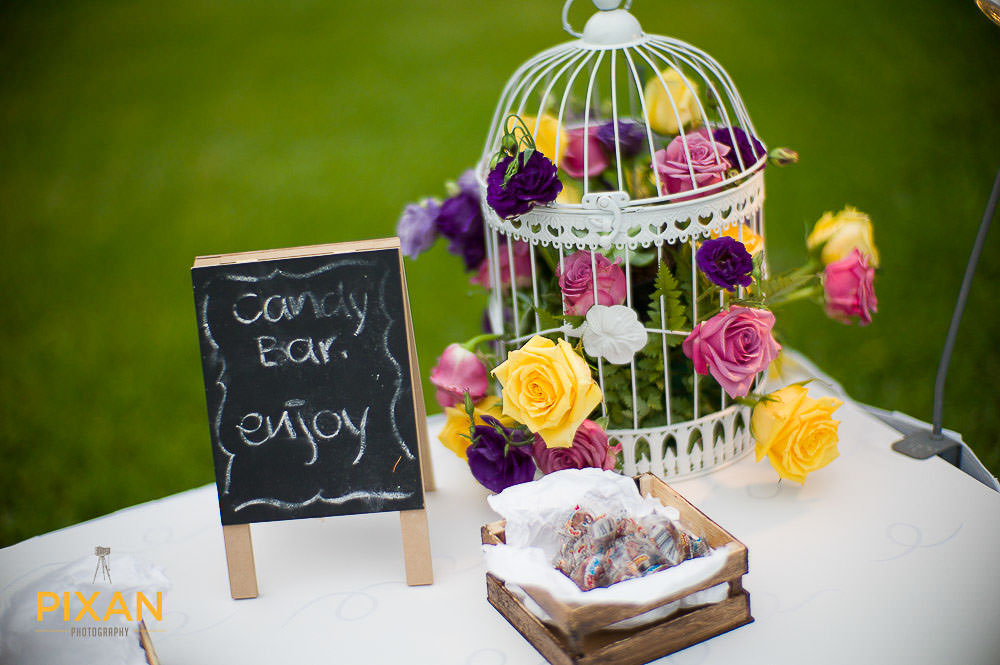 Doll up your candy bar with charming little $1 white tin pails filled to the brim with summery sweet treats, like rock candy or Jolly Ranchers.
Serving a family style dinner outdoors or in an open air barn? One dollar food tents with bug-proof netting are a practical way to stave off debris and pests from dishes as they sit between servings.
PARTY PROPS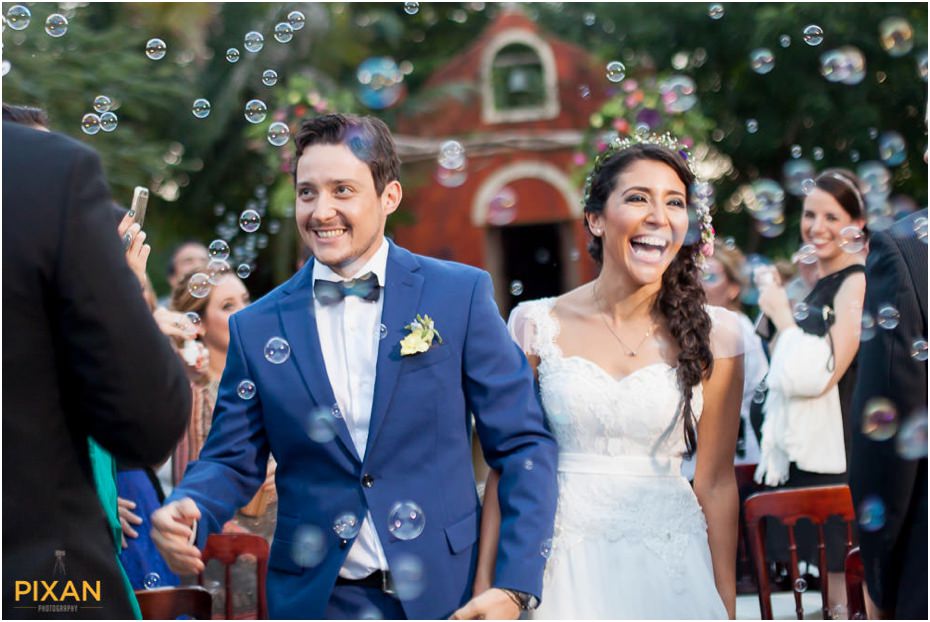 Few things bring back childhood summer memories faster than bubbles. And with bubble bottles for less than 0.13 cents each, it's plenty affordable to have bins of bubbles available for guests for the post-ceremony symbolic send off ritual.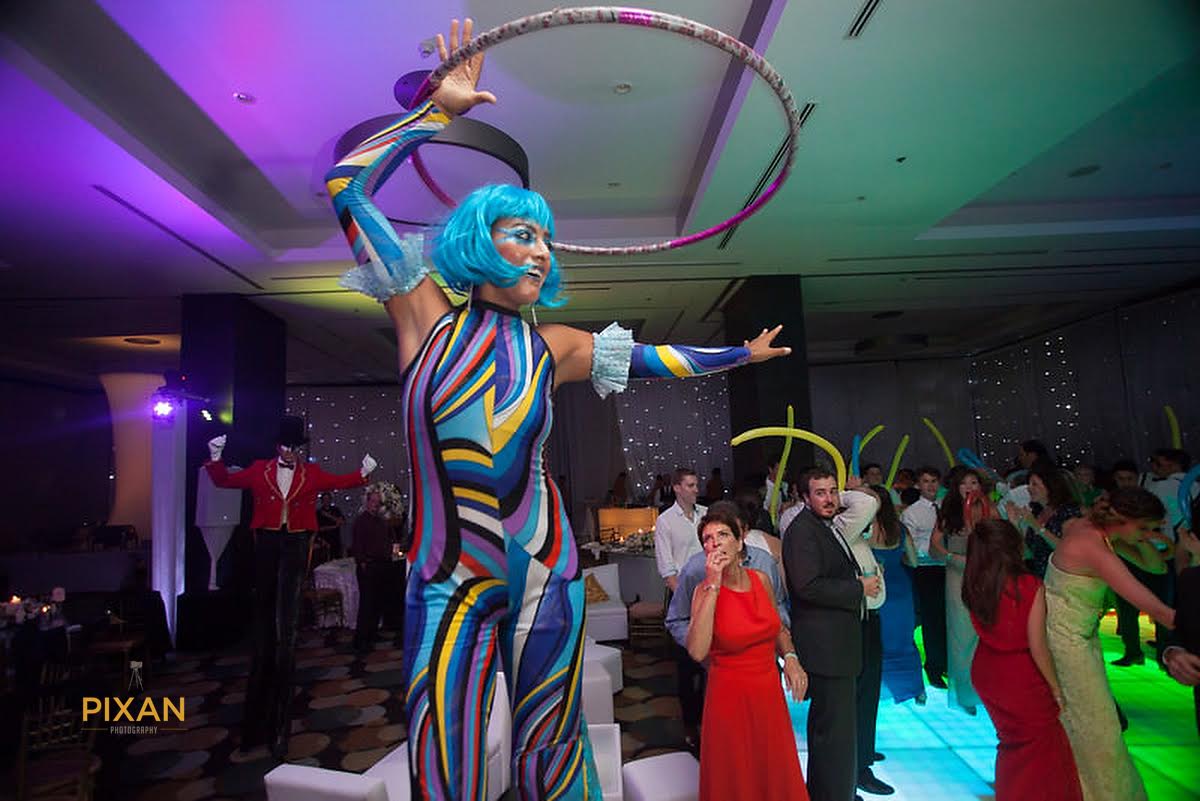 Heat up the dance floor with a friendly hoola hoop competition.  Whether the prize is bragging rights or a summer-themed gift, everyone will be cracking up when adults and kids alike pack the dance floor to show off their hip moves.
GIFTS FOR GUESTS
Nothing says summer like a good pedicure. And with beauty products for just $1 each, you'll be able to create budget-friendly Bridesmaid Pedicure Kits for next to nothing.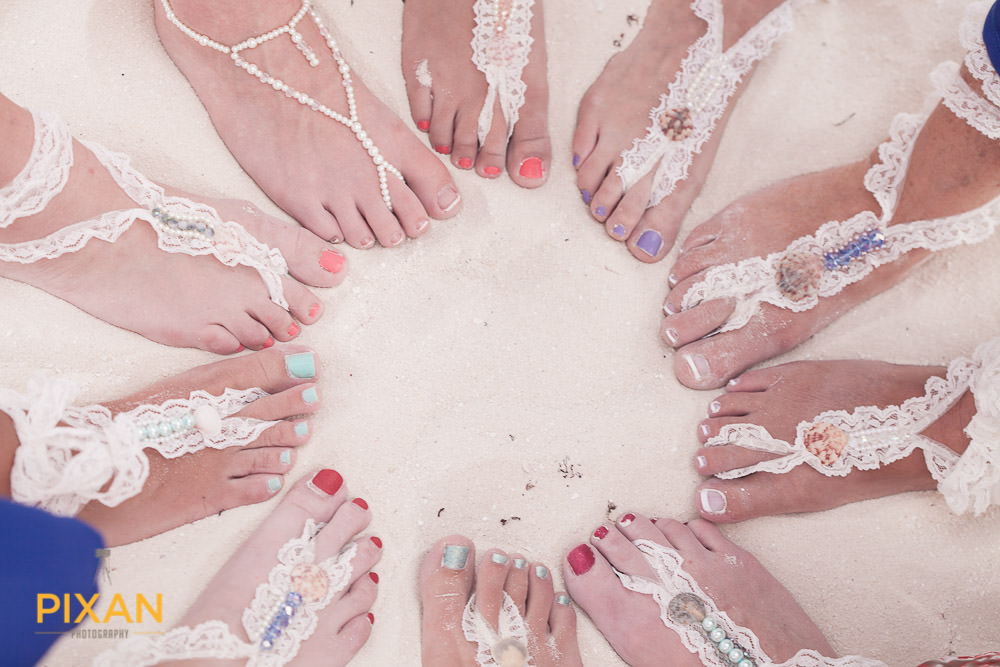 Imagine how appreciated your bridesmaids feel when they arrive at the bridal suite or their hotel room to a beautiful basket filled with pampering items like homemade sugar foot scrub in $1 classic clasped glass jars, nail polish, pumice stone, pedicure file, nail grooming kit, nail polish remover and cotton balls.
Delicious summer wedding ideas include beverages! Under the hot summer sun, crisp cold beer can turn luke warm in no time. Keep your guests drinks cool and give them something to take with them with beer coolers.
You can typically find premium style zip-up bottle coolers for $1 each at a dollar concept store. But if you're willing to get a more basic cooler, there are specialty websites that offer custom printed beer koozies for as low as 19-33 cents each.
COMFORT STATION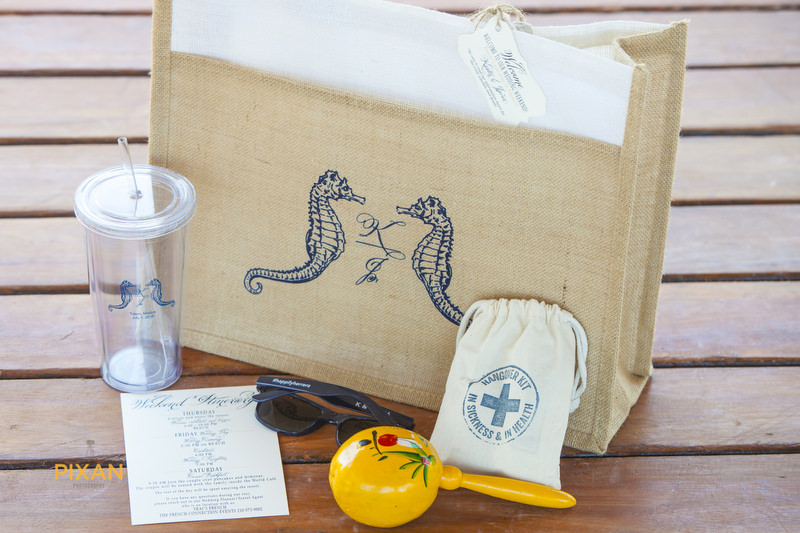 With the heat and humidity in full effect, a simple Comfort Station can go a long way toward making your guests feel cozy while celebrating your nuptials.  This is especially helpful for outdoor ceremonies where guests will be sitting in the sun.
Your station can include complimentary weather-ready toiletries and necessities they may have forgotten, but will certainly want. You can set up your station at the entrance of the ceremony space with all of the items neatly displayed next to signs explaining the purpose of the items provided.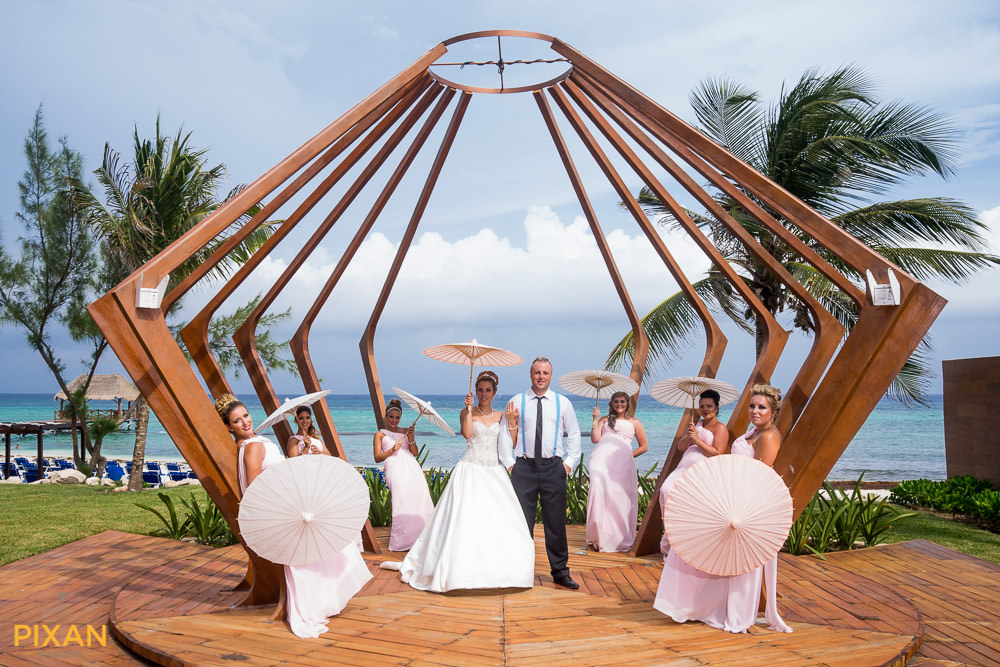 Here are several $1 general store products you can stock up on to fill your Comfort Station with everything your guests may need during your ceremony and celebration:
Sunscreen to prevent burns while sitting through the service
Sunglasses to avoid a glare and help them see your vows take place
Travel-sized Kleenex packs for those prone to shed a few happy tears
Flip flops to switch from dress shoes to beach wear
Asian-inspired folding fans to keep guests cool during the ceremony
Mosquito repellent bands or sprays to shoo bugs away
Umbrellas or ponchos in case of rain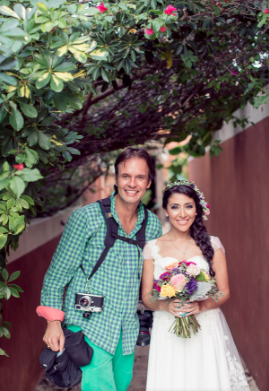 ABOUT THE AUTHOR
Vincent is the owner of Pixan Photography, a Mexico destination wedding photography team that are as passionate about their clients as they are their work. When he's not shooting destination weddings, Vincent loves traveling the world with his wife and son.