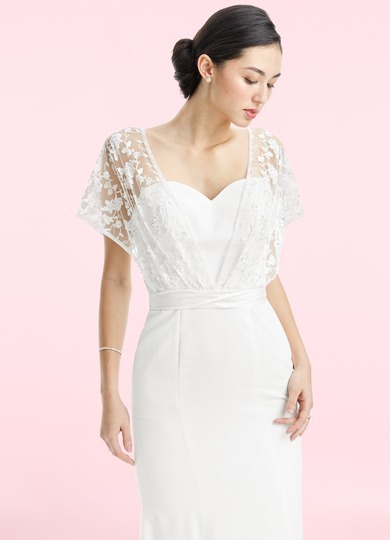 You might first consider purchasing from Azazie, a unique platform that matches wedding party needs to the skilled craftsmanship of a small group of artisan tailors. All their dresses are custom-sized and made to order. At Azazie, they avoid traditional retail costs of advertising, physical retail space, procurement, and unsold inventory. Every dollar spent on the site goes directly into the design, materials, and craftsmanship of the dress ordered. You can't go wrong with a beautiful dress that is tailored to your needs for a fraction of the cost of a wedding dress from a big box store!
Mint, makers of the popular budgeting app, published an article about the actual price tag that comes with being a bridesmaid.  In it, they noted that the average cost of a bridesmaid dress is $150.  This doesn't include alterations or necessary accessories like footwear.  When you see it as an investment, this might not seem too outlandish, but most bridesmaids will not actually wear their dresses again because there are already so many pictures of them in that particular garment.  Making a purchase like this with the knowledge that you won't wear it again might seem wasteful in terms of your wallet or in terms of the environment.  Whether you are watching the bottom line or if you are seeking to have an eco-friendly big day, asking bridesmaids to consider renting a dress might be the right solution for you and your bridal party.
The bridesmaid dress rental market is starting to become more competitive, giving brides and bridesmaids more options and better prices.   Here is a round-up of some of the leaders in the bridesmaid dress rental industry so you can figure out where you and your maids should start.
Rent The Runway is a store that you might already be familiar with because they offer rentals for more than just weddings; you could shop here by occasion (select bridesmaid) or take a look at their other dress options depending on the formality of your event.  RTR has a large selection, so whether you are looking for your bridesmaids to be dressed identically or if you prefer more of a mix-and-match vibe, you have plenty to choose from here.  As their name suggests, they feature top of the line designers and are always fashion forward.  If you love the glittery gold look trending for weddings right now, for example, consider having your bridesmaids shine and shimmer when they wear this $750 Badgley Mischka Fifth Avenue Showstopper Dress for just $35.  If that isn't your style, make sure your bridesmaids take advantage of the promotion for $25 off your first order of $75+ by having the girls enter their email addresses.  Not in the market for a bridesmaid dress? You might still find something great here, like a dress for the Mother-of-the-Bride to wear on the big day. If you're thinking of a nice look for yourself, they have many options for bridal wear, as well as rehearsal dinner looks.
Union Station, formerly Little Borrowed Dress, specializes in wedding attire for bridesmaids and groomsmen.  The website offers standardized prices, with $50 for short dresses and long dress rentals for $75.  If color is one of the most important parts of the bridesmaids' attire, this site might be a winner for you.  They offer three free swatches so you know in advance the exact color that the girls will be wearing the day of the wedding.  The dresses also go together more cohesively if you want the bridesmaids to wear variations of a dress, which isn't always an option with a company like RTR. If you are nervous about the fit of a rental, Union Station brags about their impressive ability to get the fit right from the very beginning, calming the nerves of brides and bridesmaids alike.
Weddington Way is also getting in on the bridesmaid rental market now, but they have a much smaller selection, with 6 styles and 6 colors.  If you want long dresses, you won't find them here, but these short dresses rent for $75 with free shipping.
Vow To Be Chic is another company that offers the bridesmaid rental experience, but the prices seem to be a bit higher here, with some dresses for rent at $75 but most coming in at $90 or more.  They also feature the Little White Dresses section, which might be an option for brides who love name brand designers but want a short, less conventional wedding dress for their nuptials.
Regardless of which company you go with, there are a few key factors to keep in mind.  Think about logistics like shipping (including how soon after the event the items must be returned), insurance, stain policies, and cleaning requirements.  Also when working with the online retailers, think about how important it is for you to see or feel the fabric before ordering it. You may want to get a swatch or a see if the company offers a try on session if these are important factors to you.
As retailers like these continue to spring up, it seems like men won't be the only ones renting their wedding attire.