Article by Lillian Crouse
Sometimes it can seem like the ladies are getting all of the attention when it comes to wedding wear. After all with shows like "Say Yes to the Dress" and constant bombardments about finding your one true dress, who has time to consider men's wear? Really, we should be spending more time talking about what our counterparts are donning before they step out to be our partners, their options can be just as varied and complicated as options for wedding dresses. Let's take a moment to look at some options, their appropriateness and their budget friendliness.
What does the groom wear?
Tuxedos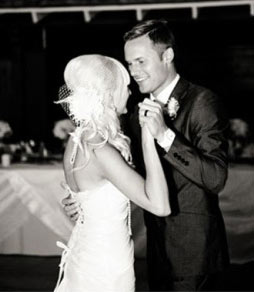 The ultra-formal option is the one most assume you will want to choose for your wedding. Tuxedos are typically worn by men to attend very formal events,   and while we would all like to see our man looking as dapper as Benedict Cumberbatch at the Met Gala last year (don't pretend you don't know what I'm talking about!) they may not fit the feel of your wedding. If you are looking for a laid back, non-formal back yard BBQ type of wedding, tuxedos with full tails and satin stripes down the leg are not your best bet.
If you are hoping to have a more formal wedding, fear not! Although it is very costly to buy a custom tailored tuxedo, there are many affordable options for tuxedo rental and you can even find coupons for additional money off of the cost when attending bridal shows or events. I even got a coupon for 40% off of a tuxedo rental from Men's Warehouse when purchasing my wedding dress!
Suits
A suit will help your man look sleek, serious, and sexy without quite the level of formality brought along with a tuxedo. Suits can be found in three piece sets where a vest is included, or two piece where it trousers are paired with a matching jacket. This ensemble still provides a formal feel for your event, without bringing it to that next level of formality.
For me a big advantage of suits is that they can be worn again! While a tuxedo looks beautiful your husband to be may have trouble working the expensive item into his wardrobe should you choose to buy. This is not a problem with a suit, as they can be worn for a variety of events ranging from job interviews to a friend's wedding. With a suit you are making an investment into an important piece of a man's wardrobe. Also the investment on a suit, does not have to break the bank. With stores like Kohl's Burlington Coat Company, and even Men's Warehouse who commonly have sales, it is easy to find a good looking suit to fit any budget.
Pants and Shirt
If you are looking for a calm, casual wedding, a buttoned shirt and some dress pants (or even jeans!) might be the route for you! Your man may even have an outfit in his existing wardrobe that fits the feel and style of your ceremony and reception. Getting married on the beach? Some linen pants and a blue cotton button down can be the perfect combination.  Going to the courthouse then out to dinner? Go for a trendy sleek look with dark washed jeans and a patterned shirt! Make it fit the event and let him have some fun!