by Lisa Duong
Fishbowls have long been used as a staple for centerpiece design. A decorated fishbowl is a great way to add whimsy and fun, while dressing up tables. Not to mention, the following creative centerpieces skip using fresh flowers as the main decorative item, so they are a nice alternative for the budget-conscious bride. See if one of these themed fishbowls will work for your wedding:
Nautical Theme
Fill your fish bowl with water, and create a mini scene with floating toy sailboats, under-the-sea castles, or stick to the classic duo of live goldfish.  Make an "anchor" out of a shallow, heart-shaped cookie cutter.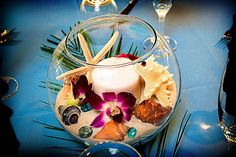 Beach Theme
Fill your fish bowl with sand, and add decorative sea shells. The trick is to arrange the shells in a cluster, using very large to very small shells to give depth and to draw the eye to a central element in the centerpiece. A creative touch is to draw hearts with initials or names in the sand.
Glo-Party Theme
Paint swirls or dots inside your fish bowl using glow-in-the-dark paint. Once dried, flip your bowl upside-down! Then, arrange silk flowers on top of the bowl and paint the edges of the flowers using the same glow-in-the-dark paint to give a cohesive and dramatic look.
West Coast Theme
Fill your fish bowl with green moss and add glass marbles along with decorative stones with the bride and groom's names etched in. Or, paint simple words or messages or designs onto the stones for a personalized touch.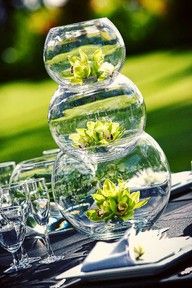 Romantic Theme
Another up-side-down way to use your fish bowl.  Paint the bottom half of the bowl with gold paint and slowly fade up for an ombre affect (or for beginners, dot the bottom of the bowl with gold paint, putting dots close together, then continue up the bowl, putting the same-sized dots further and further apart). Once dried, flip the bowl up-side down and add in an electric tea light to keep your bowl well-lit. Glue gold figurines of choice (perhaps a repurposed bride and groom cake topper that you've spray painted) to the flipped bottom of the bowl, which is now on top. Accent with a few flowers around the bowl for an ultra-romantic look!
Outdoor Theme
Fill your bowl with dirt and add cacti, succulents, and other beautiful plants. Accent the bowl with burlap ribbon or lace, and add a customized message right in the "garden" about how love grows, or growing love for the bride and groom.