Looking for a project that doesn't take much time, doesn't cost too much and – oh, yeah – is perfect for your wedding centerpieces? We've rounded up a boatload of them (if a boat holds 29 awesome ideas, that is). Maybe, just maybe, we're a little obsessed with spray paint, fake fruit and candles. Also, wine. But hey, that's the best kind of obsession, right?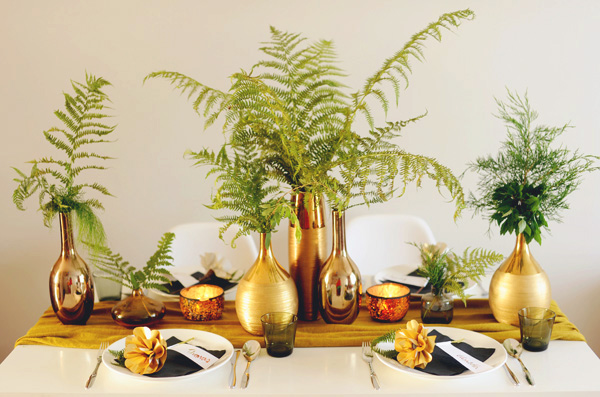 from ruffledblog.com
Lovely ferns and glimmering golden vases make a perfect tablescape for any season.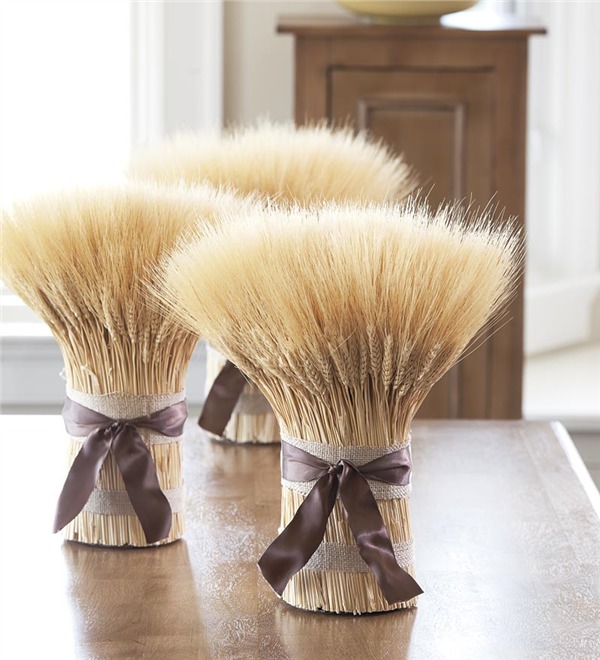 from plowhearth.com
A bundle of cheerful blond wheat tied with ribbon or burlap makes a charming centerpiece.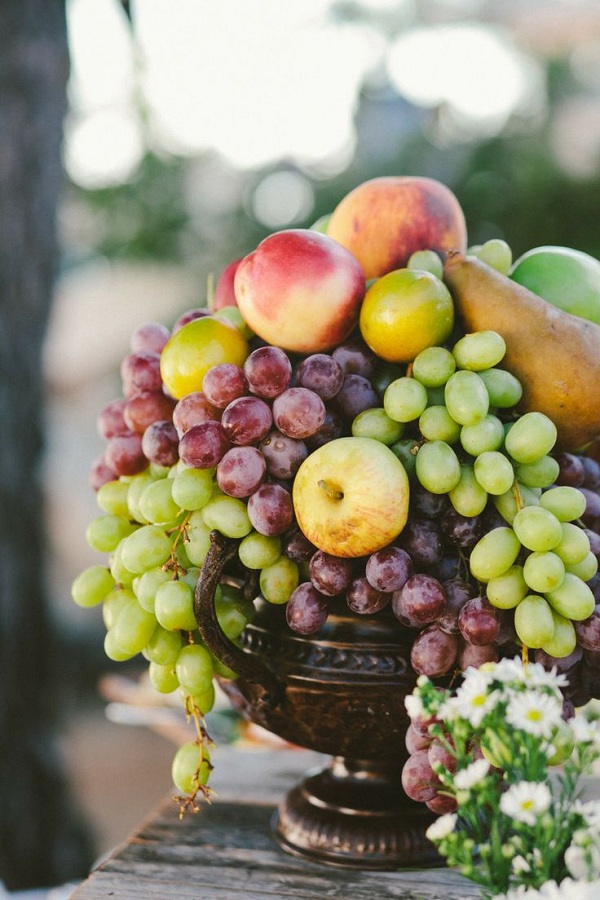 from cherryblossomsandfaeriewings.com
A bowl of fruit in the center of the table creates a rustic charm that's hard to match.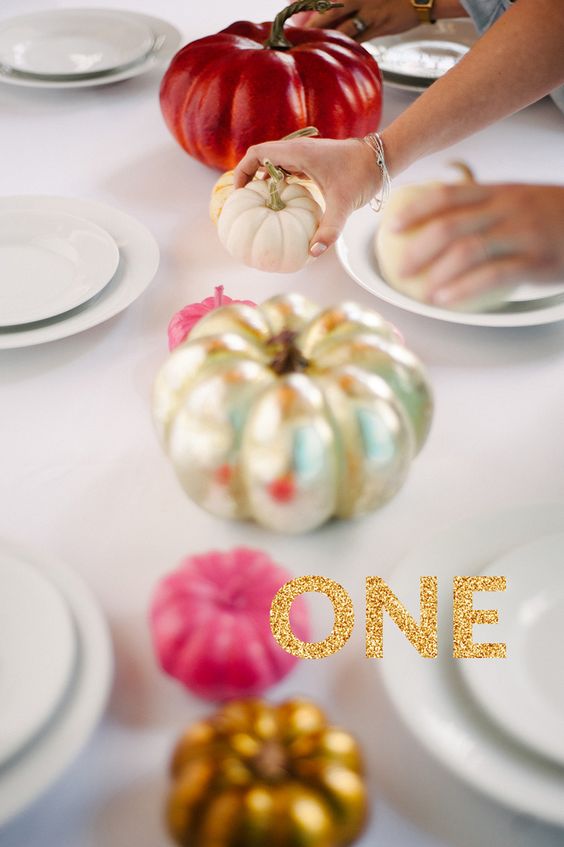 from apracticalwedding.com
Spray painted gourds lined up in various sizes make a perfectly charming centerpiece that is super easy to put together!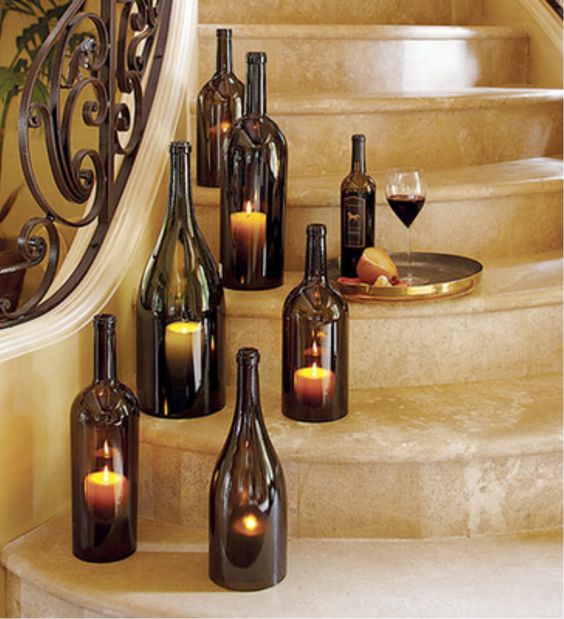 from bestdestinationweddings.com
Cutting the bottoms off of wine bottles doesn't take very long, and can create these beautiful and simple candle lanterns.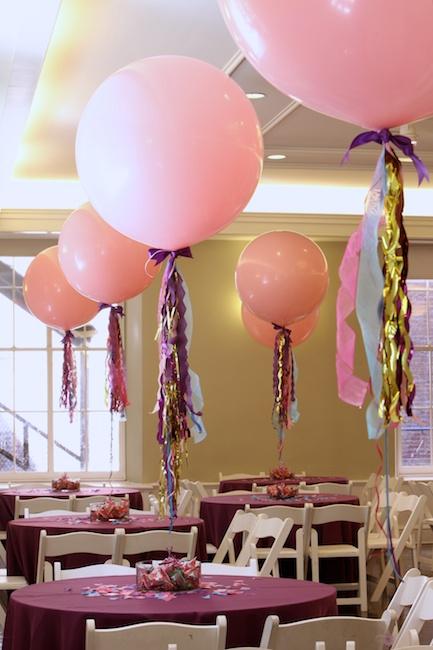 from arabiaweddings.com
This charming centerpiece is just balloons dripping lovely ribbons – a centerpiece that can be quite inexpensive!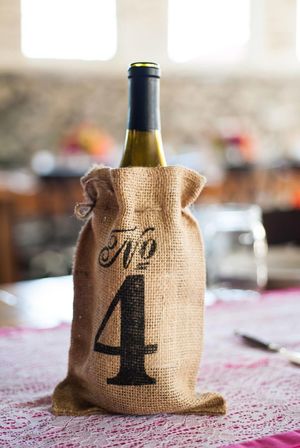 from weddingconnection.net
Wine bottles (with wine in them) make for centerpieces that do triple duty! Table number, serve-yourself bar and centerpiece!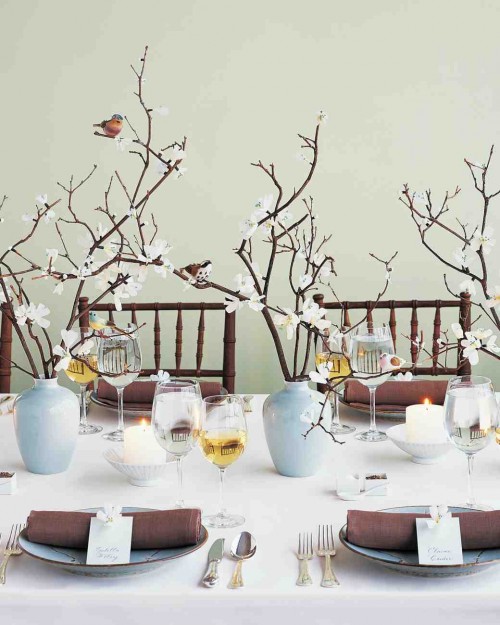 from evasonaike.com
Lovely and simple, these branches have tied-on tissue paper flowers and are all in the same soft color pots for a dramatic and simple centerpiece.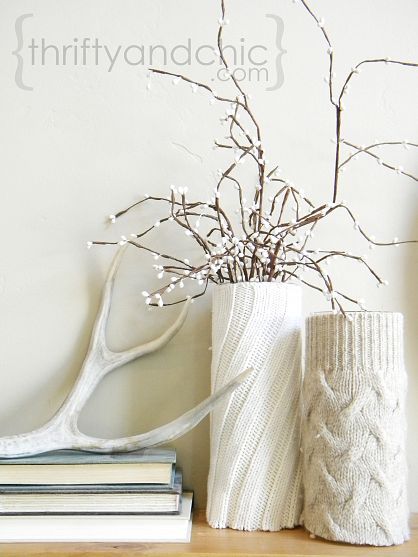 from thriftyandchic.com
You could donate your sweaters…or you could cut off the arms and create a visually stimulating centerpiece that has drama and texture – for cheap!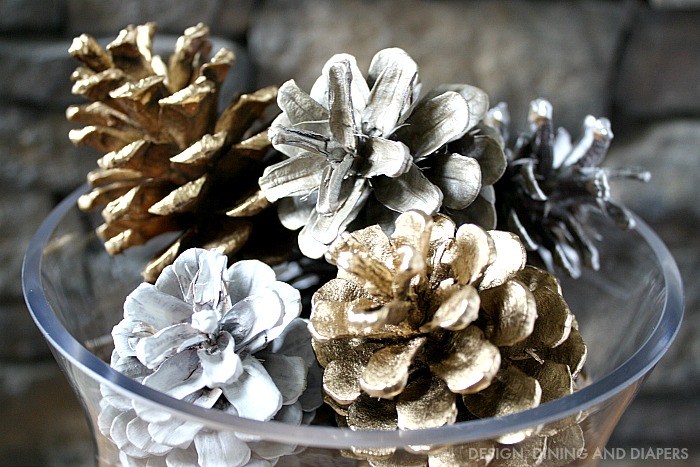 from tatertotsandjello.com
You don't have to be a DIY craft super star to create a stellar centerpiece with these spraypainted pinecones! It's a fun and interesting centerpiece that's nearly free to make!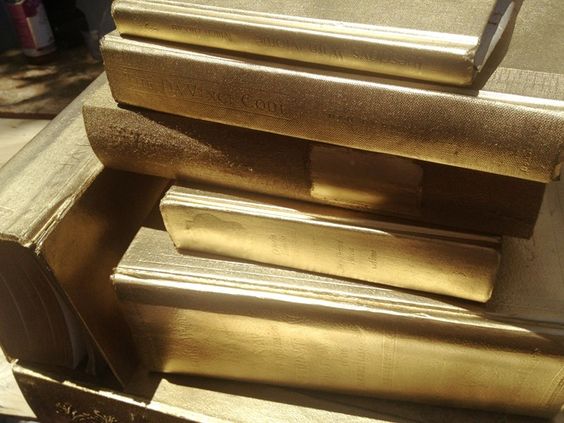 from omelettedufromagee.blogspot.com
Spray paint ALL the things! It doesn't matter what books you use when you spray paint them all the same color!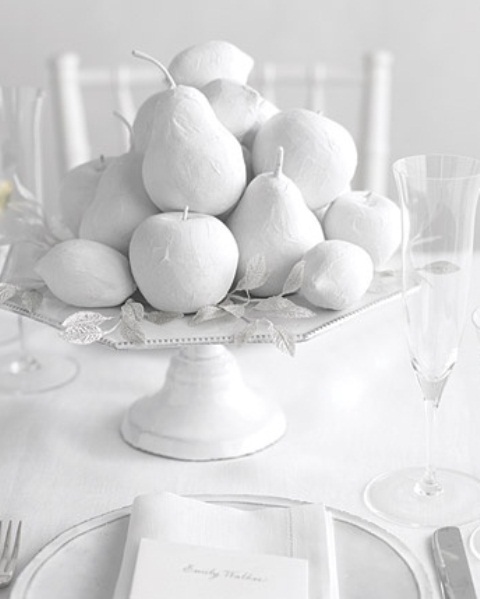 from weddingomania.com
If you can find fake fruit for cheap, you can make this elegant monochrome centerpiece for a dramatic effect.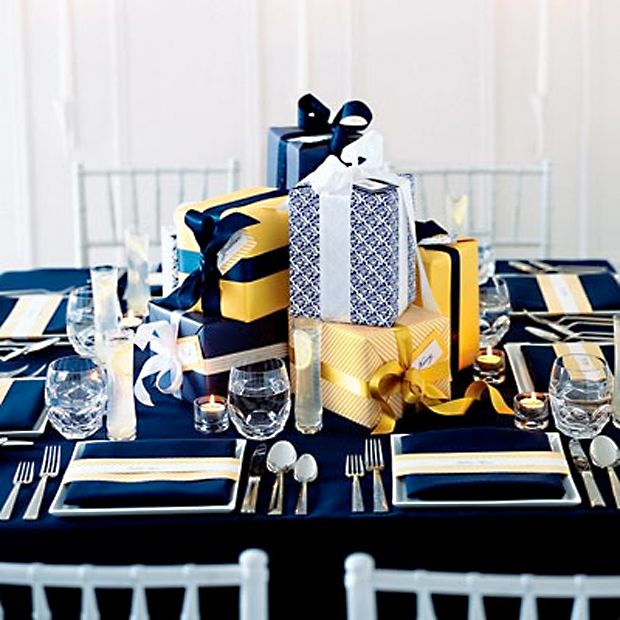 from omgimgettingmarried.com
Who doesn't love presents! A gorgeous display of empty boxes elegantly wrapped makes for a festive and nearly-free centerpiece.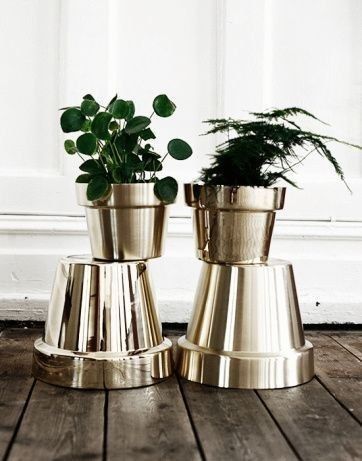 from lonnymag.com
Use a mirror-like spray paint for a dramatically different decoration – ordinary potted plants turn chic! Bonus, they can be planted in your garden or given as thank you gifts to family and friends.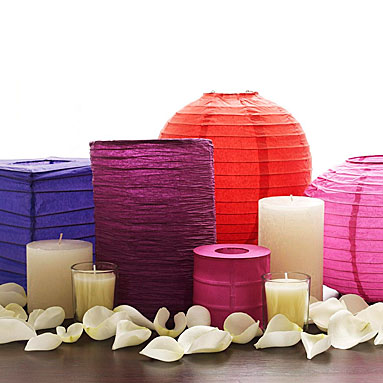 from sarahgdoesweddings.com
Funky, bright paper lanterns make an unexpected and cheerful centerpiece when lit up with mini LED lights!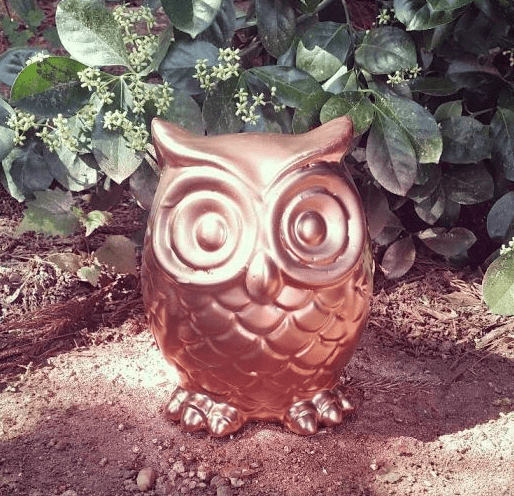 from iliterallydiy.com
Find a fun collection of your favorite things and – you guessed it – spray paint them all the same color. It brings a disparate and disjointed collection together.
from apumpkinandaprincess.com
Even a collection of rustic, outdoorsy items looks elegant when they're all gold.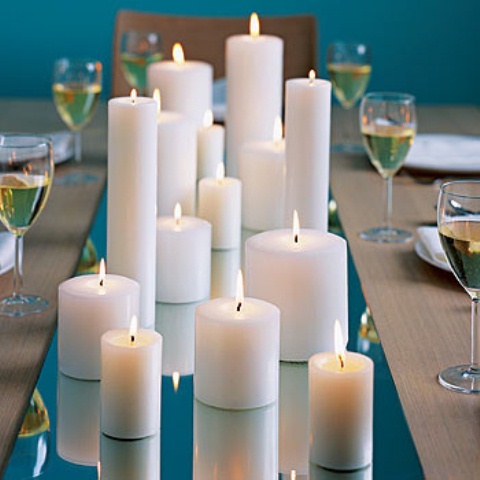 from weddingbee.boards.com
For long, rectangular tables – which is apparently back in with the farmer's tables this year – set the mood simply with candles on long mirrors to cast a golden glow on your guests.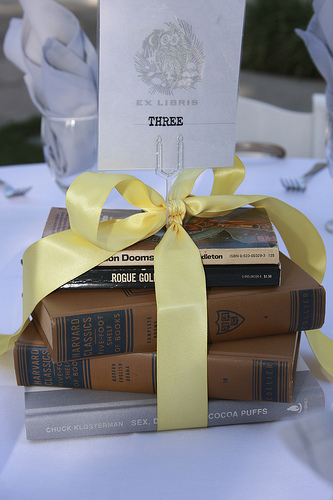 from offbeatbride.com
If you and your fiance are literary folk, consider using your favorite books as centerpieces. They could also be favors for your guests to take home and enjoy.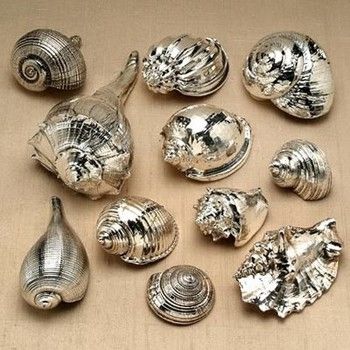 from indulgy.com
A collection of similar items in a shiny metallic color can be a fun way to distinguish tables. Shells for one table, dinosaurs for another. Cars, kittens, green army men – the ideas are endless! "These are a few of my favorite things…"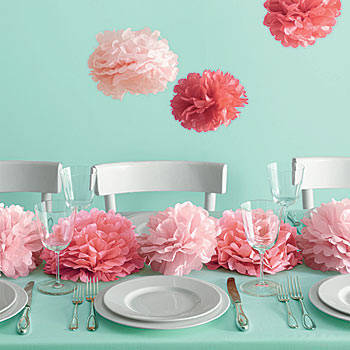 from sweet16themes.com
Paper pom poms are inexpensive, easy to make and make for a super cute centerpiece (along with looking great hanging about the venue!)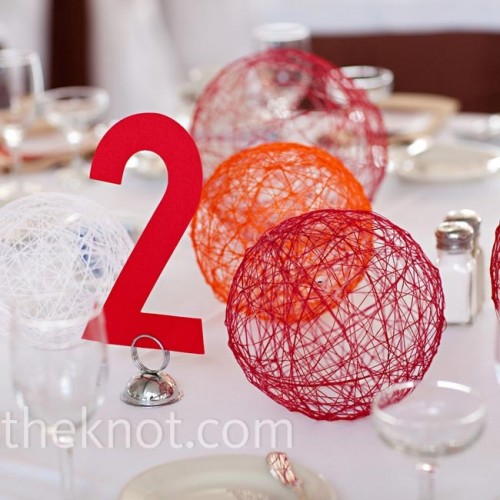 from theknot.com
Here is an easy tutorial for making these fascinating yarn balls, which create quite a beautiful effect as non-traditional centerpieces.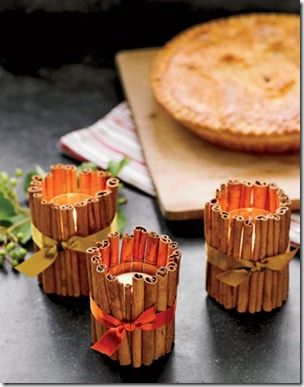 from onthegobride.com
These darling votive holders are easy to make with a glue gun and a huge bag of of cinnamon sticks from an ethnic foods market. Candles inside will warm up the cinnamon, allowing a beautiful scent to infuse your celebrations – and will evoke memories for your guests long after it's over.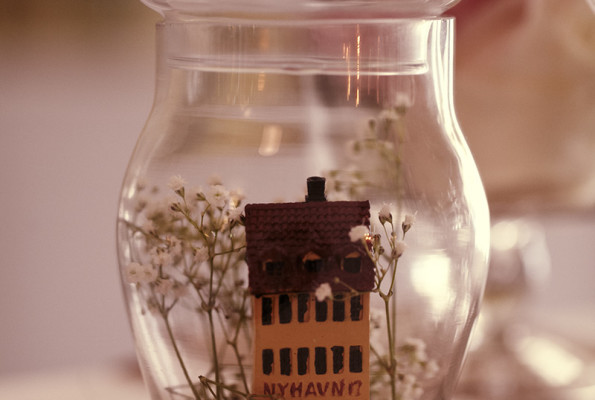 from bridaltweet.com
Could a mini water globe centerpiece be any more adorable? They're perfect for a fun, shabby-chic style wedding!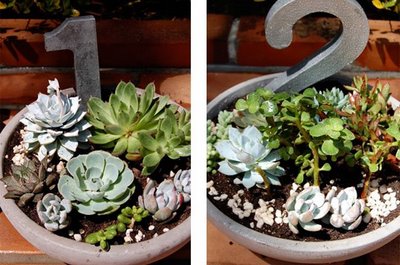 from idoweddingstudio.wordpress.com
For a charming centerpiece at any time of year, succulents are a beautiful choice. They're not flowers right? If they are, then this is cheating, but I like them a lot.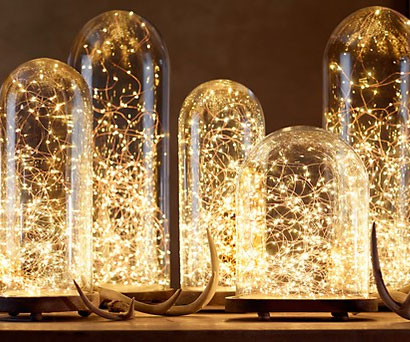 from thisiswhyimbroke.com
For a charming centerpiece, fill individual apothecary jars, mason jars or bell jars with fairly lights. Ikea has them for quite inexpensive, and you can find them on amazon for cheap, too.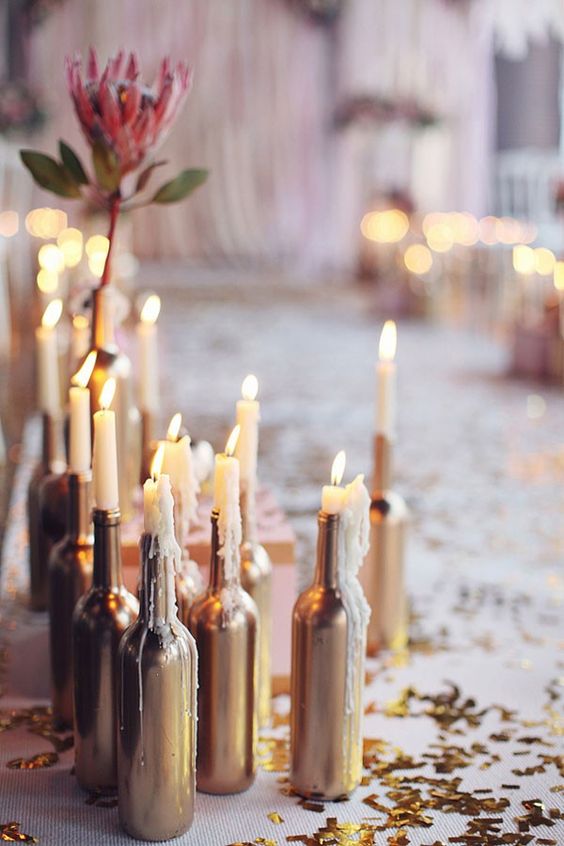 from mywedding.com
Combine beautiful spray painted wine bottles with candles that have been artfully melted down for a charming centerpiece.
from apartmenttherapy.com
A cheerful and simple centerpiece can be created out of a branch painted in a striking color – no need for fancy place or flatware when you've got a brilliant centerpiece featured.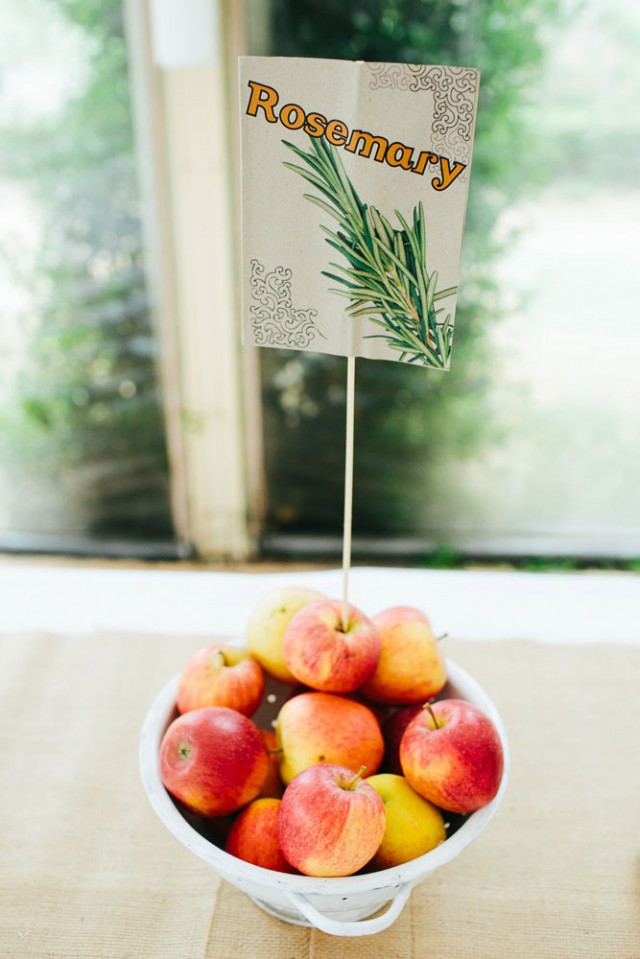 from www.rocknrollbride.com
This charming and simple centerpiece is created with a bowl of apples and a table name perched on top.
We love the idea of having one less thing to do for your wedding day and none of these suggestions will take very long to put together.  The wine bottles might take the longest, simply because I can't drink that much wine all at one go! Don't forget to check out more ideas from Wedding for $1000 on DIY Floral Centerpieces, Beautiful Budget Centerpieces and Simple Pumpkin and Apple Centerpieces!