With all the time and effort they put into the preparations, every bride and groom want a beautiful wedding. But until you plan one and understand what goes on behind the scenes, you don't know that it is very time consuming, exhausting and expensive.  Wedding flowers can add up to a tremendous expense if you're not sure what you're looking for or you're just trying to go with a color scheme regardless of what flowers are in season.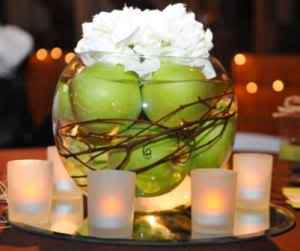 Let's not do that, shall we?  Today we focus on more simple wedding centerpieces that don't require hiring a wedding florist.  If planned well, these centerpieces can be made quite a few days in advance of the wedding day and placed on tables by whoever is setting up the reception area.  Classic wedding centerpieces tend to revolve around flowers.  But even Martha Stewart says this doesn't have to be so!
This lady, Sophia, made a gorgeous centerpiece from a planter box she had filled with pumpkins (see header image).  If your wedding is in the fall, mini gourds and pumpkins are a naturally beautiful element to include in your wedding centerpieces. You could also consider using fruit like apples and pears.
So let's break down these simple wedding centerpieces:
You'll need a crate. The best price I found was $4.99 at Michaels for the 15″ long and thin wooden crate shown below, similar to the one Sophia used.  You can also make your own crates out of paint sticks (no joke, peeps), with this tutorial. They look pretty freaking cute, and supposedly the materials were just $75 for 8 centerpieces.
Anywho, back to the pumpkin crates (seriously, though, I just wandered off for an hour on Pinterest). I was trying to find the cost of the pumpkins, and apparently they're somewhere between $2 and $10 dollars but since it's not fall I really can't be positive. Sorry about that! Apples, however, are about $1.49 to $3 a pound, depending on where you're getting them. Pillar candles will look amazing, but they can get pretty costly depending on the size.  I would go with votives and tealights in different height glasses.  These votives come with their own glass holders in a set of 72 for $35. These tea lights come in a pack of 125 for $15. (Although if there's an IKEA near you, buy them there. It's cheaper.) I would suggest considering putting the tea lights in the votive holders and then putting the votives in taller glass vases so that you can have more depth and height to the arrangements, but also to protect the flames. The glass vases at the dollar store work for so many possible arrangements. I love them!
You can pile the apples or pumpkins on top of some crumpled burlap, fabric of your choice, crumpled newspaper, etc. Stick in some candles, some birch branches and maybe a little spanish moss, and you've got some simple, rustic and pretty wedding centerpieces.
In my searches, I found something you might like even better, thought it's definitely more work.  But it's worth it. Wouldn't YOU like to go to a wedding with Table Top S'mores Centerpieces?!