You didn't think we were going to leave you with all that glitter left over from making the vases and nothing to make, did you? No way. We love projects, and these super-gorgeous diy glitter candle holders are too adorable to not make! These candle holders can sit on your reception tables with any centerpieces you might use. Project photo credit
just a heads up: most of the items we use are from Amazon,  because we really like to stay home when we're covered in glue and glitter. We link to products with the lowest prices we can find on amazon, and always link to Prime items when possible. If you don't have Amazon Prime, you should TOTALLY consider it. Here's a link to try Amazon Prime with a 30-Day Free Trial. Okay, let's move on!
DIY Glitter Candle Holders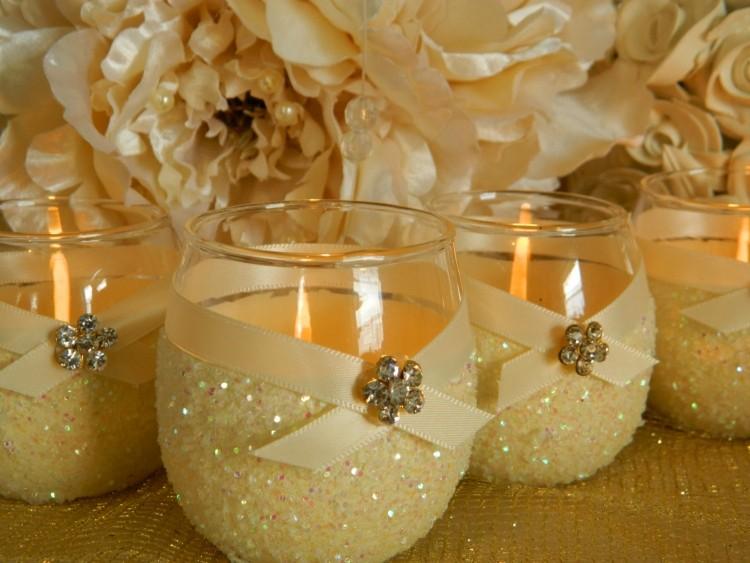 from fanrto.com
You'll Need:
Stemless Wine Glasses from The Dollar Tree
Step One: Paint modge podge ¾ of the way up the glass. Roll it in the extra fine glitter and set aside; repeat this step for each glass. Let dry for 24 hours.
Step Two: Seal the glitter on the glass with Glitter Blast Sealer and let dry for 12 hours.
Step Three: Preheat the glue gun. Using the glass, pre-measure one piece of ribbon and cut the edges at an angle. **Make a test candle holder before you cut the other pieces.
Step Four: Follow the edge of the glitter with the glue gun painting a thin line around the glass, quickly wrap the pre-cut ribbon around the glass along the glue. **Hot glue dries very quickly, so you might need to try this one or two times. That is why we suggest making a test candle holder, then cut the other ribbon and repeat this step on the other glasses.
Step Five: Place a dot of glue on the back of your charm or jewel, and place it on the ribbon where it crosses on the front of the glass. Let dry for one hour, fill with votives, and voila! Romantic candlelit wedding decor.