You're newlyweds, so everything is supposed to be all magic and rainbows in the bedroom, right? Maybe you've had sex, maybe you haven't, maybe it isn't going well, maybe it's going awesome – or maybe you just think it is.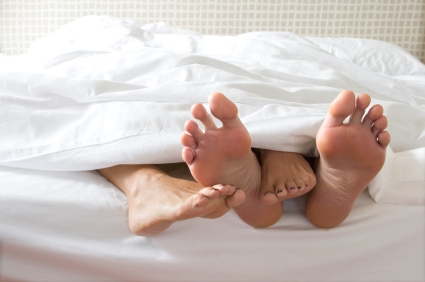 One of the biggest "issues" when it comes to being a couple, especially a newlywed, is the sexy stuff. Below is one comprehensive guide to sex written from true stories and little moments my friends and I have faced as a couple. You are not alone, so don't be afraid to get your sexy on! source
For the Amazing Virgin
You made it: Holla! But now what? Sex can be scary stuff. Not because it's your first time, but because it can take a few times to be ah-mazing. Forget that–you're gonna nail it the first time. Just keep reading.
When The Sex Stops
My friend moved in with her boyfriend and the sex stopped. This happens to newlyweds all too often, so how do you get your groove back?
For The Love of Orgasms
My other friend has never had an orgasm with her long term boyfriend. I mean ever. Never ever had an actual orgasm with a man, and I found out it's not all that uncommon for a woman. What? Oh, Honey…keep reading.
How Newlyweds Can Kick Things Up in the Boudoir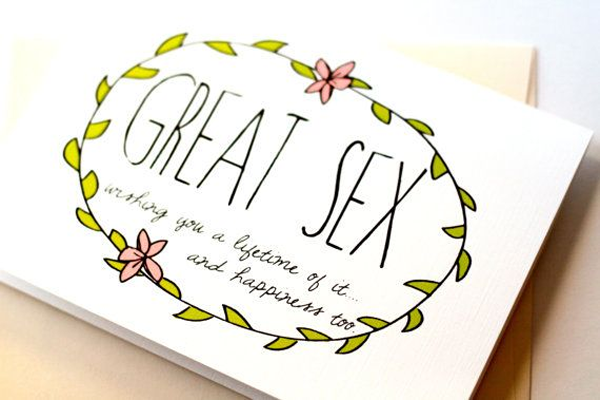 There are little things every bride, every woman, should know once the big day winds down. Whether you're a virgin, seasoned pro with your guy, or a faker–you won't have to fake it on your wedding night!
Set the mood: What I think is sexy music and what you think is sexy music can be two different things, so don't Google someone else's playlist. Think about music that turns you on, or helps you get your groove on. Make a Spotify playlist and pay for premium with zero adverts so random infomercials don't kill the mood right in the middle of something hot.
Sexy Lingerie: Again, it's all about you. How you feel, so don't let Aunt Janice buy your bridal wear for the bedroom. Go to a shop like Anne Summers or Victoria Secret and grab an associate. Tell her who you are and what you're thinking, that you want something that's gonna make you feel damn sexy. For sexy lingerie on the cheap, check out the naughty things that Amazon has to offer!
Toys: Here's where you fakers get off…the train to sexy land. Sometimes you just need a little help. So, you should sit down and talk to your partner about things. When you mention never having an orgasm, they will make it their mission to do so. A simple vibrating cock ring can help you reach orgasm if you like clitoral stimulation. Maybe that's a little too direct, and
Go for a little Show and Tell: Tell him what he or she does that makes your body shake. Show him or her what you like to do when it's just you. Some guys go a little too fast, and that was my friend's problem where the sex stopped. If he's doing something that isn't sexy, tell him/her. If it was once good, and it's not now–there's a reason.
For those who need to get a little slippery, lube: because being wet is essential for both you and your partner; it can lead to massive orgasms. Aqua based is pretty awesome.
Light some candles around the room and give your body a romantic glow. Add a little lavender spray to the pillows or toss some rose petals around. Take a bubble bath first with champagne to loosen things up. Add laughter and the sex will come naturally.
Ask him about his fantasies. Just the simple act of doing this will get him going. Start things out with a full-body massage where the two of you just get to know one another. Kiss for a while. Take things nice and slow. Don't just go at it. Take your time.
Communication is the biggest key to explosive orgasms and great sex. Get on one another's level. Take a tantric workshop. Sync your breathing. Like literally breathe with your partner as you're making love. Read up on positions that can help you orgasm better. For instance, do you tend to orgasm on top in missionary? Put a pillow under his bum for a deeper experience. Trust me–it's delicious. Whatever you do, go into that bridal suite knowing you're the one and you're absolutely gorgeous. This alone will make your night spectacular!