guest post by Samantha
Ugh, bridesmaid dress shopping. You probably know that feeling of frustration when you and your bridesmaids give up a precious Saturday to go to the store, only to be left with an underwhelming experience, little-to-no customer service and overpriced dresses. You've looked at everything, and all the dresses are starting to look the same. What now?
Well, you're in luck! There is a new service available to solve your problem called Bubbling Brides that allows you to find the perfect bridesmaid dress. It features affordable dresses in fashionable styles. Hallelujah! You thought this day would never come, right?
Not only does Bubbling Brides have stylish dresses, they strive to provide the best customer experience ever – they come to you! If you're in their service area, they have an at-home party with you! If you're not in the local area, they can still help by shipping dresses to you.
The Bride gets paired with a Brideologist to answer any questions. The Brideologist then helps the Bride plan an at-home sample soiree for her and her Bridesmaids. Then the 'maids get to try on dresses and get measured.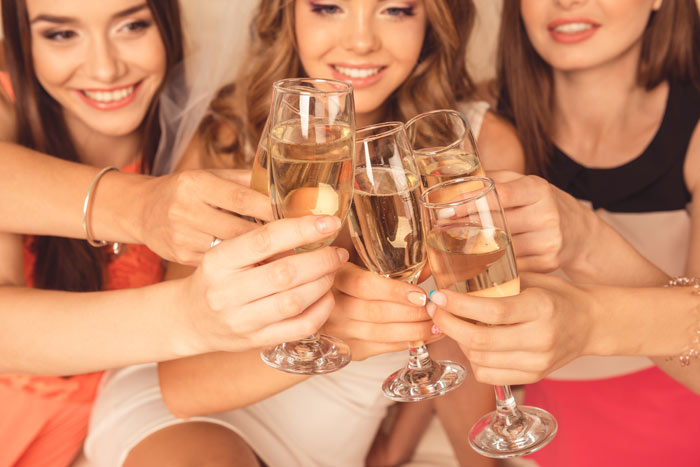 My friend Rachel had a party and I was fortunate enough to be in her bridal party. Her Brideologist helped arrange to have pink champagne with her name on it! Rachel made pink cupcakes to match. It was too cute! A few weeks later, my bridesmaid dress showed up at my doorstep. It could not have been any easier.
Not only do they have bridesmaid dresses, they have jewelry and clutches to match. I love how the website suggests what dresses go with which jewelry pieces. I love that every time I carry my Bubbling Bride's clutch, I get so many compliments.
Whether you're a Bride looking for bridesmaid dresses or a wedding guest looking for amazing accessories to complement your evening wear attire, I would highly recommend checking out Bubbling Brides.