Is it just me, or are some wedding planners really starting to take the cake, figuratively speaking? There is actually a service now to "help you pick your wedding colors".  Are you confused? So am I. I've had my wedding colors picked out since I was six–so maybe I'm just a weirdo. This week on debunk the b.s. we have something super-special. How to choose your freaking wedding colors.
Should You Turn To The Internet?
Should you turn to the internet or to someone you don't really know to choose your colors??? When it comes to deciding on the colors of your wedding, it all comes down to time management and how particular you are. If this is sincerely going to be the happiest day of your life no matter what, and you don't care if your napkins are plum or pink, give the task to a vendor or wedding planner. However, I find most brides really want to make these kinds of decisions themselves, so below are some cool ways to get you started on wedding color options.
Wedding Color Service
So, what if you simply don't have time to pay attention to detail? Or you just want some darn good ideas? The Wedding Wire Color Palette Generator is super simple to use. Select your season. I picked Fall. Select a primary color. I went with champagne. Then you put in your details: email, name, password. Then choose your favorite palette and print. I could have done this at a paint store, and not subjected my email to spam. The only cool bit is you can click: See Examples, and it takes you to a Pinterest style board. But it filtered into Ivory and that was not the palette I picked. Mine was pink. This service sucks.
I did find a wedding dress I liked…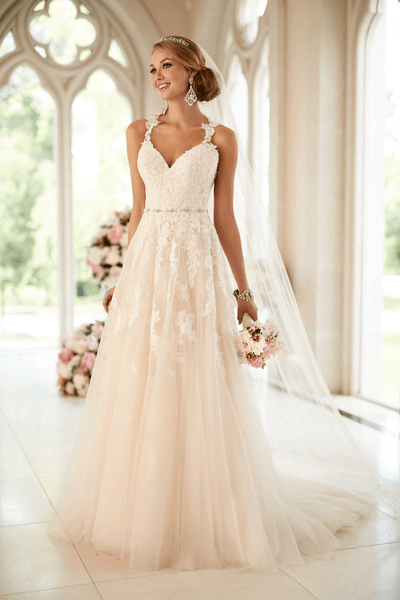 Get Color Creative
When it all is said and done, there is a way to do it on your own.
Go to a paint store and look at the palettes that paint companies have so kindly provided you for free. That way you can get a good idea of what colors blend well. You might want a single color, a dual color, or trio of colors. Paint store palettes will help you lean in the right direction.
Get ideas from other brides. In this social climate, brides are constantly sharing their themes and posting wedding inspiration boards. Check out Pinterest for a plethora of ideas!
Take inspiration from previous parties you've been to. For instance, my friend's baby shower was navy, white and lime green. For a wedding, this would be absolutely gorgeous with navy napkins, lime green vases with white rose balls for a centerpiece, and gold embossed china.
You can also find inspiration in nature like the colors of a sunset, or the beach, or a fall day. Don't be afraid to think outside the box when you Google color palette ideas.
No matter what colors you go for, just do you! It's your wedding so color it the way you like best!