Many times we take our surroundings and all that we have for granted. What if the only thing you had to work with during your wedding, as a backdrop, was a war torn country? A place where foreign soldiers we warned if they entered, the would return home in coffins. A place so dark that every soul living there essentially has sought refuge throughout the world.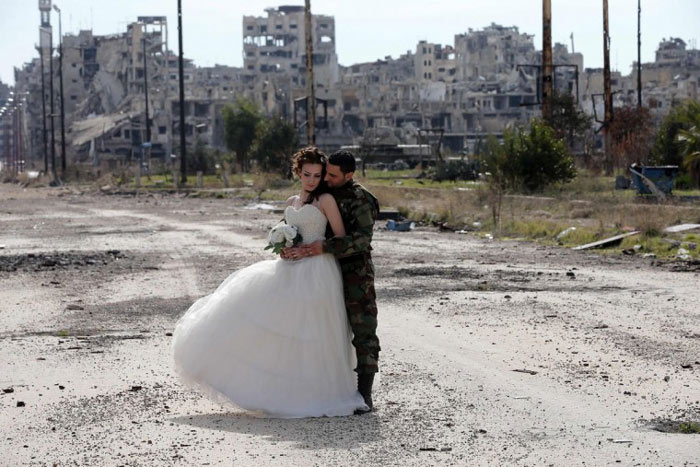 The darkness that has fallen upon Syria didn't stop one bride from absolutely rocking her special day. Nada Merhi, 18, wasn't afraid to use the love of her crumbling surroundings to create beautiful wedding photography with new husband, Hassan Youssef, 27. The newlyweds posed for their epic wedding photography amongst some of the most disturbing parts of the heavily war torn city of Homs, Syria.
Merhi sincerely rocked one stunning white wedding gown, while Youssef, a soldier in Syrian President Bashar Assad's army, represented his loyalty to home and country in his camouflage uniform. According to The Washington Post, Homs "was once the country's third-largest city with a population of more than 600,000. However, after Homs became a rebel stronghold in 2011, it was hit by a military assault by government forces. The ensuing battle nearly destroyed Homs and left it a husk of a city."
While Merhi and Youssef aren't the first couple to pose amongst the ruins of Homs, they went the extra mile to get their unique shots with Joseph Eid, photo-coordinator and photographer for Agence France Presse, who joined the couple and their wedding photographer Jafar Meray on the day of the shoot. Their wedding photographer told Joseph Eid he wanted to "show that life is stronger than death".
Meray simply titled this beautiful shot, "While creating a love of pain"…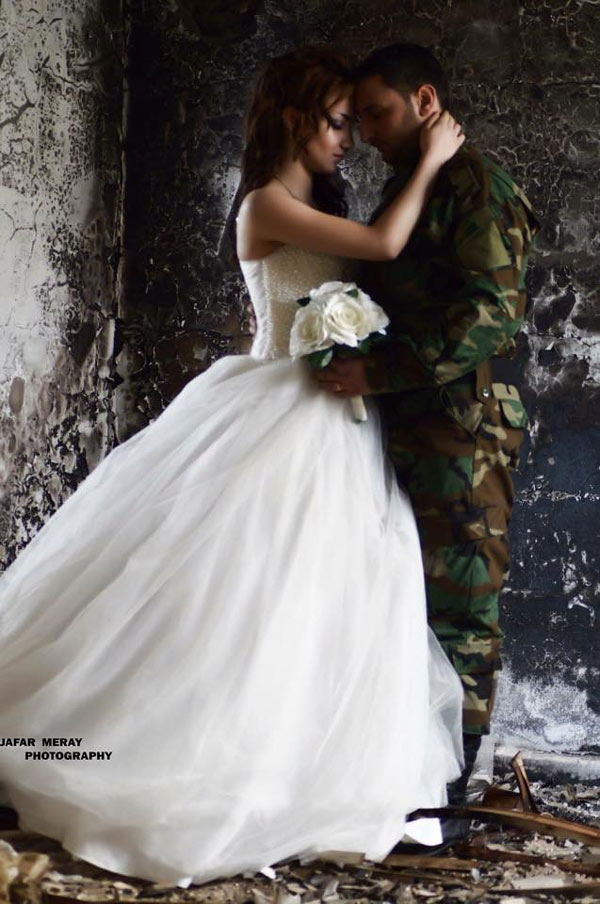 What a beautiful sentiment on a day that symbolizes everlasting happiness, through sickness and in health, struggle through good times and bad, and for richer or poorer–this couple shines like a beacon of light in a place so wrought with darkness.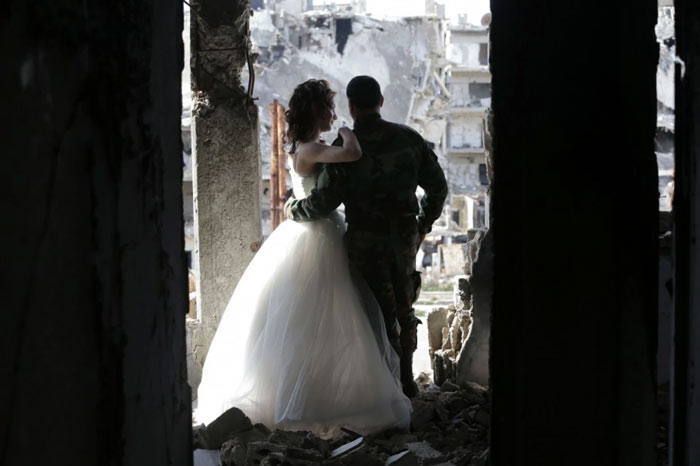 Thank you Merhi and Youssef, for giving the rest of the world a little slice of beauty and hope.