Did someone say Valentine's cocktails on a budget? In my 20s I was attending V-Day bashes called "Love Bites" with anti-love poetry slams in dive bars with cans of retro beer for a dollar. This year, I felt some V-day love coming on! Whether you're gearing up for a romantic wedding, sweetheart of a honeymoon, Valentine's anniversary, pretend anniversary, whatever, these cocktails are sure to put some love into your day. Header image photo credit
You don't have to go all out with chocolates, cards and flowers. Simply light some candles, put on your favourite tunes or one very romantic film, and mix up a few drinks. Kick back, relax and enjoy a simplisticly romantic holiday this year. After all, it's all about the one you're with–right!?
Sex On A Snowbank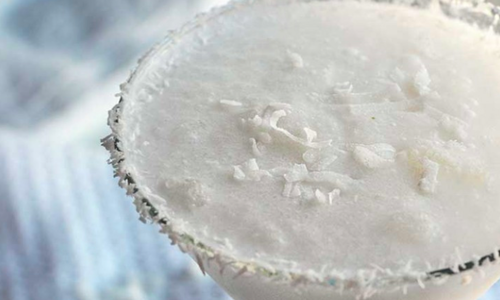 Sadly, this mix is not mine, but courtesy of the adorable Janel at NellieBellie. This creamy concoction is sure to remind you of moonlit nights and tropical highs, and definitely take you to a place where you'll want to perfect your chemistry.
You'll Need:
Blender
Ice
Malibu Rum
Coconut Cream
Coconut (desiccated/shredded)
Martini glasses
Blend 1.5 ounce Malibu, 3 Tbsp. coconut cream, and about 6 cubes of ice. Wet the rim of the martini glass, pour a good pile of desiccated coconut onto a small plate, and rim the glass with the coconut.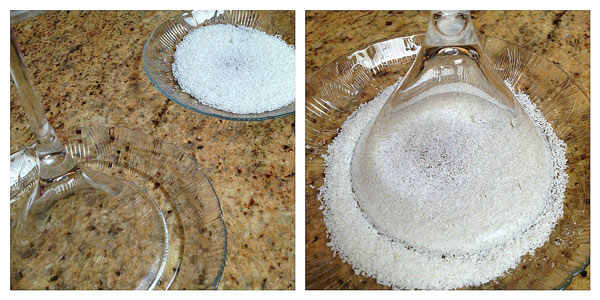 Pour your delicious cocktail into the glass and enjoy on its own, with Cajun grilled shrimp or spicy gazpacho.
Fresh Toasted Kiss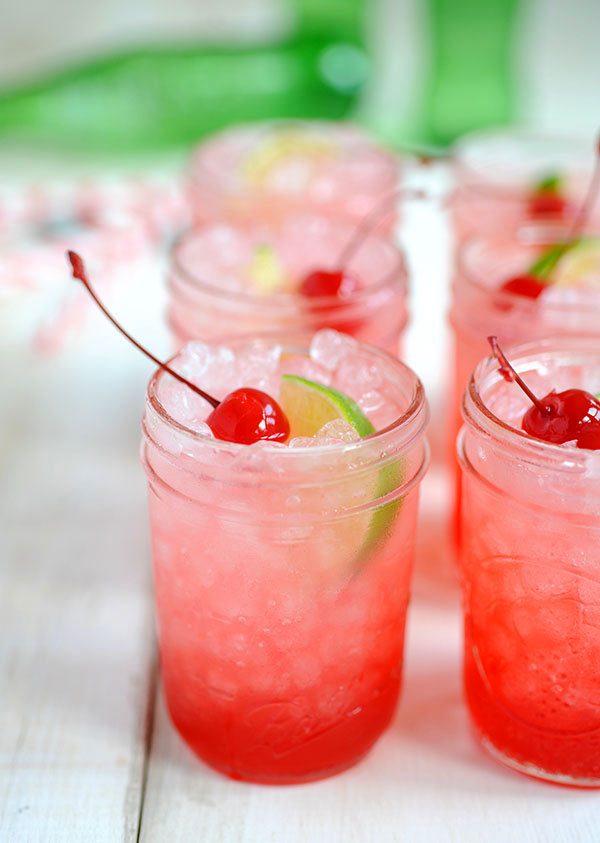 Appropriate for nights you just want to spoon or curl up in a blanket on the couch, this drink will sincerely surprise your tastebuds. Mix these up in a matter of minutes for one of the most delicious little cocktails you've ever had!
You'll Need:
Amaretto Liqueur
Cranberry Juice
Fresh Lime
Soda Water
Maraschino Cherries
Pour 1.5 ounce Amaretto and 3 ounces cranberry juice into a glass. Add a squeeze of fresh lime. Top with ice. Fill remainder of glass with soda water, and garnish with a cherry and lime wedge. photo credit
Sealed With A Kiss
You'll Need:
Gin (my favourite is V.J.O.P. Sipsmith's London Dry Gin–delicious!)
Rose Tonic Water
Rose Petals
Ice
Old-school Martini Glasses
Simply add three cubes of ice to a martini glass. Add 50 ml. gin and top with rose tonic water. Tear a few rose petals off a fresh rose and float in the glass. This mild cocktail is both refreshing and mellow for one sincerely laid back night at home. photo credit
Sloe Comfortable Kama Sutra Against The Wall
What? That's a great cocktail name. Why not get out the Kama Sutra and have a little read while you're sharing a couple of these bad boys, then get a little adventurous with sexy time. photo credit
You'll Need:
Blender
Gordon's® Sloe gin
Raspberry purée
Champagne
Tall Glasses
Long Spoon
Raspberries to garnish
Prepare your raspberry purée by adding ½ cup raspberries, ½ teaspoon brown sugar and 2 Tbsp. warm water to a blender. Blend until smooth. Add 2 tsp. to each glass. Top with 1 ounce sloe gin and fill with ice. Top with champagne. Give the cocktail an easy stir with a long spoon to mix up the purée and top with raspberries.