by Brittany McComas
A champagne wedding reception is so darn classy when it comes to adding special touches to your reception. But who has money for wait staff to walk around for five hours? While your wedding day is special to you, it's also special to your guests. The coolest way to say 'thanks' is with a little free booze. The best way to provide said booze is with a little pre-prep and simple DIY.
Think pre-mixed champagne cocktails, a DIY Champagne bars, or a simple garnish to create a more elegant, classy champagne hour. You don't have to go whole hog with the booze. These simple recipes below are chock-full of money saving ideas.
Simple Champagne Meet N' Greet
Set up a champagne reception for the start of your wedding reception. Garnish glasses with fruit…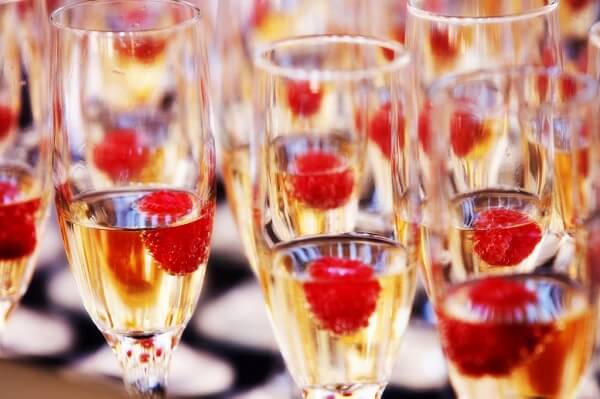 Or edible flowers…
Arrange the glasses on a table or sweet little bar for guests to pick up at their leisure.
Mix & Muddle Bar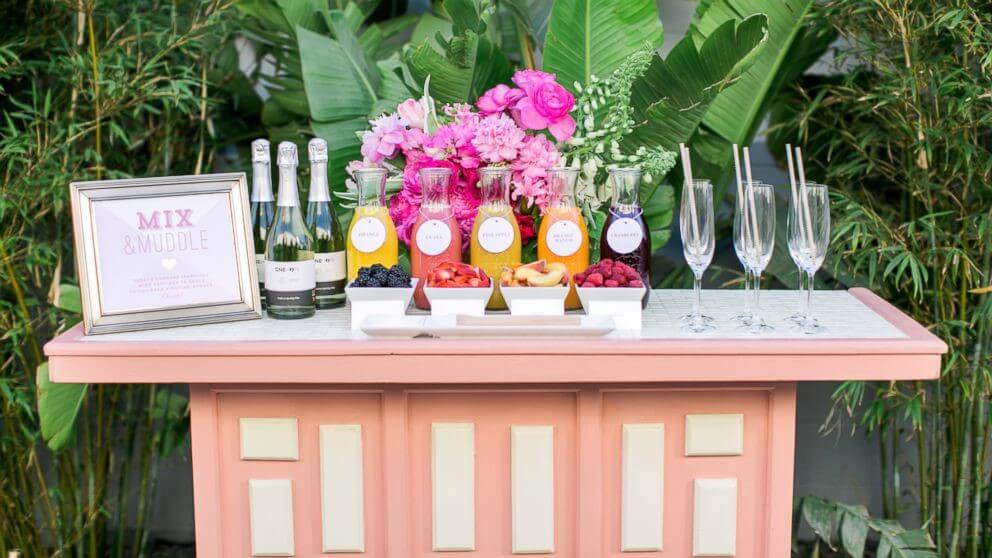 Simply put out bottles of champagne, a few fruit juices, and sliced fruit, with a muddler, and let your guests make their own champagne cocktail. Simply spoon some fruit into the glass, muddle for a minute or two, add fruit juice and top with champagne.
Ideas
Orange juice with peach slices
Orange juice with melon
Pomegranate juice with blueberries
Fresh Lemonade with raspberries
Pineapple juice with cherries
Cranberry juice with Passion Fruit
Cranberry juice with Watermelon
 Champagne Cocktails
Another cool idea for your wedding is pre-mixed champagne cocktails. Simply sweet and easy, you can mix these up, top with champagne and set out for guests to grab at their leisure.
Raspberry Lemonade

Fill your glass with ice. Simply mix 25 ml Chambord with half a glass of lemonade and top with champagne. Garnish with raspberries.
French Vanilla Champagne
Pour in 25 ml Vanilla Vodka. Add a dash of simple syrup (Just mix 2 cups of sugar with 2 cups of hot water, and let cool for your simple syrup), and a dash of Chambord. Top with champagne and garnish with strawberries.
Orange Creamsicle and The Yellow Bird
Orange Creamsicle: 25 ml vanilla vodka, 75 ml orange juice, top with champagne. Garnish with orange zest peel, or orange slices.
The Yellow Bird: 25 ml vanilla vodka, 75 ml pineapple juice, top with champagne. Garnish with a fanned out pineapple wing.
Something Blue
For something blue to add at your wedding simply pour in 25 ml Blue Curacao, 75 ml ginger ale or ginger beer, and top with champagne. Garnish with crystallized ginger around the rim.