Sometimes you just want to stop planning and start partying. Forget the fru-fru cocktails and fuss over drinks and focus on party punch! The perfect wedding reception can also pack one amazing punch. Here are a bunch of recipes for delicious punches that are easy to make and serve a lot of people! So, you can forget about the busy bee details and just throw one old-fashioned wedding party.
Jungle Juice Party Punch
As if this was not going to be #1 on the list of grown up kool-aids. Duh. Forget the trash can you made this in when you were in college, class it up a bit. I mean, it is your wedding. Make this in a cooler and have caterers or a trusted friend just dish it out into a glass punch bowl.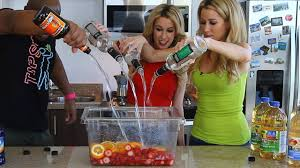 You'll Need:
One bottle of:
Vodka
Coconut Rum
Peach Schnapps
All the cut up fruit you can handle. Think:
Strawberries
Apples
Oranges
Lemons
Limes
Whatever
And 4 to 6 quart jugs of Hawaiian Punch. Classic is best, but if you're feeling frisky go wild with something like strawberry lime (it's delicious too).
Dump it all in a cooler and let it marinate for at least 24 hours. The longer it sits, the more booze-tastic! Serve in plastic solo cups, or plastic stemware. Your guest are gonna get smashed and break stuff.
Swamp Juice
Don't be fooled by it's dirty name. This stuff might look like it was scooped out of a swamp, but your guests will drink up this delicious party punch like it's going out of style.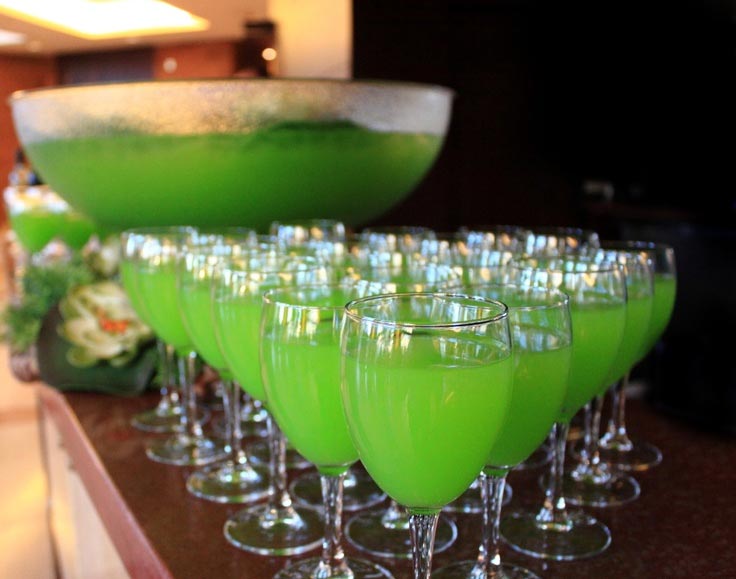 You'll need:
1 bottle Vodka, Coconut Rum, Blue Curacao, Peach Schnapps
½ bottle Tequila
1 gallon Orange Juice with pulp
1 gallon Orange Juice without
½ gallon Cranberry Juice
2 liter Lemon Lime Soda
½ cup Grenadine
While this seems to have everything behind the bar, again dump it in a cooler. Mix it. Serve in cool glasses and be prepared to dance the night away!
Honeymoon On The Beach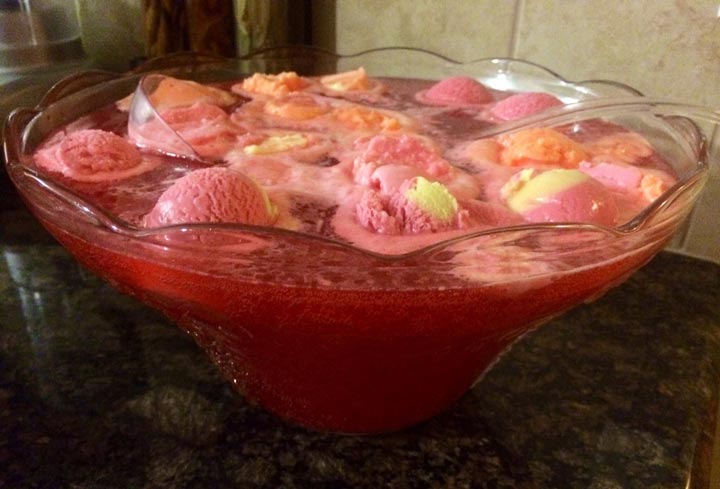 This recipe is near and dear, because it was created on a long night in Nashville where me and my writing partners thought we were going to pass out before we got on stage for our set. I amended it to be wedding friendly, because the original name was not very wedding appropriate or romantic.
You'll need:
1 bottle Vodka, Rum, Tequila, Gin, Triple Sec
1 Gallon Orange Juice
½ Gallon Cranberry
6 cans Red Bull or your favorite energy drink
Raspberry & Orange Sherbet
As if I was going to not give you a recipe with some classic sherbet in there!? If you want to omit the sherbet you can, but it sounds 80's spiked prom punch fun for all you rebellious couples.
Pour all the liquid into a big ol' punch bowl. Drop in scoops of sherbet, and you're ready to ladle out the grownup kool-aid.