Want to bring style and fun to your cocktail wedding reception? These five adorable and delicious food and drink combos are just the thing for any DIY Bride and her army of creative cooks. If you're planning an at-home cocktail wedding reception or considering catering your own wedding, these scrumptious recipes are quick and easy to help you cut cost but not style!
A Taste of Japan
If you love everything Asian you can entertain guests with Sushi and Saki – with a twist, of course!
Sushi Bites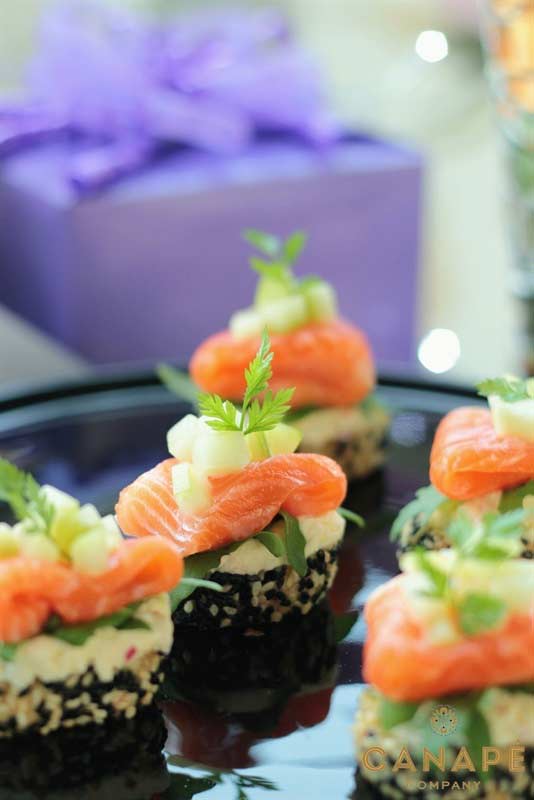 For the modern couple, get ready to knock your guest's socks off with gravlax. A posh, yet budget-friendly way to serve salmon is on a mini everything bagel straight from Lexi's Clean Kitchen. Whip up some mini versions of Lexi's Everything Bagel Cauliflower Rolls. Top with cream cheese and some gorgeous cured salmon and pinch of dill and voila! These scrumptious little rolls pack big flavor and are simply to die for when served with sake cocktails or plum wine.
Sake Sangria
Whip up your own quick and easy version of sangria by adding a little sake to the mix!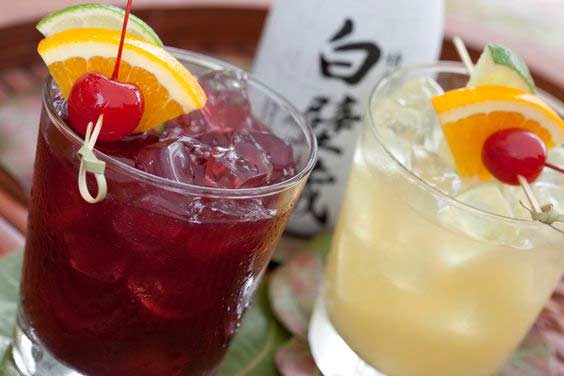 Red Plum Sake Sangria
You'll Need:
3 oz merlot
3 oz sake
5 oz plum wine
2 oz agave syrup
3 oz pomegranate juice
6 oz orange juice
Orange slices, for garnish
Lime wedges, for garnish
Maraschino cherries, for garnish
Combine all of the ingredients in a large pitcher. Fill rock glasses with ice. Pour over ice and garnish with a skewer of lime, orange slices and a maraschino cherry.
White Peach Sake Sangria
You'll Need:
12 oz sauvignon blanc
3 oz sake
5 oz peach schnapps
6 oz pineapple juice
Fresh peaches, sliced to go into sangria mix
Orange slices, for garnish
Lime wedges, for garnish
Maraschino cherries, for garnish
Combine all of the ingredients in a large pitcher. Fill rock glasses with ice. Pour sangria over ice and garnish with a skewer of lime, orange slices and cherry.
Down Home Dirty South
Nothing quite nails a rustic romance reception or country themed wedding like some good ol' down home food. The best part about these delectable little melt in your mouth recipes: they combine the best of both worlds so you get more bang for your buck!
Mammy's Mini BLTs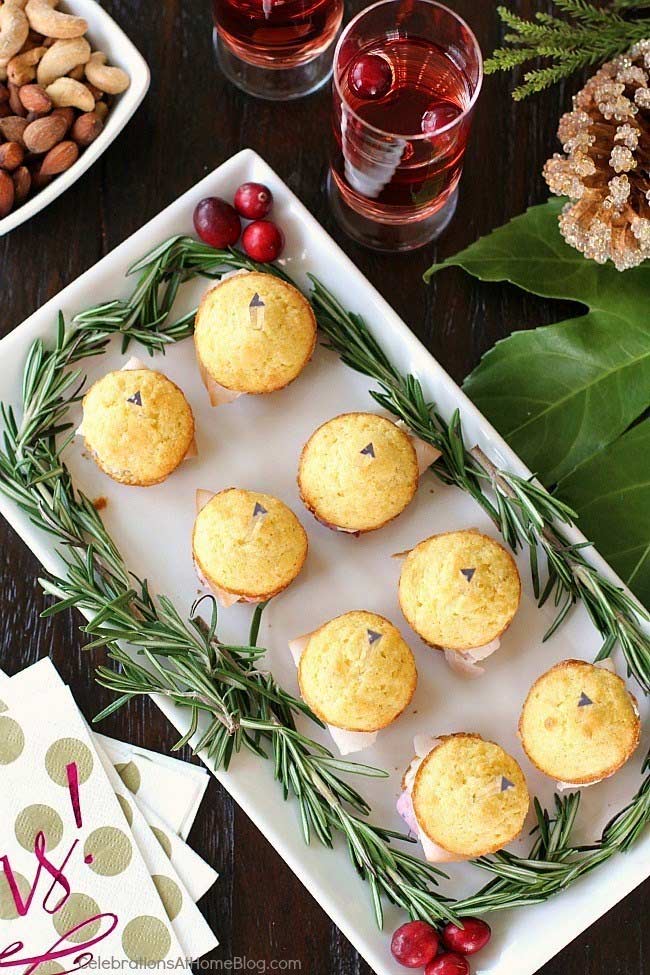 You'll Need:
2 cups yellow corn meal
2 teaspoons sugar
1 teaspoon soda
1 egg
¼ cup buttermilk
½ cup unbleached flour
1 teaspoon salt
2 teaspoons baking powder
½ cup Crisco
Mix in order given, stirring just enough to mix. Pour into a muffin tin and bake at 400 degrees Fahrenheit for 20 minutes or until edges begin to turn golden brown.
Place muffins out in baskets next to serving trays of chopped lettuce, sliced tomatoes, and fried bacon or sliced ham for guests to serve themselves. Provide no-sugar mayonnaise, like Duke's, and hot sauce for garnish.
Mint Julep Cocktails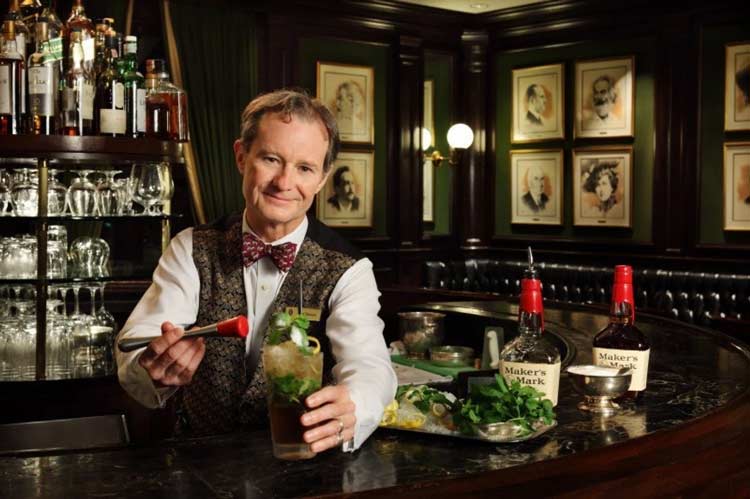 Pair your scrumptious mini BLTs with a taste of southern delicacy, and whip up a Kentucky Derby Worthy Mint Julep courtesy of The Washington Post. Simply increase the recipe by 3 and turn it into pitchers to place on each reception table for simple DIY service.
Go Big & British
Beer lovers unite! These delicious little combos will have you going gaga for the love of all things craft beer.
Craft Beer or Ale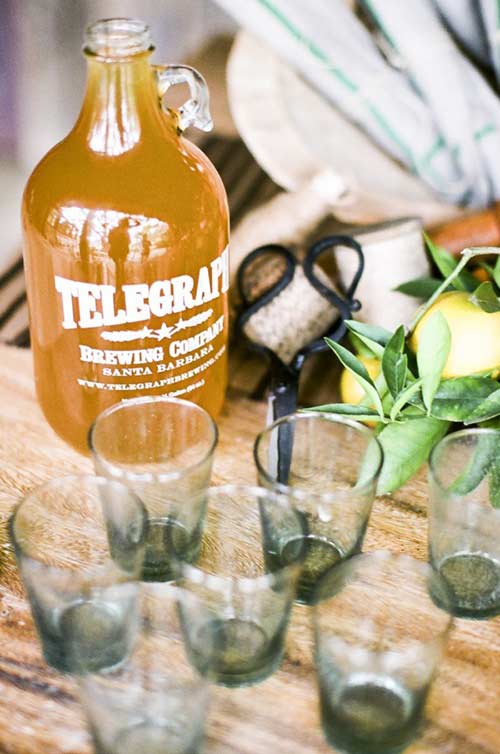 Set up a sweet growler station with all your local favorites or imports from a local bar. One of the most insanely cheap ways to do beer, this is great for small receptions. To keep cost to a minimum, place small 8-ounce beer glasses out to keep guests from drinking too much beer all at once.
Mini-Fish N' Chips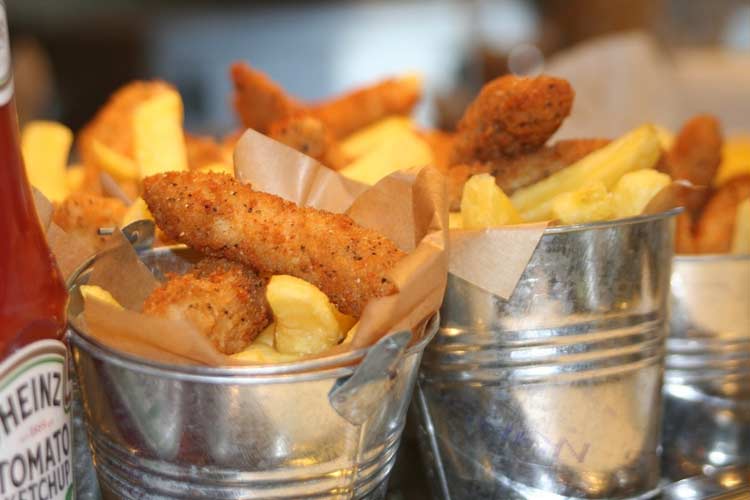 If you're going with a growler station or keg of beer, the best and most adorable way to pair it up is with some Fabulously British Fish n' Chips. One of the most delicious, easy and budget friendly ways to serve guests – just whip it all up and choose a cute way to serve it. From mini newspaper cups with sea salt and malt vinegar to mini styrofoam take away boxes to really make them all feel like they are fabulously in Britain.
Classic With A Posh Twist
For those who like it posh, these adorable little pairings will be all the rage at your formal wedding reception.
Spicy Shrimp Cocktail with Guacamole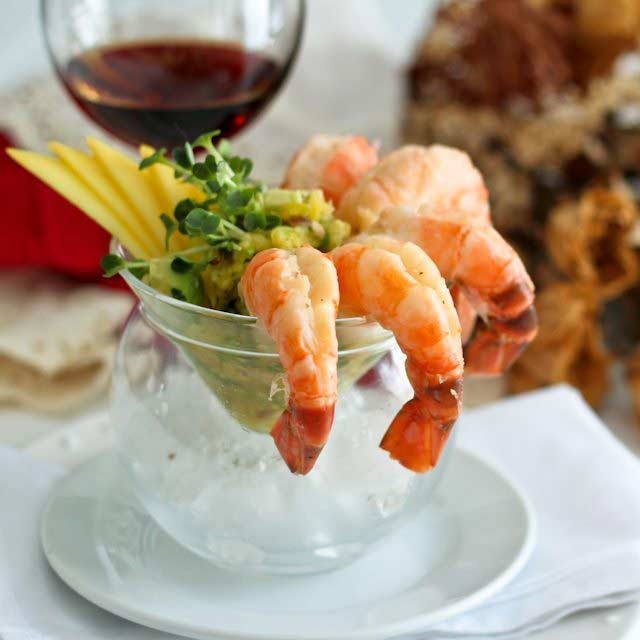 You'll Need:
1 pound of shrimp (¼ pound per guest)
1 teaspoon chili powder
½ teaspoon cumin
1 teaspoon garlic
½ teaspoon black pepper
½ teaspoon sea salt
1 teaspoon paprika
2 tablespoon olive oil
Place shrimp in a Ziploc bag. Pour in olive oil and seasoning. Toss with hand to coat well. Seal and refrigerate for up to 24 hours. Saute or grill for 2 minutes per side; or until meat is no longer grey and bright pink. Serve with fresh guacamole in a martini glass for dramatic flare.
Classic Martini with a Twist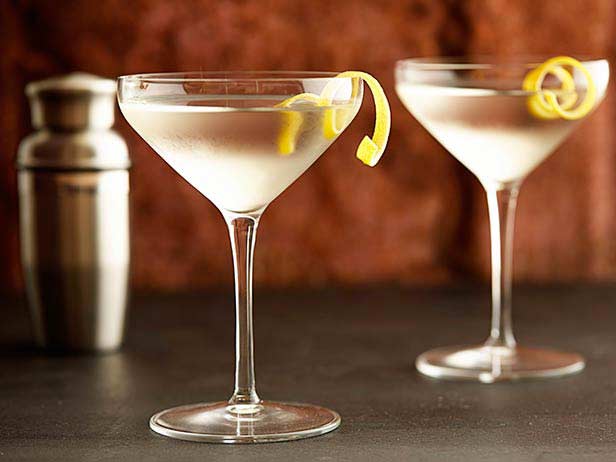 The best thing to pair this scrumptious spiced shrimp cocktail with – an amazing martini. Whether you prefer gin or vodka – you might want to consider serving both! Simply mix up this classic drink and have it passed butler style to all the guests. As they savor their drinks, have the shrimp cocktail passed around to compliment the delicious drink for one amazingly posh twist to any cocktail reception.
Winter Wonderland
Winter themed weddings are the perfect time of year to spice things up! Why not serve a gorgeous warm drink that packs some serious wedding punch with mashed potatoes. Yep. Mashed potatoes.
Mashed Potato Bar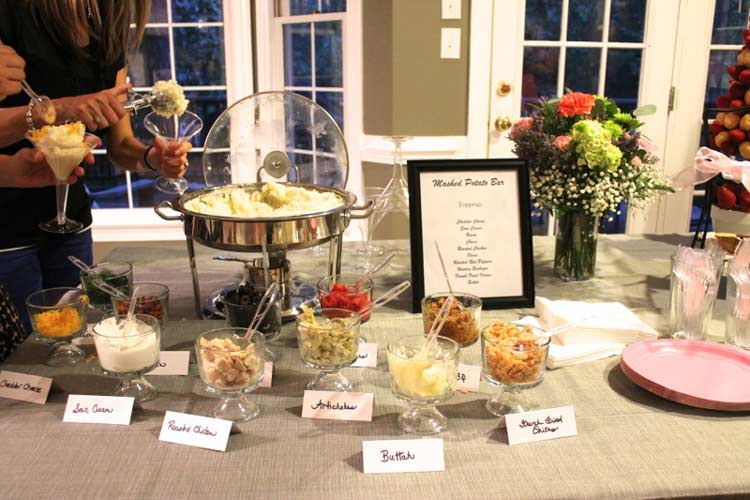 The best part about winter weddings – comfort food. For your Mashed Potato Bar set out recs of mashed potatoes and all the toppings you can think of or love, and you've got simple comfort food with a twist. Alternatively, do a To Go Poutine Bar and just put out french fries, gravy and cheese curds.
Hot Cocktail Hour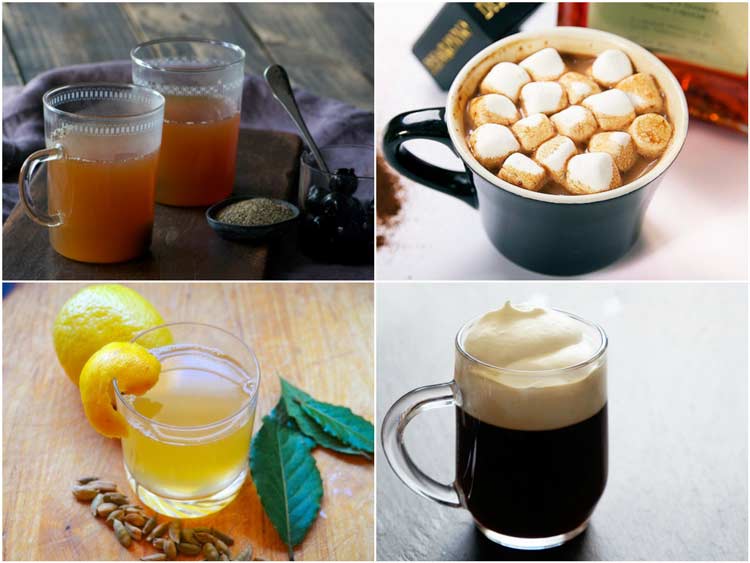 Turn things up a notch by pairing your comfort food with your favorite comfort cocktail. No matter what your flavor, there are loads of hot drinks to spice things up from Serious Eats. From Hot Toddies to Boozy Hot Chocolate, and Maple Butter Cider – there's something for everyone on this list.
Hey, pin this: