When it comes to bars, Wedding for $1000 has got your deliciously indulgent, little food loving heart covered! When it comes to fresh wedding ideas we like to stay just as up to date as you are! We love food bars because they are super cost friendly, like a Super Fresh Take On The Taco Bar, one killer Waffle Bar for an evening wedding, a super sassy Country Biscuit Bar, or the tantalizing savory Breakfast Bar!
While we've covered those bars, we didn't stop there. With the year rounding out, we decided to bring you even more fresh wedding bar ideas – so you can rock your wedding reception like no other in delicious style!
DIY Crostini Bruschetta Bar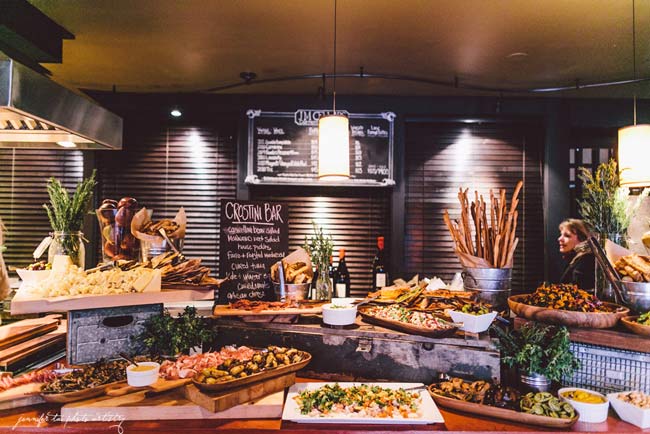 One of the most affordable bars you can do is a crostini bar. Simply buy a boat load of fresh baguettes or similar bread. Cut it all up into ½ to 1 inch slices. Toast it in the oven on a baking sheet. Place them in a sweet basket, and put out some tantalizing bruschetta!
Bruschetta
Grilled Ham and Manchego Cheese
Green Tomato and Garlic Bruschetta
Traditional Tomato Bruschetta
Cranberry Jam & Brie
Prosciutto & Melon or Peaches Soaked in Bourbon
Red Pesto & Buffalo Mozzarella Slices
Honey & Ricotta Cheese
Avocado & Goat Cheese
Sun Dried tomatoes and hot pepper cheese
Check out some more amazing crostini recipes here: Best Crostini Recipes
Slush Puppy Bar
Bring the fresh flavors of childhood right into your wedding with a sweet-a$$ slushy bar! All you need are some slush puppy machines…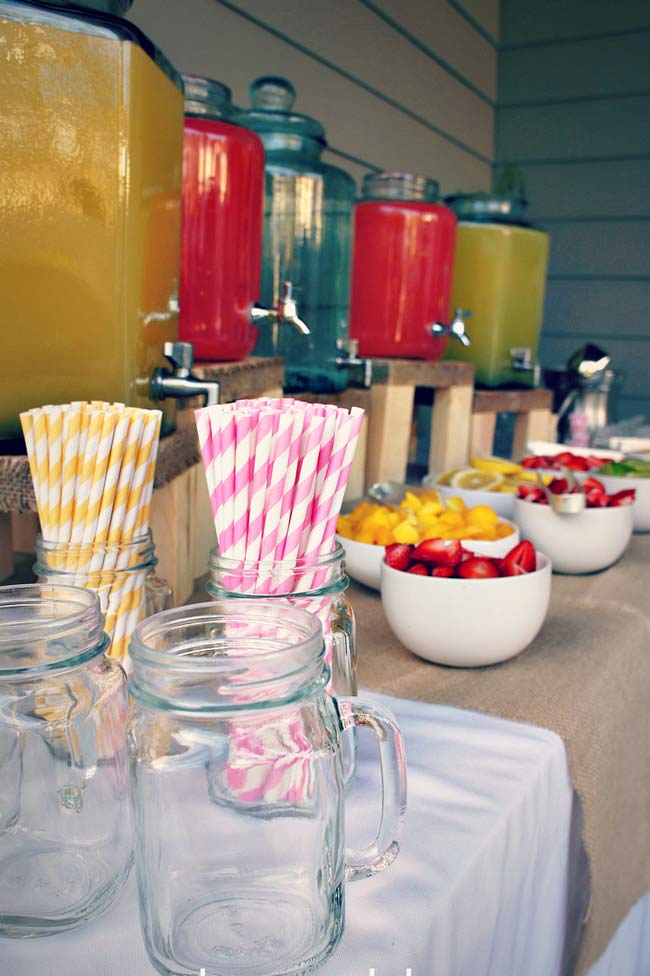 Some cool kid cups…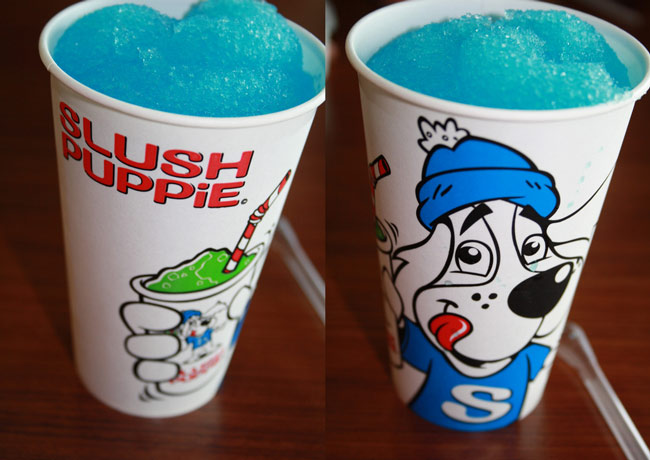 And a lot of booze to add in! Check out our sweet syrup and boozy slushy combinations:
Black Cherry Syrup And Red Wine
Any Flavor Syrup And Champagne Or Prosecco
Peach Syrup And White Wine
Strawberry and Vodka or Rum
Strawberry, Lemonade, Blue Raspberry and Vodka Bomb Pop Slushies
Orange & Cherry Syrup plus Whiskey
Blood Orange Syrup & American Honey is so very tasty!
You can pretty much turn any of your favorite cocktail combinations into a slushy, so don't be afraid to get creative.
Donut Bar
Donut Bars are just, well, darn delicious! Take your wedding to the sweet side of life with a boatload of affordable donuts. **Make sure you check shopping apps and the internet for donut coupon codes – because you can save a lot or get a free dozen at some donut houses.
Set your lush donuts out. Include some toppings and sauces and watch your guests go donut crazy.
Optional Donut Toppings & Sauces
Chocolate Sauce
Marshmallow Fluff
Caramel Sauce
Powdered Sugar
Maple Syrup or Sauce
Chocolate Chips
Rainbow Sprinkles
Ice Cream
Strawberry Jam
Custard
Lemon Curd
Boston Creme
Maraschino Cherries
Peanut Butter
Snow Caps