by Brittany McComas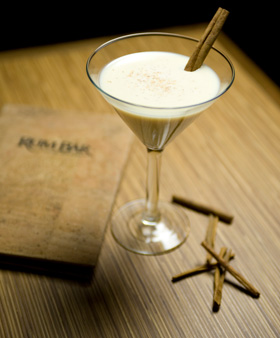 Perfect for fall weddings as we move into the cooler months, breakfast can be a great DIY bar for any wedding, really. Perhaps you're hosting your out of town guests for a pre-departure breakfast, or maybe you're shaking up the traditions with a ceremony at dawn and following it with these ideas. Either way, a post-wedding breakfast bar is a delicious way to celebrate! Savory, sweet and soulful, the food reminds me of a fresh start to the day. Naturally it's a fresh way to start your new life together. By combining breakfast ingredients, you can cut costs while making your wedding food lush and decadent.
Cinnamon Toast Crunch Tini
Forget champagne, greet your guests with an ode to childhood cereal. This sweet little cocktail rim can be decorated with crushed Cinnamon Toast Crunch, and prepped well before guests arrive. Each drink is 1.5 oz Fireball Whisky and 1.5 oz. Rumchata shaken over ice, and poured directly into the glass. source
Bacon Wrapped Eggs
These little guys pack a mighty brunch style punch. Bacon wrapped eggs are just heaven for the breakfast lover.
Ideas:
Wrap with turkey bacon for a low-fat/cholesterol friendly alternative.
Mix crushed butter crackers and parmesan cheese and use for the muffin cup as a vegetarian option.
Egg Muffins
One of my favourite things for breakfast, a little bit of egg goes a very long way in this egg muffin recipe. I find you can get eight muffins with only two eggs in the mix, if you fold in a splash of milk like you would scrambled eggs. source
Ideas:
Use leftover roast vegetables for the filling.
Top with feta, mozzarella or a mexi-blend.
Sun Dried tomatoes, onions and parmesan cheese make for a bruschetta style cup.
Sweet Potato Hash
One of my favourite recipes to make for breakfast or brunch. Simply heat two teaspoons of olive oil in a frying pan on medium heat. Add diced onions and bell peppers; cook about seven minutes. Toss in chopped sweet potatoes and saute for another seven minutes, turn heat to low, cover and simmer until potatoes are cooked through. Sometimes I start my onions with a cup of diced pancetta (Italian bacon) for a hearty hash, and top it with country gravy. source
Spa Water & Juice Bar
A cute mini juice and spa water bar is super budget-friendly. Think lemons, limes, cucumbers, apples, cranberries, or for summer months melon and watermelon. Look online for your favourite smoothie recipes or think about your favourite juice combinations. Add those fruits to sparkling water for a light, playful punch. Of course, you can always spike things up a bit for the adults by adding a shot of your favourite gin or vodka to the glass. source
Cascading Cake Topping
With all the savory food, you'll want something fresh for dessert. Try cascading fruit for a fresh flare that is also budget friendly compared to all that extravagant icing. You can literally decorate this cake yourself, which is why I love it! source