Looking for something that will hold for an all day wedding event? Look no further. This super-easy updo will stay all day and is easy to style!
If I learned anything at London Fashion Week it was how to attend runway events in the day, with hair that held and transitioned into a fabulous updo for wrap parties at night.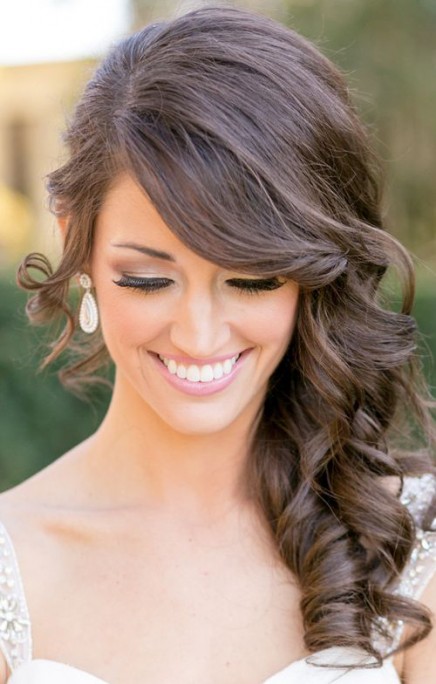 When you're running all over the place at a wedding, talking to guests, hugging long lost friends, and still trying to maintain your hair for photos–hair can be a nightmare. This simple updo will have you looking fabulous from start to sweet finish. source
Side Swept Curls
You'll need:
Curling iron or hot rollers
Thin tooth comb
Brush
Volumizing powder (you don't have to break the bank here, your local beauty supply store or pharmacy will have Got2b POWDER'ful and I love the stuff)
Volumizing Hairspray
Bobby pins
Hair tie
If you want tight curls, I highly recommend a 1/2″ – 1″ curling wand or  1 inch curling iron. For big curls, try hot rollers. The best set I've ever found is this Remington travel set – no word of a lie, I've bought three of them. I either lose one of the pins or I leave it in a hotel room somewhere (travel worries, right?), but I always buy the same ones, because I can't find a better set of hot rollers! If you're using a curling iron, this one is also highly recommended, but I'm lazy so I never use it. The curlers make it so I can do other things while my hair is curling…like eat Cinnamon Toast Crunch. Or whatever.  If you're willing to try something SUPER new, the RC Professional Curl Magic machine takes all the work out of curling (you know your arms get tired) – but I'm afraid it's going to snatch me bald. Anywho.
Separate your hair into two sections by pulling the top half up and securing with a hair tie. Curl the bottom section all the way around in ½ inch sections. To get the cascading effect start by wrapping the iron around the middle section of your hair, hold for a moment, and wrap a little more, hold for a moment, and so on. Travel downward until all of your hair has been curled. Set the bottom section with hairspray and repeat the curling process on the top section.
Once all of your hair is curled, use a really good volumizer for lift. Either the powder mentioned above or try a dry volumizing spray.  I highly recommend two dry volumizing sprays, but they're both pricey.  I've gotten them as samples, and one day when I sell my first-born child (or harvest some eggs, whichever comes first), I will buy one or both of them.  For now, I'm rationing – and they're STILL amazing.  First, Oribe Dry Texturing Spray is the one I just got in my Birchbox for October. I'm LOVING it. I didn't even tease my hair after using this and it stayed fluffy and tousled all day. The second is Serge Normant 'Dream Big' which I've just this moment discovered isn't nearly as expensive as I thought ($25 to Oribe's $42). So…brb, gotta place an order on Birchbox!  (You should totally join Birchbox!)
Here, you can tease your hair with a comb for extra volume on top. Lightly smooth bangs or hair over to the side with your brush, and set the top with hairspray.
To create the cascade
Grab your hair with both hands, just behind your ear, tuck and roll your hair down and across the nape of your neck.
Hold your hair with your non-dominant hand (for instance I'm right handed, so I use my left) and grab a bobby pin with your free hand, and slide it into your hair to secure; repeat this every half inch section of hair until you've secured your hair behind your other ear.
Finish with a good coat of hairspray to keep your updo all night long! source