We've all been there. Someone we know is getting married. They post pics of their big day and they look amazing–from the front. You catch a glimpse of their hair and it's Pinterest FAIL. When it comes to hair tutorials, wedding hair stylists and quick fix guides, Wedding For 1000 has got you and your wedding hair completely covered!  Check out our handy guide on fixing your hair in a bind.
The Stylist Screw Up
The worst thing in the world that could ever happen is your stylist actually getting your hair wrong. What if it just looks all trashy? Or it's lifeless? Or it's simply not what you asked for? Nobody is perfect, but your wedding hair should be! Some tips for avoiding a wedding hair fail:
Don't be afraid to tell your stylist you don't like what he/she did.
Be sure to share all of your ideas, even as your hair is being done. If you think the curls are too tight–tell them! Too much poof? Ask for less.
Don't ever have your hair colored the morning of your wedding; do this at least two weeks prior just in case you aren't satisfied.
Have a backup stylist. Anything can go wrong on the day of your wedding; my friend's stylist bailed on her last minute. I ended up doing all the bridesmaids' hair while she got a backup for just herself, so plan ahead.
Keep in mind: It's not the end of the world. Your hair can always be restyled, no matter what!
The Friend Fail
So, your friend said she could do your hair and it came out looking a hot mess. Have no fear. Check out the Super-Easy Updo Tutorial I wrote after my experience at London Fashion Week. I was having a hard time finding something that would photograph on the red carpet like I just got ready after being on the disgustingly hot tube and attending hours of runway shows all day.
The Quick Fix
When you are in the time crunch from hell, have no fear! This fix is a simple chignon from my Traveler's Guide To Fabulous Hair Everywhere: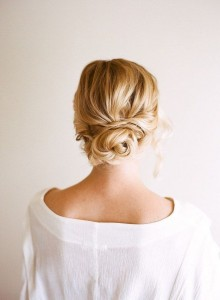 Brush your hair out.  You will need:
a hair tie
two bobby pins
and some hairspray
With a hair tie in one hand, gather your hair back like you are going to put it in a ponytail and wrap the hair tie around the hair as if you are folding your hair in half. Create a half bun. Your ends should be sticking out of the bottom. Wrap the tie around a second time. Gently pull the bun bit of hair through the tie until you get the fullness desired. Bobby pin any stray hairs at the base of your neck, and finish with hairspray. source