Your wedding is supposed to be a happy and joyous occasion full of family, friends and good times. Every bride not only wants the perfect wedding day but she also wants to look fabulous from head to toe so it is important to choose the right wedding day hairstyle.
Choosing the right wedding day hairstyle is probably the one of the most overwhelming and exciting parts of planning the entire wedding so remember your wedding day so work with a hairstylist that you know and who knows your hair type. Also before you make your appointment you need to decide your wedding style. Are you a modern bride? Vintage? Classic? Glamorous? Rustic? Keep in mind your attire, venue decor and your overall wedding theme.
Depending on the style of your dress certain hairstyle will look better than others so you should bring a photo of your dress to your hair consultation. One rule of thumb is if your neckline is high it's best to go up and if it's low down might look better but remember this is your day and it's completely up to you. For a unique and complicated dress design, opt for a simple style so it doesn't overshadow your beautiful gown.
Consider the time of the year you are getting married when decided if you should wear an up do or not. For those warm summer months it's a good idea to go with an up do to keep you cool. On the other hand, for the fall and winter months, leaving your hair down is a good option.
Ways to save Money on your wedding day hairstyle
Don't have the hair stylist come to you – that usually incurs a surcharge or travel fee.  If your schedule allows it, try to go to the salon and have your hair done.
Don't choose the full service salon for your wedding day hairstyle. Sure they're more glamorous, but they cost an arm and a leg for all the pampering.
Do try to have a trial run, if your budget and stylist's schedule permits. If you can't, however, there's no need to worry as long as you communicate what you're looking for and bring lots of pictures.
Don't wash your hair the day of the wedding! It sounds strange, but your hair needs to have a little bit of muss to it to really hold some style without slipping.  The best practice is to do a full volumizing blowout or straightening the day before, then dry shampoo the roots.  The style will hold much longer this way.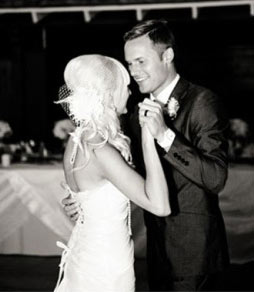 Look through some of your favorite beauty magazines and cut out your favorites looks and bring them to your hair appointment. Always do a trial run with your stylist before the big day to make sure you are happy with your look. Your wedding day is not the time to try anything drastic that could ruin your day. If you have never cut your hair before then it's not wise to try a new cut right before your wedding. Also don't go overboard with hair care products. If you need hairspray remember a little goes a long way the same is true for gel and volumizing mousse. Adding a hairpiece or headband can add an extra dose of glamour to your bridal look but stay clear from any accessories that has too many pins or teeth which may cause some pain during your wedding ceremony.
Your hairstyle has the power to make or break your bridal look, so make sure to find the perfect wedding day hairstyle that compliments your personality and your wedding day.