From makeup to champagne receptions, food and invitations, there are several ways you can cut wedding costs to make your day even more special than you had ever imagined. Most people think cutting costs means sacrificing style, but there are so many cute, classy, stylish ways that you can keep your posh drinks and still look like a million dollars without breaking the bank. While most of these include a bit of DIY, you don't have to go it alone. Your friends and family will be so excited for you, that you can always make it a party. Add some wine or a little cookie baking to a night of invitation making, or ask your college buddies to take a shift running the bar at your reception for 30 minutes. If you think outside the box, these sweet tips and tricks below will get your creative juices flowing and keep you under budget.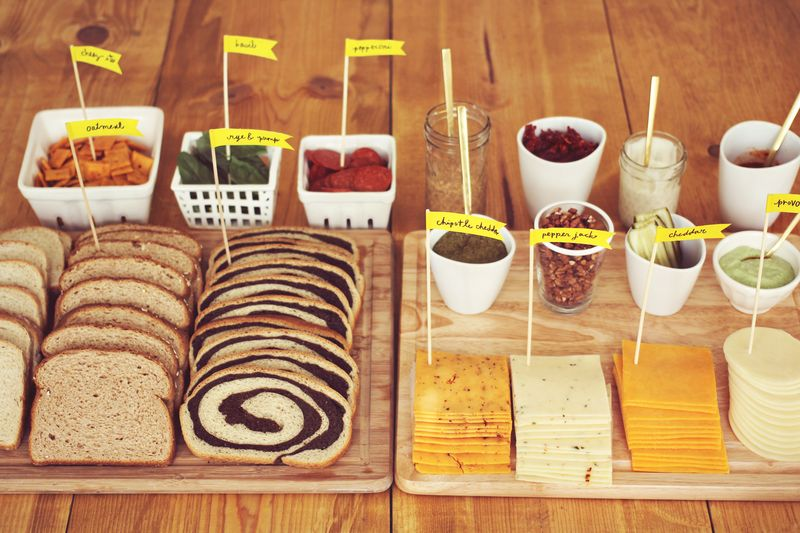 DIY Bars
The biggest way to cut cost on food is to set up a DIY bar. Think late night snacks, burritos & tacos, mini versions of your favourite foods, or DIY grilled cheese stations! You could always just go for a sweet breakfast bar with all your favourites! We always have great ideas posted in our food and drink section to keep your reception food delicious and dazzling, but super-budget friendly. Simply put, there's always a way to elevate whatever your favourite foods are–including burgers and fries. Serve sliders or cut corners by sourcing your meat locally and grilling it yourself. This is another place friends can help by donating a portion of their reception time. Just toss them an apron!
DIY Champagne Reception
When it comes to DIY champagne receptions setting it up for guests to serve themselves is always the best way to go. Start with enough glasses filled per guest, then put one or two bottles out. Guests won't drink as fast if they only see a small stash of booze. Most people tend to be polite.
If you're wanting a sweet spread with a full bar, DIY cocktail pitchers are the way to go! Like a sassy sangria bar that will help you replace a full-service bar with a more budget friendly, fun drink station!
Pre-made cocktails and jugs of boozy drinks also help save money when it comes to alcohol, as well! Forget the full bar and check out some of these pre-mixed bad little cocktails that are sure to spice up your reception.
Budget Makeup Fit for a Queen
Forget the makeup artist! While some brides think it's the bees knees to be pampered all morning, you can learn pro tips on makeup application that can have your makeup looking flawless on your special day. Decide what kind of look you want. For instance, a smokey eye, fairytale like skin with shimmer, or are you going for a modern look? Maybe something with a full red lip and winged eyeliner? No matter what your style there are loads of makeup tips out there!
From hair tutorials to makeup techniques, Tales From A Jet Set Queen always has something sweet. Check out her Royal Wedding Wear or Easy Updo With A Royal Twist for simple, easy ways to look amazing with little to no effort! Jet Set Queen's articles always include simple tutorials with easy to follow directions and lists of things you need to buy for each look.
Another way to cut cost on makeup is with a social media swap group. A lot of these girls are makeup gurus and are always looking to swap or sell products on the fly. You don't necessarily need a full tube of Smashbox Photo Finish or St. Tropez Bronzer, so look out for 'Ipsy' 'Birchbox' and 'Glambox' groups. This is also a great place to get products recommended and ask for advice, because these girls are sure to become some of your best allies in no time–they literally no it all when it comes to beauty.
Amazing Wedding Invitations – Free!
Check out free wedding invitation templates. 983Invitation.com has some sweet little freebie invitation templates to create your own invitations on the fly!
To cut stationery cost, go for a folded wedding invite that doubles as an envelope, so you don't have to print or buy your own! Register on a wedding app with R.S.V.P. services, so you can ditch the cost of printing reply cards with stamped envelopes.