by Brittany McComas
So you want a taco bar on your big day, but you don't just want meat, cheese and regular old toppings. The glorious thing about tacos: they can be filled with just about anything and be the most scrumptious thing to hit your taste buds. You just gotta think outside the box. Below are some of my favorite "outside the box" taco combinations on earth!

Tequila Pulled Pork Tacos with Watermelon Salsa
A sweet and savory taco for the not so faint at heart!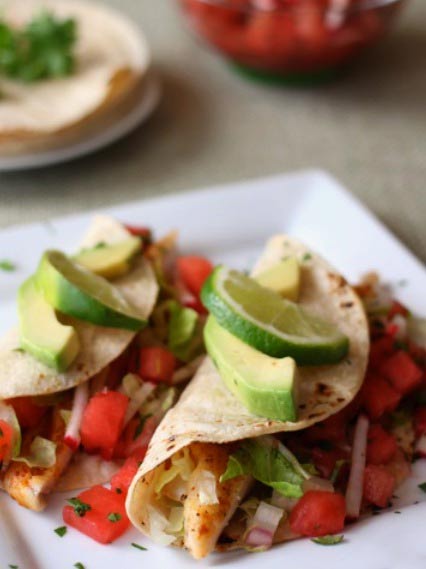 Tequila Pulled Pork
3 lbs. Pork Shoulder, Boneless
2 Tbsp. Coconut Oil
3 cloves garlic, crushed
1 large Jalapeño, seeded & minced
½ cup Lime Fresh Squeezed Juice (about 3 limes)
1 cup Blanco Tequila like Espolon
½ cup Chicken Broth
1 Tbsp. Chili Powder
1 Tbsp. Cumin Powder
1 tsp. Paprika
1 tsp. Sea Salt
1 tsp. Garlic powder
½ tsp. Oregano
Combine all ingredients in a slow cooker. Cook on high for 5 hours.
Watermelon Salsa
3 cups Watermelon, cut into small cubes
2 Jalapeño Peppers, minced (seed for milder flavor)
1 Small Red Onion, diced
1/4 cup Cilantro, chopped
1/4 cup Mint, chopped
Zest & Juice of 2 Limes
Combine ingredients in a sealable container. Place in refrigerator to marinate while pork is cooking. When pork is finished turn the slow cooker to warm, place it on a plate and use two forks to shred the meat. Return to the slow cooker and let marinate in juices for 30 minutes to an hour. If juices have dried out, add the same seasoning and liquid combination as above and marinate.
Place a small amount of meat into your favorite style taco shell and top with salsa.
Beer Battered Fish Tacos with Lime Infused Sour Cream
You might want a deep fryer for this one!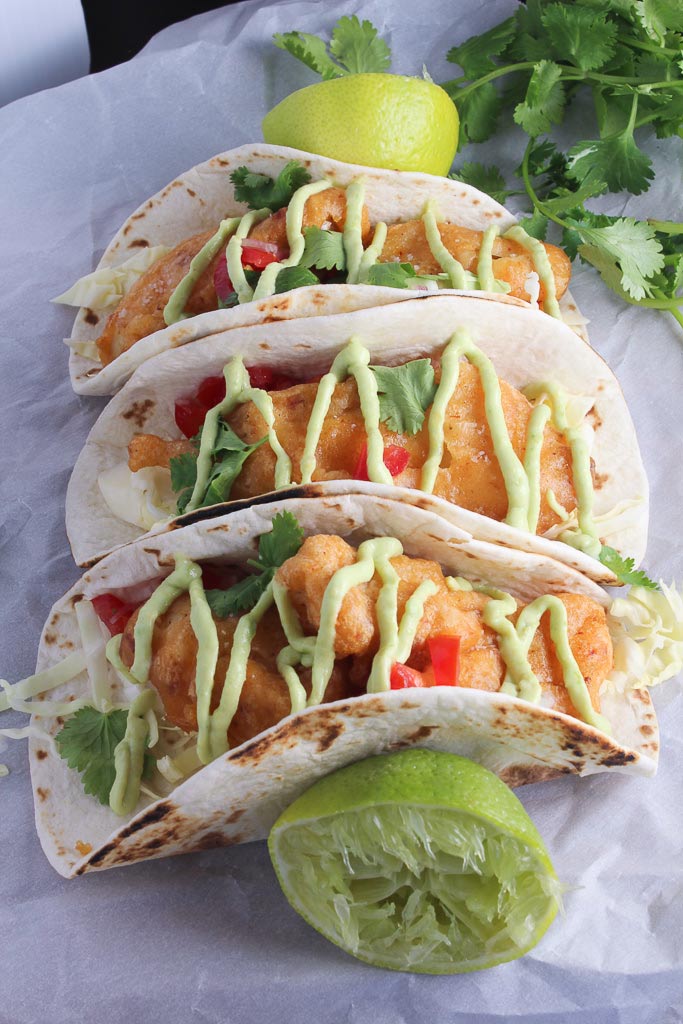 Beer Battered Fish
1 ½ pound Cod Fillets
1 cup Rice Chex Mix, pulverized into a flour consistency
½ cup Parmesan Cheese, grated
1 egg
½ cup Beer
½ cup Buttermilk
Coconut Oil for frying
Lime Sour Cream
Sour Cream, full fat
1 Lime
Zest the lime, then cut in half and juice half into your pot of sour cream. Toss in zest. Mix well, and place in the refrigerator until fish is fried.
Heat the deep fryer. If using a deep frying pan, put enough oil in there to be a good ½ inch thick. Rinse cod fillets and set aside on a paper towel. Mix pulverized Chex and Parmesan Cheese in a bowl. Combine egg, beer and buttermilk in a second bowl; slowly whisk until thick and creamy. Dip the cod into the milk mix and into the Chex mix and set on paper towel. Cook in batches of 6 to 7 pieces.
Place cod in your favorite taco shell with shredded purple and white cabbage. Top with sour cream and enjoy!
Fried Green Tomato Tacos with Black Eyed Pea Salsa
My personal favorite taco, is one super-tasty take on a Southern delicacy.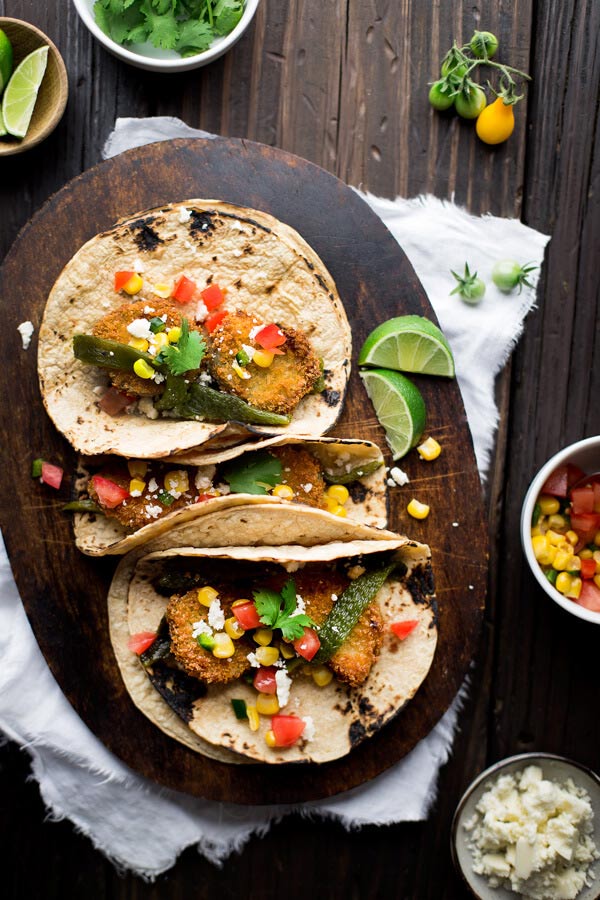 These are so darn easy: Follow this sweet Deep South Dish Recipe for Fried Green Tomatoes.
Black Eyed Pea Salsa
1 can Black Eyed Peas, drained and rinsed
1 Beefsteak Tomato, chopped
1 Jalapeño Pepper, minced (seed for milder flavor)
1 Small Red Onion, diced
1/4 cup Cilantro, chopped
2 Tbsp. Balsamic Vinegar
1 tsp. Splenda
Mix in a sealable container and refrigerate for 12 to 24 hours. Once marinated, top your fried green tomato tacos for one delicious experience!
When you lay out your topping bar, don't be afraid to put out:
Avocado Slices
Yellow Corn Niblets
Sliced Radishes
Chipotle Pepper Salt
Roasted Poblano Peppers
All the hot sauce your lil' heart desires!
---
[poll id="4″]