A brand new wedding gown can easily take up a huge chunk of the wedding budget. This is because the wedding dress is not only the most special dress that most women will ever wear, it's also very likely to be the most expensive.
It isn't always necessary to spend a huge amount of money to have a fantastic wedding dress. With a little planning, you can find amazing wedding dresses without hefty price tags. Here are some tips from Best for bride, the bridal experts from Canada, for prospective brides to make the most of your wedding dress budget.
Look for package deals
Many bridal boutiques offer attractive package deals that make your wedding dress budget go further. When you buy your wedding dress from such places, they let you choose accessories like the veil, tiara and jewelry for free or at a big discount. You can thus avoid spending extra on these wedding day essentials while still finding the dress of your dreams.
Buy a simple gown and dress it up with accessories
Simple wedding dresses cost significantly less than dresses with all the works. This is because hand embroidery, embellishments, and materials like lace are pricey. So, look for a basic wedding dress at a reasonable price that flatters your figure. Once you do, dress it up by pairing it with accessories that can create the impact you desire. Fancy accessories like waistbands and capelets will instantly enhance the look of any wedding gown for a small price. Another option is to choose bold wedding jewelry as the focal point of your wedding day look. Although this may not be cheap, these trinkets can be used after your wedding, making the money spent on it worthwhile.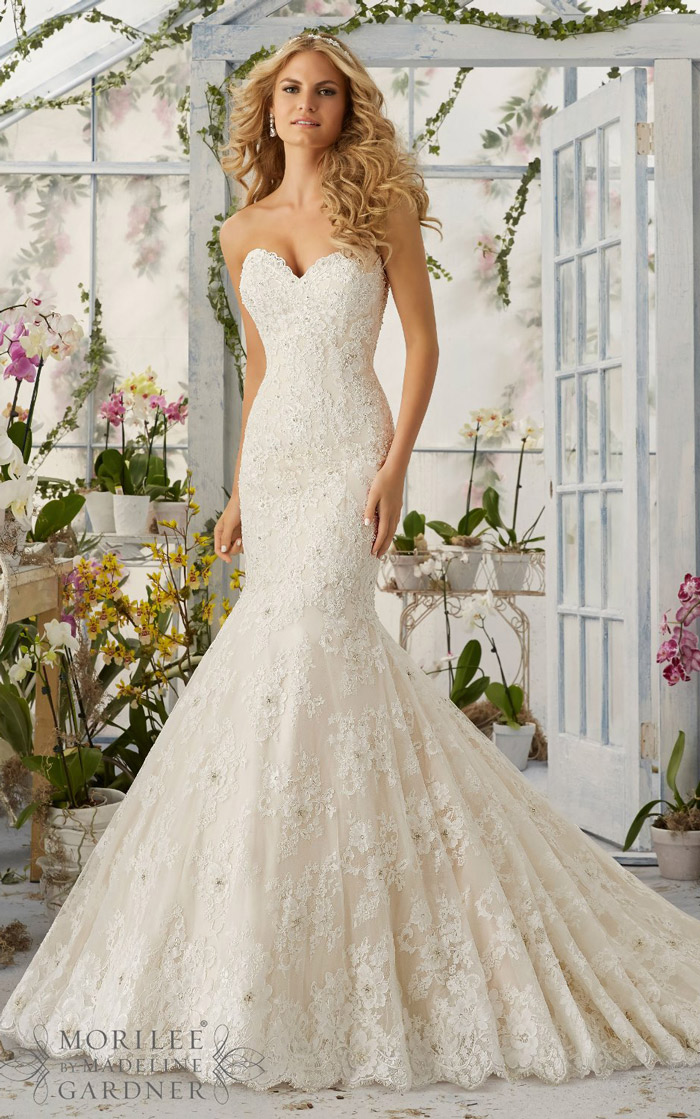 Minimize alterations
 Wedding dress alterations are expensive, and an additional cost factor when planning your wedding budget. Custom changes to a dress, like extra embellishments or adding layers, will bloat the cost. When you choose a gown that is a close match for your measurements, you can reduce alteration costs. Look for dresses that fit well so you can avoid too many alterations. A corset-back dress is a good choice that allows you to save a significant chunk on alterations.
Shop off-the-rack
Bridal shops often agree to sell their floor samples at a very low price, compared to the original price of the same gown. When you go shopping, look for gowns in your size that you like, and ask if you can buy the same sample. Although this gives you limited options to choose from, it will reduce your dress price considerably.
Shop the clearance section
When new wedding dress collections arrive every season, bridal shops move existing collections into clearance and sale sections. You will be able to find fantastic wedding dresses here for a fraction of their original cost. Also, few people stay updated with wedding fashion. Go with a classic style and your guests will never notice that your dress belongs to a previous season.
Rent your dress
Since your wedding dress will be used only this one day, it is sensible to rent a gown that meets your expectations than settle for one that fits your budget. Besides Rent the Runway, there are bridal boutiques allow you to rent your wedding gown for a small price. This option allows you to wear a grand wedding dress without spending too much money. When you rent your dress from a professional bridal boutique, it will be cleaned and sent to you in pristine condition. So, you needn't worry about looking good on the most special day of your life. The best part is that you need not worry about storing or selling an expensive wedding dress after your wedding day when you rent it for the day.
Consider custom-made
A talented wedding dress maker can create your dream wedding gown for any budget. Since such a dress will be made specifically for your measurements, alteration costs do not factor into the price. Also, you have the flexibility to explore different options when designing the dress, till you find one that fits your budget and still gives you every feature you desire. So, if you have a definite idea of what your dress should be like, this is the perfect way to design your unique wedding dress.
Be on the lookout for second-hand dresses that were never used
There are many brides who have second-thoughts about a wedding dress after they buy it. More often than not, these brides end up selling this gown online at a heavily discounted price. If you are lucky, you may find an unused dress in your size this way. So, be on the lookout for such options. Visit websites like Oncewed and Pre-Owned Wedding Dresses to see what your choices are.
Find a rental boutique or consignment shop to buy your dress from you after the wedding day
 Spending money on your wedding dress is a lot easier when you are certain that you can recoup a part of the money spent by selling off the dress after the wedding. Contact consignment shops or wedding rental boutiques to find out if they will buy your gown after the wedding, and discuss the rate they can pay you. You can also check with the boutique that you buy your dress from. If they have rental services, they may be prepared to buy it back from you. This will allow you to make up part of what you spend on your gown.
[poll id="3″]
Author Bio:
Having served brides for over a decade, Best for Bride is a leading wedding dress chain and services provider in Canada. Apart from an impressive inventory of wedding dresses, they also have dress collections for the rest of the wedding party and for special occasions. More details about their services are available on their website. Also, you can click here to learn how to rent and save on your bridal gown.