Once the big day is over and you've realized how much you need to recoup to stay under your budget, the last thing you really want to do is sell your wedding dress. However, unless you have a daughter–you are never going to wear it again. Also, you and I both know you've got your first junior prom dress shoved in the back of your closet thinking you'd use again and you never did!
While Ebay might be the first way that comes to mind, unless you have an account it can take a bit to get your money. Below are some great alternative ways to get rid of your dress for maximum money to help you budget for something more practical like that KitchenAid mixer you've had your eye on for years, or a sweet little baby crib.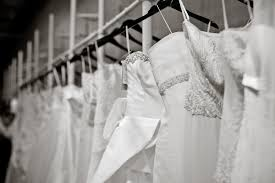 Social Media Yardsales
One of the cool things about social media these days are all the yardsale groups local to your area. Be sure to turn the notifications off, because they can get annoying. Also, due to the high volume of listings make sure to list your dress first thing in the morning, mid-day and in the evening. People will pass over it or might not ever see it if you only list it once. Get your friends to share your listing, too! That way you get the most coverage possible and you can choose to meet someone or have them paypal you the money.
Weddingbee
A totally free classified ad for wedding resale, Weddingbee has a great online policy to ensure safety when selling your wedding dress. You can also pay an additional fee to feature your ad, so it gets more exposure.
Ruffled
Ruffled is a great place to recycle your wedding dress because it's a worldwide classified ad! Their Recycle Your Wedding FAQ can help answer all of your resale questions, and once you decide to go just start an account, put in your details and list your dress!
Once Wed
Simply start a free account, list your dress, name your price, and you're good to go! You can even sell bridesmaid dresses on Once Wed.
Tradesy
This site is pretty sweet because you can list other clothes you might want to get rid of too. The cool thing about Tradesy: if you don't know a price, they'll pick one for you. And! You get a free shipping kit with labels, so you never have to leave your house. You can keep your earnings on Tradesy for a 9% fee; or cash out to PayPal, a debit card or bank account for just an additional 2.9%. Did I mention they handle returns for you, and you keep your earnings?
*I must stress! Don't meet someone alone to sell your dress. Always take a buddy, and be sure to exchange money via cash, Square (or similar payment app) or PayPal. People don't always have your best interest involved and can still write bad checks. With that in mind: Happy Selling!!